By Daniel Sheehan, Reporter Staff
May 6, 2020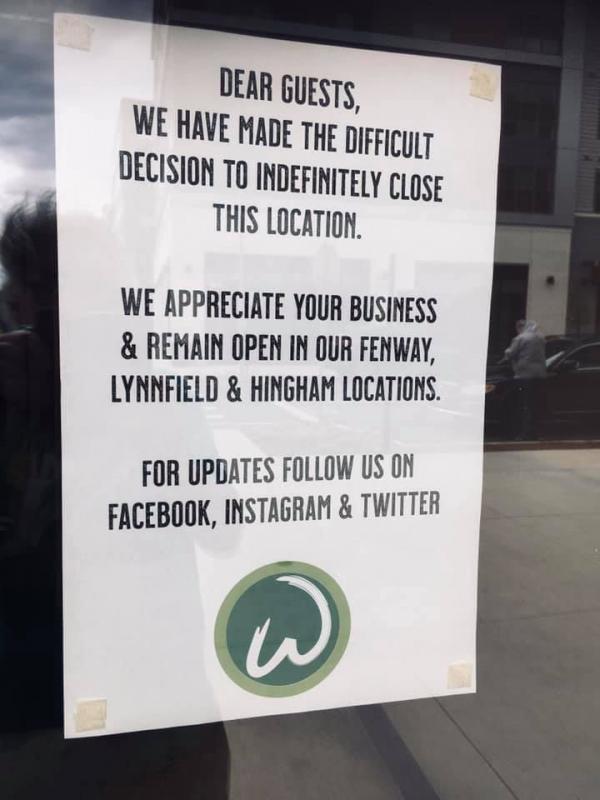 Wahlburgers' South Bay location has closed indefinitely, according to company representatives. A notice posted on the restaurant's storefront informed customers the company made the "difficult decision" to close the restaurant location, while adding that the chain's Fenway, Lynnfield, and Hingham locations remain open.
Wahlburgers representatives confirmed the closure in an email soon afterward.
"We have been doing our best to keep all of our corporate Wahlburgers locations open and serving our communities as long as we possibly can while we navigate these challenging times. Unfortunately, we had to make the difficult decision to indefinitely close our Dorchester location this past Sunday," wrote Katie Piepora, Director of Communications at Wahlburgers. "Being our hometown, the decision did not come lightly. We are committed to continue supporting the frontline & hospital workers in the area and our Hingham, Lynnfield and Fenway locations will remain open to serve our guests and the broader Boston-area community."
The South Bay eatery was the latest branch of the national chain to arrive in Massachusetts when it officially opened in December of 2018. Until this week, the restaurant had been open for takeout and delivery service. Last month, Wahlburgers donated food to medical workers on the front lines of the COVID-19 crisis at Carney Hospital. It remains unclear if and when the location will reopen.