By Daniel Sheehan, Reporter Staff
July 9, 2020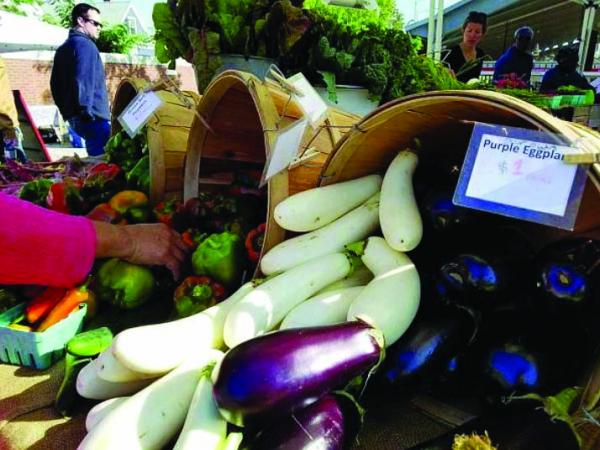 For the first time since last fall, the Ashmont Farmers Market will be open for business in Ashmont-Peabody Square this Friday afternoon from 3 to 7, providing residents the chance to buy fresh, locally-sourced produce, meats, and other foods. 
This summer's market will look a little different due to COVID-related precautions, which will make for a more streamlined shopping experience, said Greater Ashmont Main Street executive director Jenn Cartee.
"We're following CDC and Massachusetts Department of Agriculture guidelines, so we're only operating on preorder and grab and go," she said. "All the produce will be pre-packaged, so there will be no browsing or 'pick and choose' sales like there have been in the past."
As such, customers can either select pre-packaged products in person at the market or preorder online.
This week's vendors will include the Boston Food Project, a nonprofit that provides fresh produce sourced from urban and suburban farms in and around Boston; Sibling Organic Crops, a local farm that grows Asian and Caribbean specialty produce; Stony Creek Farm, which sells grass-fed beef, meat products, eggs, and honey; and Evergreen Delivery, which will distribute fresh fish from Red's Best, available only through preorder with the vendor.
The inaugural will also feature a "roaming greenhouse" vehicle provided by the landscaping business Cityscapes, which will sell herbs and plant arrangements with proceeds benefiting Apprenticed Learning, a career education nonprofit based in Jamaica Plain. 
The streamlined market setup will consist of four 10x10- foot tents spaced at least 12 feet apart on the Vince Droser Memorial Plaza next to the north entrance of Ashmont station. Some of the more interactive elements of the farmers market, including information tables, games and activities, and live music, have been put on hold for this season.
But, Cartee noted, it was important to reopen the market "with a focus on food access." With more families experiencing unemployment, struggling with rent, or otherwise left financially vulnerable by the pandemic, access to healthy, affordable food remains a top priority. 
One goal of the farmers market this year will be to connect people who use SNAP/EBT to the Healthy Incentive Program (HIP), which uses Massachusetts Department of Education and federal money as a two-pronged expansion of food access while supporting local farmers and families in need.
Cartee said that a grant from the city of $3,000 in food access coupons will help facilitate those connections in the coming weeks. SNAP households are automatically eligible for HIP, and can be reimbursed for $40-$80 worth of produce per month based on household size. In other words, qualifying members who spend $40 on produce at the farmers market will immediately get that $40 put back on their card.
To learn more about HIP or for more information about the Ashmont Farmers Market, visit greaterashmont.org/farmers-market.