By Daniel Sheehan, Reporter Staff
September 24, 2020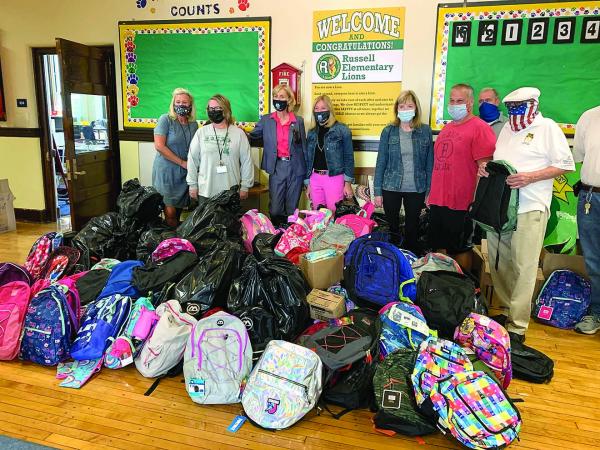 Members of Teamsters Local 25 Women's Committee organized the delivery of approximately 300 backpacks filled with school supplies and other essential items to the Russell Elementary School on Columbia Road last Thursday morning. The distribution efforts marked the second year in a row that the committee has donated backpacks to the Dorchester school. 
With considerable populations of low-income, learning-disabled, and homeless students, the Russell community faces struggles that have only been exacerbated by the pandemic and the accompanying economic crisis. In addition to traditional school supplies like notebooks and pens and pencils, the backpacks also contained everyday toiletry items like toothpaste and hand sanitizer.
Local 25 business agent Joan Corey said that after seeing students' reactions last year, renewing the backpack campaign drive this year was "a no-brainer. We met the children and have now a better understanding of how the school operates, and they're just tremendous people. We love to give back."
The partnership between the union and the school is poised to grow further, said Corey, with Teamsters donating money for a classroom space and equipment designated specifically for programming for students with autism and learning disabilities. 
"We have a long relationship with the group Autism Speaks, including an annual benefit gala in support of that organization, so it was natural for us to want to build on that support in the community," said Corey. 
Sharon Sodergren, a staff assistant at the Russell, said the donations would help ease the transition to remote and hybrid learning for students, particularly through the headphones included in the backpacks.
"It's a bit overlooked, but headphones are badly needed for those of our students who may be learning from home and are in a situation where there are siblings or multiple kids learning virtually in the same room as them, so that they can hear and communicate effectively in an online format," explained Sodergren. "We're so grateful for this partnership with Local 25 that started with BPS but has grown beyond that in so many ways."