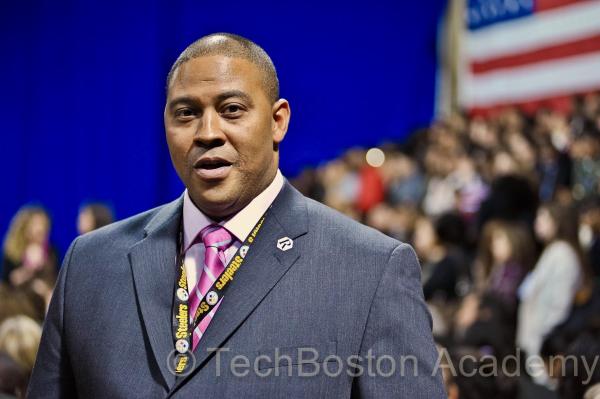 Keith Love, the co-headmaster at TechBoston Academy (TBA) in Dorchester, died on Tuesday, May 26 at age 52 after a three-year battle against prostate cancer. While anticipated, Love's death prompted an outpouring of grief from the school community that he cherished and from city leaders.
A native of Camden, New Jersey, Keith had worked in Boston Public Schools since 2001. He led the Academy alongside his colleague Nora Vernazza since 2013. He worked at the campus for 16 years. Vernazza called him "the heart and soul" of TBA.
"He just embodied everything about relationships," said Vernazza. "Every single staff member had a story about how he connected with them and their family. He had this ability to connect with people in a way that was larger than life."
Mayior Martin Walsh saluted Love as a "hero to a lot of young people" during his press availability on Tuesday afternoon.
"Keith Love was someone who lived to empower and inspire young people. His legacy is a good reminder of the people and the values we're fighting for."
Walsh said Love "is also a good reminder of the strength, the courage, and the role models in our community that we can draw on to win this fight.
City Councillor Andrea Campbell called his death "a devastating loss for Boston Schools and for our Dorchester community."
"Keith Love's commitment to and compassion for his students, so many of whom the system was failing, inspired me since the day I met him as a young education attorney. He will be dearly missed."
Love was idolized by his students, many of whom participated in a drive-by parade at Love's home in Grafton, MA earlier this month. Love had suffered his own personal losses in recent weeks. His stepfather had died suddenly this spring and his mother suffered a stroke and died shortly after that.
In an interview with WCVB-TV, which covered the event at his home, Love said: "I cannot thank you enough," he said. "Look at this, unbelievable. Thank you Lord."

The front doors of TechBoston Academy on Tuesday, May 26.
Vernazza said students are devastated by his death.
"He was a father figure to them," she said. "He had such high expectations for them, but always in a loving, supportive way."
Love was most proud of how strong the community at TBA became under his leadership, Vernazza said.
"He created the culture and he nutured the kids and the whole community," she said. He was frequently the face of the school to the public as well, attending civic meetings and other community events.
"For us and the school, we have to figure out how to carry on that environment of caring for both students and staff," said Vernazza. "It's a hard act to follow to say the least."
Information about arrangements for a funeral are not yet available.
Editor's note: An earlier version of this article included incorrect information about Keith Love's age. He was 52 at the time of his death, not 53.