By Daniel Sheehan, Reporter Staff
August 24, 2020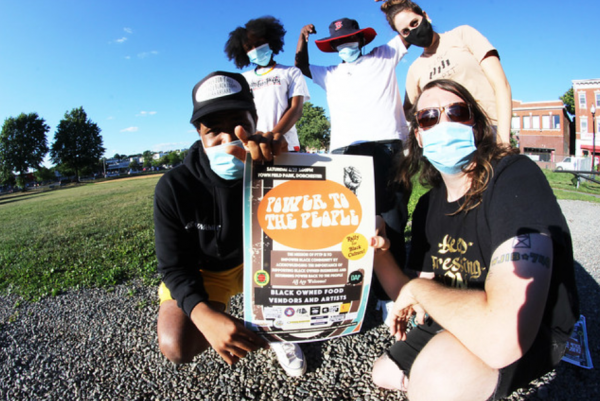 Power to the People: A Rally for Black Culture, will take place on Saturday, August 29 at 1:00 p.m. at Town Field in Fields Corner. The event, which will feature dozens of Black-owned businesses, restaurants, and artists, is intended as an opportunity for both networking and empowerment, said organizers Lance Jackson and Shalika Shoulders. 
"It's about giving Black businesses, artists, and organizations an opportunity to elevate their brands, and give people a chance to see Black businesses they might not have been aware of," explained Jackson, a musical artist based in Randolph.
Power to the People (PTTP) formed earlier this summer in the wake of the protests sparked by the police killing of George Floyd. Feelings of anger and helplessness drove Jackson and others to organize and take action.
"We're tired of sitting on our ass and letting things happen to our community," said Jackson. "George Floyd was the straw that broke the camel's back, but these murders have been happening year after year," he said, referencing the shootings of Tamir Rice, Trayvon Martin, and others. "We wanted to take advantage of this moment and come together and start giving people solutions to the problem."
Since June, PTTP has met in person and/or virtually every Sunday to provide a platform for discussion and to build community.
"Our goal is that people leave feeling empowered economically, socially, and politically," said Jackson. "At meetings, we try to tackle all of the issues and have resources available. We're just getting the info to the individuals so they can take the power into their own hands."
Other literature and mental health resources, including links to Black therapists, are available on PTTP's website.
Saturday's event, hosted in collaboration with Dorchester Art Project, and BAMSFest, will feature musical performers DJ Real P, Capella, CakeSwagg, Misfits Club Cypher, Miranda Rae, Babyindiglo, JessCX, and Most High Kingdom; a speaking portion by local activists Alley Michelle of Powerful Pathways, Fields Corner resident and BPS teacher Joel Richards and representatives from the Boston chapter of Rock against Racism; poets Amanda Shea and SublimeLuv; and a live art installation by artists Yanna, Prop, and Phia. Soleil Restaurant and Mariana's Kongolese and Angolan Food will have vending stations at the event, as will folks from Roxbury's Frugal Bookstore. Face masks and social distancing will be required at the rally, which is free and open to the public.
Shoulders, a fashion designer from Brockton, compared the event to a "very small AfroPunk."
"After an opening DJ set, speakers will be there to give a concrete answer of why we're here, and from there it goes into musical performances, more DJ sets, and a chance for people to walk around, try out Black food, buy from Black clothing brands, and learn about local organizations."
Shoulders added: "We're very proud that we were able to raise some money through our sponsors, and all that money is going towards paying artists, and the logistics of the festival."
PTTP is still looking for volunteers for the event, inviting those interested to sign up through their Instagram page (@_pttp). With so many businesses and organizations involved, Shoulders is expecting a good-sized turnout.
"We're excited just to have people come out and show what Black unity can look like."