By Reporter Staff
May 28, 2020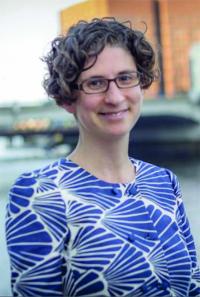 Rebecca Herst, director of the Sustainable Solutions Lab (SSL) at UMass Boston, has been awarded the 2020 Zuckerberg Endowed Leadership Prize for her work in climate adaptation.
Established in 2005 by UMass Lowell alumnus and former senior director of Goldman Sachs, Roy J. Zuckerberg, the Zuckerberg Prize recognizes faculty and staff across the UMass system for leadership in helping the university accomplish its goals. 
The two-year, $100,000 award provides $30,000 toward research and service activities and a $20,000 stipend for a total of $50,000 each year.
Herst has been at UMass Boston for nearly five years and director of the Sustainable Solutions Lab for the last three. Under her leadership, SSL has become a trusted resource in the Greater Boston region around questions of climate adaptation and resilience.
"I commend Rebecca for her outstanding contributions to the university and society," said President Marty Meehan. "Through her important work at the Sustainable Solutions Lab, she is putting the needs of the region's underserved communities front and center." 
"Professor Herst is a jewel in the UMB crown," said Interim Chancellor Katherine Newman. "Her dedication to teaching is widely known and tremendously appreciated. I am delighted she has been honored by this prize. It is richly deserved."  
The Zuckerberg prize will allow SSL to host an invitational climate justice convening that will bring together researchers and frontline activists from around the country.