By Katie Trojano, Reporter Staff
February 27, 2020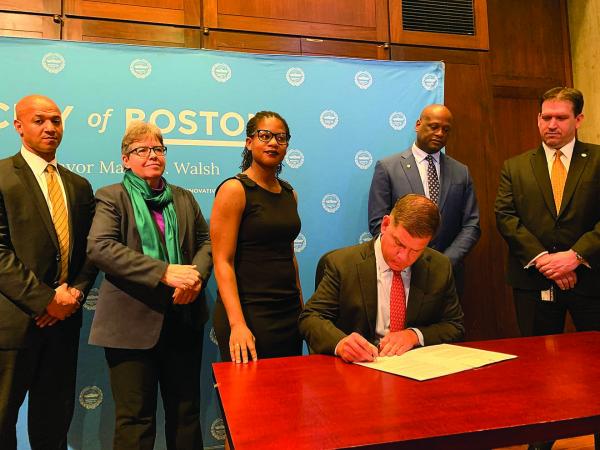 Mayor Martin Walsh signed an executive order on Monday that he says will bring more transparency, accountability and public confidence to the Zoning Board of Appeal (ZBA) in the wake of a scandal involving a city employee who admitted to accepting bribes to influence the board. The mayor framed the order as a "first step," adding that additional details were expected to be hammered out on Tuesday during a City Council hearing that will likely lead to a home rule petition.
The changes outlined in the order were informed in part by the findings of a report authored by two lawyers from the law firm Sullivan & Worcester, which was made public on Monday. Walsh ordered the independent review last September after John Lynch, a former city official, pleaded to federal bribery charges connected to ZBA proceedings. 
"The ZBA plays a critical role here in the city," Walsh added. "It determines how we preserve, enhance, and grow our neighborhoods, and allow people in those communities to have a voice at the step of the process when a project gets to the ZBA. To be effective in this role, and maintain public confidence, the board must operate on the highest standards of professionalism, ethics and accessibility." 
The order Walsh signed seeks to address ethics and transparency by increasing board modernization, function, and efficiency. The mayor said that "key steps" of the order include strengthening disclosure requirements for both board members and applicants of commercial projects appearing before the board, a requirement that each board member submit annual statements on their financial interests, and comprehensive ethics and zoning law training at the time of appointment or re-appointment. 
The order also prohibits board members and alternates from participating in or deciding any appeal on a project in which they held an ownership interest, or received compensation for services within five years prior to the date that the appeal was filed.
Members will also subject to a two-year ban on business dealings involving projects that come before the ZBA for a vote.
City Councillor Lydia Edwards, who joined Walsh at the signing, said, "We're trying to get people to trust growth again. Part of not trusting growth is feeling that the process the government has set up is not accessible to you." She added: "We are experiencing monumental growth here in Boston, and there's an increasing sentiment that government at all levels must work faster and in every facet be more directly and deeply accountable to the communities that we serve." 
Modernization efforts will include first-time electronic submissions in order to streamline operations, including enabling online applications and payments for permits and petitions, electronic submission of plans, email notification of hearings, deferrals and new hearing dates, online subscription list for interested residents and parties, and a search database of all pending applications and decided petitions. 
The Inspectional Services Department (ISD) is commissioned through the order to work with the Mayor's Office of Languages and Communications Access to ensure access to translation services and assistive technology. ISD must also designate an ombudsperson to assist members of the public by answering any questions about the ZBA process and explaining how to navigate it.
Walsh said that the makeup of the board, which is required by state law to represent certain areas of expertise, needs updating "to better reflect modern interest and concerns." This is another facet that Walsh said he'll continue to work with the City Council on, one that will likely be discussed at Tuesday's hearing.
Edwards said that session will address how to establish term limits, among other issues, which, she said, could change the standard for who could one day serve on the ZBA.
Among many things, she added, "We're going to discuss term limits. We'll discuss who's at the table in terms of current positions, and we've also proposed the possibility of having an environmental seat and an urban planner seat.
"This is speaking to the pipeline that we're blocking by having people on there for lifetime appointments, I think if we had term limits we'd see a lot more people apply." 
Walsh concluded that the goal of ZBA reform is collecting information in order to boost transparency and regain public trust. "The goal is really about information – getting as much information as possible. Having a greater understanding of what [board members] work on and what they have worked on in the past, and having them understand what the obligation is moving forward," said Walsh. 
"It's all about transparency," the mayor added. "The ZBA has an important function: It's the agency that approves growth. It has to be completely honest and straightforward and people have to have confidence in the process. I think the more information we get on the people that serve on that board is good for all of us and good for the board."
Walsh called the Lynch case "very disappointing," and "devastating" in terms of lost public trust in the city, but added that he is not immediately concerned that there might be other instances of corruption within the Boston Planning and Development Agency, the agency for which Lynch worked, or the ZBA. 
"No, I'm not concerned, and obviously you can't tell until it happens," he said. "I was surprised about John Lynch. But to be clear … we did this report and found that there was no bribery in the ZBA," said Walsh. 
Lynch, the former assistant director of real estate at the Boston Planning and Development Agency's (BPDA) Economic Development Industrial Corporation, was charged in Aug. 2019 with one count of bribery and one count of filing a false federal tax return that failed to report the bribe payment.
He pleaded guilty to accepting $50,000 from a real estate developer in return for using his influence to secure a vote on a permit extension from a Zoning Board of Appeals member. He was sentenced to 40 months in prison in January.