By Daniel Sheehan, Reporter Staff
April 2, 2020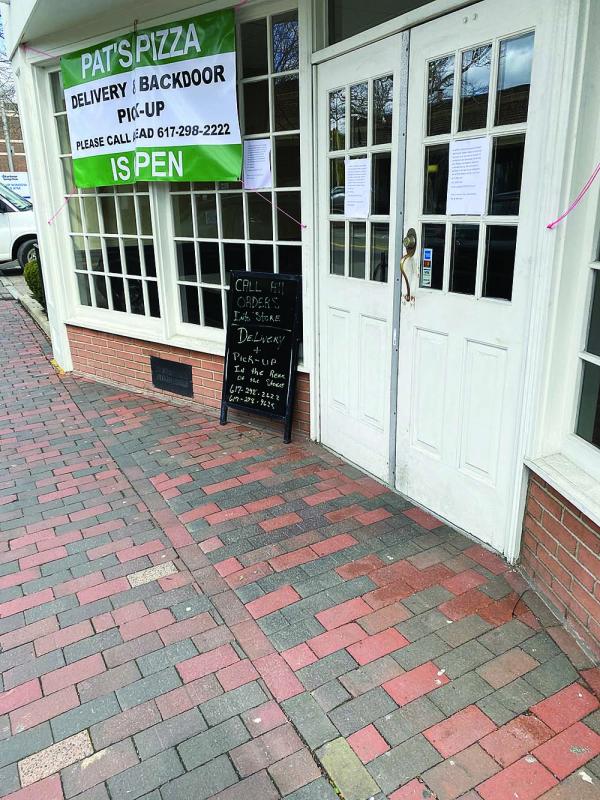 • Pat's Pizza of Lower Mills has adopted a new system for take-out orders. Customers should call ahead and drive or wait outside the rear of the pizza shop at 2254 Dorchester Ave. Food will be hand-delivered direct to your car. Call 617-298-2222.
• New protective measures at the Dunkin' in Edward Everett Square include protective glass panels in front of each register. Customers are being encouraged to pay ahead of time online to limit contact.
• Shanti, the popular Indian restaurant in the Savin Hill section of Dorchester Ave., closed temporarily on Monday due to a supply shortage. The eatery had been open for takeout and delivery.
"Due to the present situation, our vendors who supply our Indian ingredients from New York and New Jersey have stopped deliveries," owners Solmon and Rokeya Chowdhury told customers in an email. "We at Shanti would like to thank you once again for your continued love and support, especially over these past two weeks. Stay safe and we look forward to seeing you soon."
• Fields Corner's 50 Kitchen announced Monday morning that it would be closed this week for "some administrative work," but plans to reopen soon. Restaurant ownership informed customers of the decision on social media: "We want to thank all of y'all who came out and supported us this weekend...we appreciate your patience."
• On Monday, Daily Table on Washington Street announced a series of new protective measures in response to the developing crisis, including new hours: Monday-Saturday 10 a.mn. to 6 p.m., and Sunday 11a.m. to 6 p.m. "We're committed to the health and safety of our employees and customers," read a message on the grocery store's website. "In order to best serve our community, we're adjusting our store hours to give our staff more time to restock shelves, sanitize our stores, and rest in preparation for the next day. Additionally, we're continuing to reserve the first hour of each day for customers who are 60 and older."
• Adams Village's Eire Pub reopened for take-out orders Wednesday with a new menu featuring salads, sandwiches, and American chop suey. The bar had been "stools up" since St. Patrick's Day. The cash-only establishment is open Monday-Saturday from 11:30 a.m. to 6 p.m., and Sunday from noon to 6 p.m. 
• Dorchester Brewing Co. partners M&M BBQ are now offering food delivery through Uber Eats as of Monday, the restaurant announced via social media. The restaurant's full menu is available for purchase through the app. At the moment, delivery is available from 11:30 a.m. until 6:30 p.m., with no delivery fee.