By Katie Trojano, Reporter Staff
July 21, 2021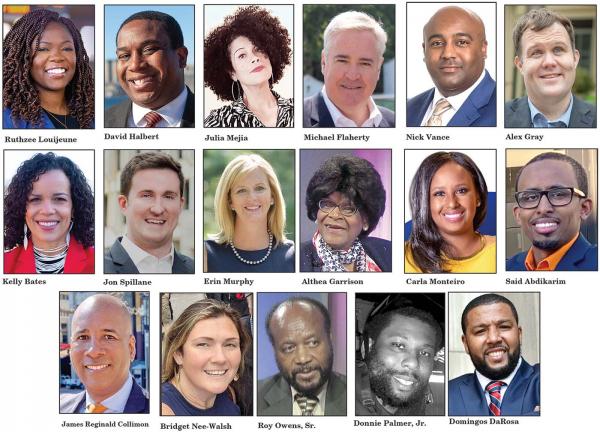 Two vacancies and more than a dozen candidates. When Michelle Wu and Annissa Essaibi George decided to run for mayor and not seek re-election to their City Council At-Large seats, a large group of Boston residents stepped up to jockey for the two slots. Two incumbents, Michael Flaherty and Julia Mejia, are running for re-election, meaning that 17 candidates who have been certified by city elections officials will be on the ballot on Sept. 14.
After the preliminary election, 8 of the 17 will continue campaigning for the 4 at-large seats on the 13-member body. The general election is set for Nov. 2.
Flaherty and Mejia, who won her seat in 2019 by just one vote, are joined by Said Abdikarim of the South End; Kelly Bates of Hyde Park; James "Reggie" Colimon of Roslindale, Domingos DaRosa of Hyde Park; Alex Gray of Jamaica Plain; David Halbert of Dorchester; Ruthzee Louijeune of Hyde Park; Carla Monteiro of Dorchester;
Also, Bridget Nee-Walsh of South Boston; Jon Spillane of Beacon Hill; Nick Vance of Hyde Park; Erin Murphy of Dorchester; Roy Owens Sr. of Roxbury; and Donnie Palmer Jr. of Dorchester.

Michael Flaherty
Born and raised in Boston, the 52-year-old Flaherty was first elected to the City Council in 1999. Ten years later, he unsuccessfully challenged Mayor Thomas Menino, who had been in office for 16 years. He returned to the council, winning an at-large seat in 2013. Two years ago, he placed third in the at-large field, behind Michelle Wu and Annissa Essaibi George. 
What sets him apart from the field, Flaherty said, is his "leadership and experience. I was the first citywide elected official to support marriage equality, one of the first to support the Community Preservation Act, and to increase the linkage formula."
Flaherty said he supports satisfying housing goals by recalculating the area median income (AMI) set at the federal level for Boston by removing MetroWest from the equation. That would make it more representative of the city, as well as bolstering partnerships with nonprofits, he said.
When it comes to education, he supports using exams as the admissions criteria for Boston's three exam schools. He also thinks the city should: Ensure that curricula should match "Boston's workforce demands," improve infrastructure at all public schools, focus on making Madison Park a "top-notch" leading vocational school, and improve literacy rates citywide. 
"We have one of the best police departments in the country," he said when asked about police reform. "Are we perfect? No, we are not. We can always do better, but I am proud of the work that the men and women of the Boston Police Department do." 
Endorsements: Boston Teachers Union, Boston Firefighters Local 718, Teamsters Local 25, SEIU NAGE, North Atlantic States Regional Council of Carpenters, Boston Carmen's Union Local 589.
Cash on hand: $276,095.
Website: michaelflaherty.com.

Julia Mejia
The Boston City Council's first Afro-Latina member says she has "unfinished business" on the council. "I need a do-over, nothing about my first term has been normal," she said with a laugh, pointing to her one-vote victory in 2019 and her first year in office during an unprecedented pandemic.
Mejia, 51, called the field an "incredibly diverse" group. "Everyday people are realizing they can do it, too. You don't have to be part of any dynasty or super polished. Your pedigree doesn't dictate your ability to lead these days," she said.
What makes her stand out of the field, she said, is her "lived experience as a Boston Public Schools graduate and parent, and as a single mom in the city." 
"I am an immigrant and my daughter is first generation, so I think that I really reflect the city's demographics," she added.
If elected to a second term, Mejia said, she wants to embark on a "deeper dive" into education equity and planning and development. "There are a lot of people experiencing housing and security and that's something I really want to tackle."
Endorsements: Boston Teachers Union; Mass Nurses Association.
Cash on hand: $101,040.
Website: juliaforboston.com.

David Halbert
A former aide in Gov. Deval Patrick's administration, Halbert placed eighth in the 2019 at-large race. The 40-year-old Dorchester resident currently sits on the boards of the Greater Mattapan Neighborhood Council, East Boston Main Streets, and the East Boston Project Advisory Committee (PierPAC.) 
"I have an academic background in public administration, 15 years of experience in public service, and I'm a Boston Public Schools parent," Halbert said. "The lack of a Black male voice on the council is the most apparent thing that makes me stand out, but beyond that I have a wide range of experiences." 
He said he wants to "work at the policies that we can control at City Hall," such as the IDP percentage, which, he said, "should be at a minimum of 20 percent." He's also a proponent of "smart density"—larger housing projects, sited close to public transit, that improve infrastructure for bikers and pedestrians. 
Halbert supports universal K-0 and K-1 access, comprehensive wraparound services, and making sure that BPS staff is reflective of the student body's diversity.
In terms of public safety, Halbert said, the city should "make sure that we're making mental health clinicians and substance use counselors and social workers available," and working with the police department at "the collective bargaining table." 
Endorsements: State Senators Sonia Chang-Díaz, Sal DiDomenico and Joe Boncore; state Rep. Nika Elugardo, State Rep. Dan Ryan and State Rep. Adrian Madaro; former at-large candidates Alejandra St. Guillen & Jordan Meehan, former state Rep. Charlotte Golar-Richie; Mass Nurses Association; North Atlantic States Regional Council of Carpenters. 
Cash on hand: $85,592.
Website: david4boston.com. 

Nick Vance
A Hyde Park resident who grew up in Dorchester and Mattapan, Vance, 30, is a community relations manager at METCO. In the past, he has served as political action co-chair for the Boston NAACP and worked as a recruiter for Encore Boston Harbor casino. He has also worked for the Boys and Girls Clubs of Boston and City Year. 
"I truly have been in the trenches in our communities working on the key issues and I practice what I preach," Vance told the Reporter.
If elected, his top priorities would be increasing affordable housing for "generations of people who can't afford to live in the city," providing high paying jobs that match inflation, and finding an "outside of the box solution" to address the substance abuse disorder and mental health crisis at Mass & Cass.
He is also interested in ensuring that all public schools are equipped with updated infrastructure that is adequate for a safe reopening.
While Vance does not support cutting the police budget, he thinks the department could improve: "We need to work with police and look at their training when it comes to diversity and de-escalation. There is a need for more officers, and we need to work on their community relationships. As of now, just sitting in a cruiser at the corner isn't doing enough." 
Endorsements: Josh Kraft, former president and CEO of Boys and Girls Club of Boston; Joseph Feaster, Esq., chairman of the board at the Urban League;  Thelma Burns, community activist; Dr. Jean McGuire, former executive director of METCO Inc.; and Melvin Vieira Jr., president-elect of the Greater Boston Association of Realtors.
Cash on hand: $8,342.
Website: nicholasvance.com. 

Ruthzee Louijeune
The 34-year-old lawyer and advocate from Mattapan is running to become the council's first Haitian-American member. "Boston has a vibrant Haitian community that hasn't been represented on the Boston City Council," Louijeune said. "It's a group of folks who are often not invited to the table." 
She said she's well-equipped to tackle an array of issues, pointing to her work representing families facing evictions and foreclosures while at Harvard Law School, her experience working as a member of the Massachusetts Affordable Housing Alliance (MAHA). and her years as a student in the Boston Public Schools.
Louijuene said she was an "integral player" in drafting MAHA's Saving Towards Affordable and Sustainable Homeownership (STASH) program, which provides homebuyer education and helps with down payments on homes.
"I'm a first-time candidate, but it's not my first time working on any of these issues," she said. "My fluidity of being able to sit at all these different tables and feel comfortable will be an asset to the city."
Endorsements: US Sen. Elizabeth Warren; state Sen. Sonia Chang-Díaz; state Rep. Liz Miranda; City Councillors Lydia Edwards and Kenzie Bok; Boston Firefighters Local 718; Mass Nurses Association; Boston Teachers Union.
Cash on hand: $151,946.
Website: ruthzeeforboston.com. 

Erin Murphy
A lifelong Dorchester resident, Murphy, 51, has worked for 24 years in the city school system. She finished sixth in the last at-large race.
She said she supports keeping exams as the admissions criteria for the city's three exam schools, but wants to improve the quality at all Boston public schools. 
"I think it's key that every family and every child has the opportunity to get a seat at a good quality school that's close to home," she said.
She's also in favor of universal pre-kindergarten, increased mental health services at all schools, more attention to special needs and ESL classes, and equitable tech support for all students.
When it comes to housing, Murphy said, "affordable housing is not affordable for the working class." She noted that she rents the second floor of a three-decker, and that her children could be faced with leaving the city because of high housing costs. 
As for the Boston Police Department, Murphy praised Boston's community policing model, but added that the department should hire more officers.
Endorsements: State Rep. Dan Hunt, Councillor Frank Baker, Boston Firefighters Local 718, Mass Nurses Association, Laborers Local 223.
Cash on hand: $45,921.
Website: erinforboston.com. 

Carla Monteiro
A social worker and Dorchester native, Monteiro is a first-generation Cape Verdean, and a 38-year-old single mom. She holds a master's degree in social work from Boston College and deals with patients who are struggling with mental health issues and substance use disorder at Boston Children's and Brigham and Women's hospitals. She is also the founder and president of the Cape Verdean Social Workers Association. 
Monteiro told the Reporter that her "lived experience navigating city services and advocating for her community" is what would make her a great councillor. 
When it comes to housing, Monteiro said the city should make sure development projects are affordable for the people who live in the communities they're built in. She wants to expand renters' rights and protections and use available city land for affordable housing. 
Monteiro does not support using the exams as an admissions process for Boston's three exam schools, but she supports universal pre-K, hiring more nurses, social workers and therapists, and investing in a green infrastructure for all Boston Public Schools. 
As to public safety, Monteiro is in favor of ending shared information between BPD and ICE (US Immigration and Customs Enforcement) and reallocating funds from the police overtime time budget to create a 24/7 crisis center run by the city that responds to mental health crises, homelessness, and people experiencing substance use disorder.
Endorsements: Sheriff Steve Tompkins; NASW-MA PACE. 
Website: carlaforboston.com.
Cash on hand: $19,257.

Alex Gray
A former adviser to Gov. Deval Patrick, and a policy analyst in City Hall. 
Gray, 36, hopes to become Boston's first blind elected official. "My work life, but also equally importantly, my lived experience is what makes me a great candidate for city council," he said, adding, "I think that 2021 has to be the year that the disability community has to have a seat at the table."
Rental relief will be extremely important coming out of the pandemic, said Gray, noting that the city needs to be "creative" in its approach to expanding affordable housing projects— possibly by building housing on top of public libraries and looking at city-owned parcels. 
Gray said that an exam should "play a role in the admissions process to our public exam schools." He has called for the school committee to have a dedicated seat to represent the interests of the special education community. 
"Boston is a leader on community policing," he said, when asked about what the police department is doing well. He also cited the department's body camera program and de-escalation techniques. Gray said that constituents want "reliability and accountability," when it comes to policing.  
Endorsements: Laborers Local 223, former Patrick state budget chief Jay Gonzalez.
Cash on hand: $42,364.
Website: votealexgray.com. 

Bridget Nee-Walsh
A South Boston native, ironworker, and small business owner, Bridget Nee-Walsh, 42, favors more vocational programs to teach trades in Boston Public Schools. She would like to see every school have a class like woodworking or sheet metal. "Not all kids are going to be college material, but they can all earn a living wage," she said.
She also advocates for "responsible redevelopment." On her website she argues: "The people of Boston would much rather see a 3-story parking garage go up than more empty 'luxury' condos."
A single mom who hails from a "large blue-collar, working class family," Nee-Walsh owns two specialty stores specializing in Irish-American goods, including a storefront in Dorchester's Adams Village called Babe Mannion's Irish Shoppe. She is also an ironworker, who serves as the first female elected to serve on the executive board of the Local 7 union. She is presently the local's recording secretary.
Endorsements: Ironworkers Local 7, IBEW Local 103; IBEW 2222 and Boston Firefighters Local 718, Sheet Metal Workers Local 17, Carmen's Union.
Cash on Hand: $9,810.65

James "Reggie" Colimon
A Haitian-American who served as a City Council liaison for former Mayor Martin Walsh, the 55-year-old Colimon said he would focus on breaking down language barriers and systemic inequities. He holds a political science degree from Salem State University, a master's in international policy studies, and an MBA from Middlebury College.
Colimon said he would be ready to "hit the ground running on day one" due to his experience working in municipal government. 
He supports universal pre-kindergarten for all, would look to create pathways for vocational training, and explore ways to fund a program for Black and Brown students who want to go to law school.
Colimon said the Boston Police Department needs to be adequately staffed. He cited the department's community policing model as something he would work to support.
In terms of housing, Colimon said the city should continue prioritizing transit-oriented development (TOD), with the goal of making Boston a "15-minute city" —so that goods and services would be well within reach for everyone. He would work to adjust the zoning rules to allow smaller-scale multi-family housing. 
Cash on hand: $21,798. 
Website: colimon2021.com.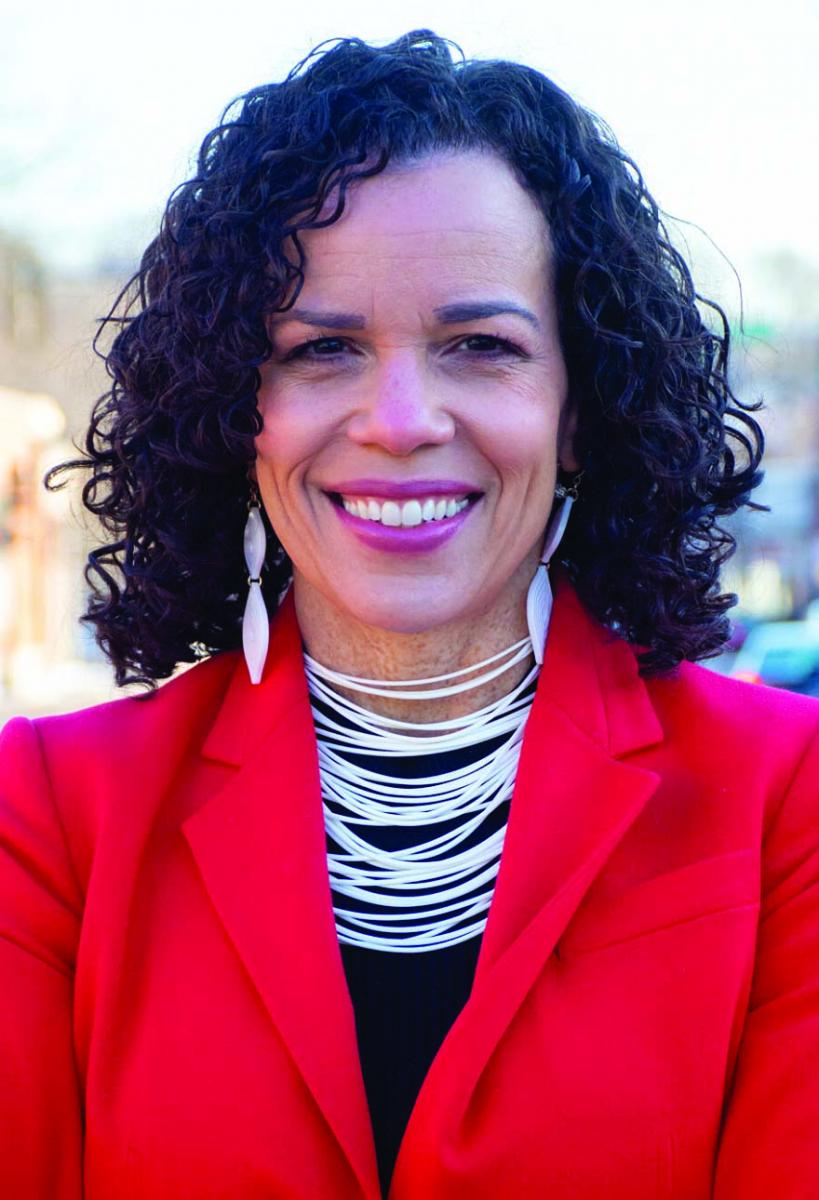 Kelly Bates
The president of the Interaction Institute for Social Change and a founding board member of Emerge Massachusetts was asked what sets her apart. Bates, 50, pointed to 25 years of experience as a lawyer and nonprofit and crisis management leader.
"I'm a lawyer and a bridge builder," she said. "When things are difficult in the city, it's so important to have people who can help different communities communicate issues and really figure out how to create solutions."  
She added: "I'm a Black and Irish woman, and given the very tough issues we have in Boston around race and how it relates to schools policing and housing, it's so important to have a reasoned voice that can bring people together." 
If elected, Bates said, she would make sure that "every single public school receives all of the resources that they possibly can through the new federal funds coming into the city to make them more equitable and improve infrastructure."
She's not in favor of any of the current proposals for BPS exam school admissions criteria.
In terms of police reform, Bates said the community policing model works well, and thinks the city should work to improve the relationship between officers and advocate groups.
Endorsements: State Sen. Sonia Chang Diaz, former NAACP Boston Branch President Michael Curry. 
Cash on hand: $65,562.
Website: batesforboston.com.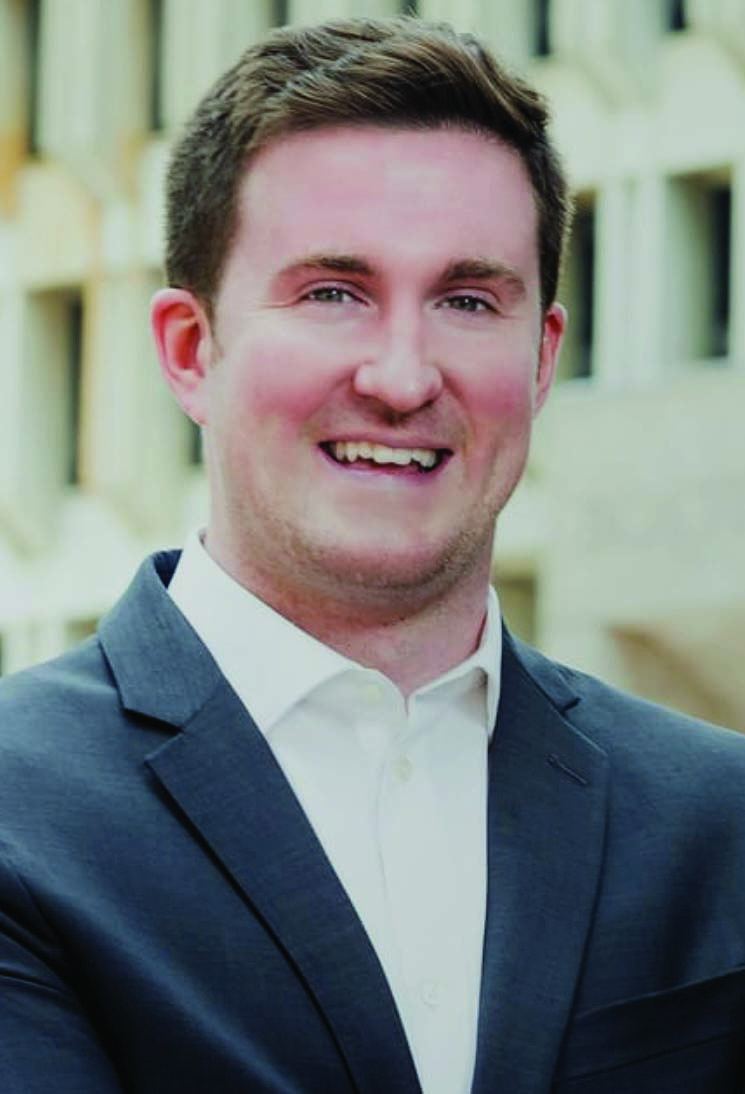 Jon Spillane
A former employee of the city's Department of Neighborhood Development (DND) and a recent graduate of Suffolk University Law School, Spillane, 30, worked most recently as a staffer for District 8 Councillor Kenzie Bok.
"I think I'm one of the few candidates who has worked for the city council," Spillane said. "I've also worked for DND and I believe housing is the top issue in the city."
Spillane, an attorney, would like to incentivize developers to build more affordable units through priority permitting. He would also hire more Boston Planning & Development Agency (BPDA) and Zoning Board of Appeal (ZBA) staff, and reform zoning laws. 
For Boston Public Schools, Spillane would prioritize using federal relief funds to improve infrastructure and take "advantage of low interest rates for capital projects." 
He also supports expanding the city's universal pre-K program, looking at creating early childhood care, and using an exam "in some capacity going forward" as a component for exam school admissions. 
On the topic of police reform, Spillane said: "In this past year we've done a lot toward police reform including the creation of [an oversight] board. I think we need to make sure that that board is fully funded so it can succeed." 
He added that he opposes a general reallocation of overtime funding but thinks "that we have a responsibility to make sure that we are using funding responsibly." 
Endorsements: City Councillor Kenzie Bok, State Rep. Jay Livingstone, State Sen. Joe Boncore, Ward 5 Democratic Committee, Laborers' Local 223, Plasterers Local 534
Cash on hand: $26,040.
Website: jonforboston.com. 


Roy Owens Sr.
A perennial candidate for office in the city for decades, Owens has worked as a public school teacher and social worker for the Department of Public Welfare. He said that "church" and "faith-based" values should be incorporated into BPS along with mental health support. 
As to police reform, Owens said that faith-based methods should be incorporated into the department's community policing model. 
Cash on hand: $0.
Website: royowensboston.mysite.com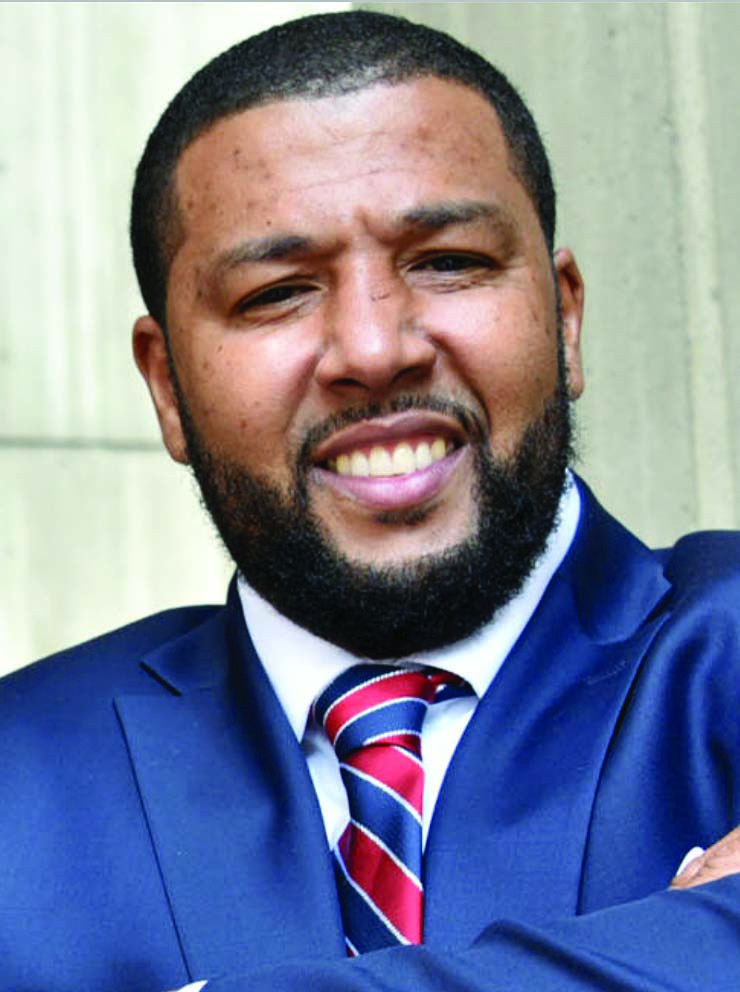 Domingos DaRosa
The two-time (2017, 2019) candidate for the same seat and SEIU Local 888 leader is the owner of DaRosa Property Maintenance. After his family moved to Boston from Cape Verde Island when he was an infant, DaRosa, 43, grew up in Roxbury, Dorchester, and Hyde Park. He's a graduate of Madison Park High School and holds a degree from the Benjamin Franklin Institute of Technology. 
"I have a track record of doing work in the community and building relationships. I'm not groomed by the powers to be, and my values have not been compromised," he said. "Day in and day out you can find me mentoring kids in the neighborhood."
As for Boston Police issues, DaRosa said that officers are "stretched thin. They need mental and physical health support," adding that while he doesn't necessarily support cutting funding, the city could "do a better job at managing funds."
On the topic of development and housing, DaRosa said his top priority if elected will be advocating for more affordable homeownership opportunities. "We need to use whatever parcels we have left to create affordable homeownership," he said. 
Cash on hand: $2,664.
Website: darosaatlarge.org.

Said Abdikarim
A refugee from Africa who settled in Boston as a teenager, Abdikarim attended Boston Public Schools. He sold newspapers at age 14 and sent the money home. 
According to his website, he is running "to make sure that all Bostonians get equal opportunities and use his background living in low-income communities, and as a black immigrant working in technology, investments and business, to fight for a level playing field." 
He also wants to bridge the economic gap through STEM and vocational education in Boston Public Schools and advocate for equal opportunity through a redistribution of city resources like housing, workers' rights, and childcare opportunities.
Cash on hand: $35,208.
Website: sa-id.com

The following candidates either did not respond to request for comment before publication or else declined to be interviewed by the Reporter: 

Althea Garrison
After Garrison placed fifth in the 2017 election, she moved into an at-large council seat briefly in 2019 when Ayanna Pressley left for Congress. She failed to retain her seat in the November 2019 election, finishing seventh.
In an interview with the Reporter in February, Garrison, 80, who has at times run as a Republican, touted her support of the Boston Police Department and bemoaned the fact that, in her opinion, the council has swung too far left. "I'm running to bring it a little more center," she said.

Donnie Palmer Jr.
A former professional heavyweight boxer who survived a shooting in Dorchester in 2015, Palmer describes himself as a conservative Republican. His social media is heavy with pro-Trump references. On his website, he describes himself as "the only candidate that wants to stop teaching racism in the schools."
Cash on hand: $1.02
Website: palmeratlarge.org.