By Gintautas Dumcius, Managing Editor
September 16, 2021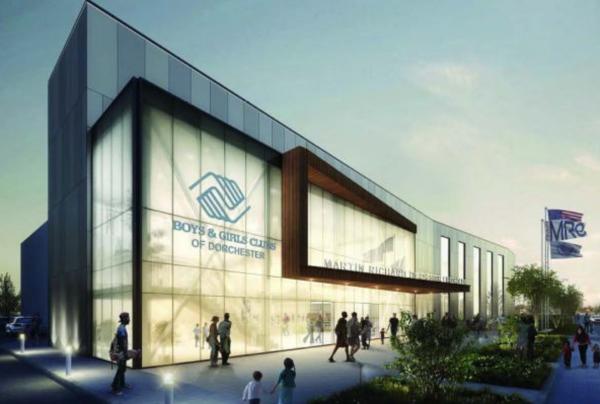 Proponents of a new indoor sports and community center that will be named for Martin Richard, the eight-year-old Dorchester boy who was killed in the 2013 bombing at the Boston Marathon finish line, are moving ahead with the project.
Robert Scannell Jr., president and CEO of the Boys & Girls Clubs of Dorchester, and Bill Richard, the boy's father and co-founder of the Martin Richard Foundation, filed a letter of intent on Sept. 9 with the Boston Planning and Development Agency outlining their plans for the new complex.
It will be located at 315 Mount Vernon St., in Dorchester's Columbia Point neighborhood. Boston Public Schools officials earlier this year leased the site, which comprises 109,569 square feet next to the McCormack School, to the proponents. The proposed three-story building will span 79,000 square feet.
The project calls for the building to include indoor fields, courts, a walking track, training rooms, classrooms, a theater, a teaching kitchen, offices, and conference rooms. A cafe with outdoor seating is also part of the proposal.
"When completed, the new facility is to be known as the Martin Richard Dorchester Field House," Scannell and Richard wrote in their filing. "While the BGCD will oversee the day-to-day operations and programming at the site, the Martin Richard Foundation will remain a committed and engaged partner once the new facility is commissioned for occupancy."
Outside the walls of the field house there will be a front yard with "playful berms and stormwater garden" and a backyard offering "multi-use parking and sport courts as well as more private areas for group fitness classes and events," the letter said. "Planted areas provide a buffer from traffic and offer structure to the perimeters of the site."
The project has to get the approval of city planning officials before it can move ahead.
"We are excited to be a part of this once-in-a-lifetime opportunity to create a facility that will not only have a positive impact on the Dorchester community but will also fortify the best elements of the BGCD in supporting and advancing Dorchester's youth and their families," Scannell and Richard wrote.
The project came about partly as a result of Boston Public Schools putting out a request for proposals for the site, which is an open space between the McCormack School and land owned by the Archdiocese of Boston.