By John Barros, Special to the Reporter
August 17, 2021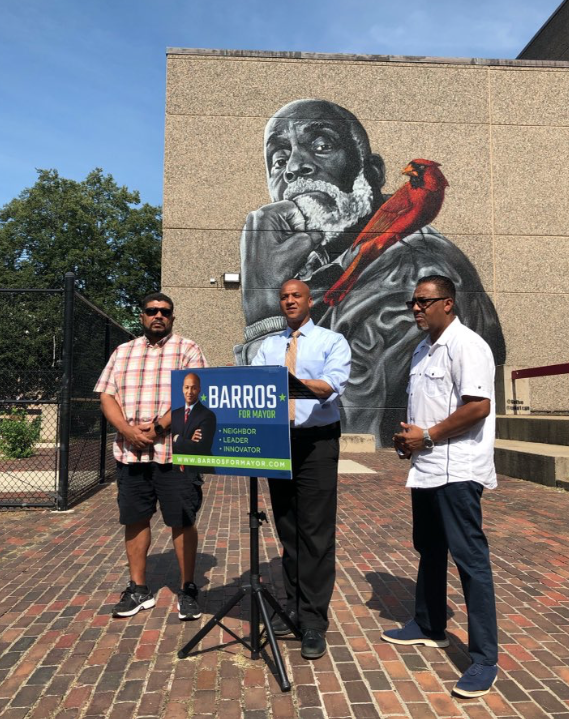 Editor's Note: The Dorchester Reporter has invited each of the major mayoral candidates to submit an opinion column to be published in the month of August to highlight policy positions that they intend to advance if elected. This article written by candidate John Barros is the first in a series that will continue next week.
Everybody agrees that public education is a right, a pathway out of poverty, and a great equalizing force. In Boston, we are failing thousands of children and families by not providing them with high-quality options in their own neighborhoods. It doesn't have to be this way. We have the tools we need to make the first public schools in the country the best public schools. Right now, Boston has an opportunity to lead the nation once again in educational excellence in the post-COVID era.
As families prepare for back-to-school, August 16 - 20 is Education Week in my campaign. I will release five plans over five days that address some of our most pervasive challenges, and form the basis for a comprehensive, aspirational, and realistic plan for fulfilling our obligation to the city's children. It is time to focus on ensuring that every single Boston student has access to a top-tier seat and a great school in their very own neighborhood.
On Monday, I announced a $4 billion investment in school buildings. In a city as wealthy as Boston, there's no excuse that so many students attend school in aging, crumbling buildings with inadequate educational facilities. By leveraging the city's bonding capacity, and the AAA rating that the administration I worked for earned because of strong fiscal management, we will rebuild our schools, starting with those that have been most overlooked.
We can't expect our children to learn science without labs and arts without theaters, or to excel in classrooms that are too hot or too cold. We began this work with the Dearborn STEM Academy, Boston Arts Academy and others, but I have a plan to expedite the process, in partnership with private developers, with plans for utilizing swing space and listening to community input.
Today, I shared my vision for what should be the crown jewel of our system - Madison Park Technical Vocational High School.
My plan calls for an independent school board and budget, which will work in collaboration with the Superintendent and Friends of Madison Park. This structural change will catalyze the modernization of the school's programs to prepare students for the jobs of today and the future. In addition, I will implement the Career Champions Network's Madison Park Technical Institute concept, and establish an adult education and certification program.
On Wednesday, I'll detail my plans to create a Guaranteed Minimum Income (GMI) pilot for our city's early childhood educators. These low-income workers, the majority of whom are women of color and immigrants, provide a priceless service in caring for our children while teaching in the very important early childhood development learning stages. Data from other GMI pilots around the country have shown promising early results, and my pilot will nicely augment the early education and childcare plan I released this spring.
On Thursday, I will discuss my plan for establishing Education Innovation Districts in neighborhoods that have the infrastructure to support a cradle-to-career pathway. I will start in Roxbury along the Dudley Street corridor in an effort to scale existing partnerships and coordinate efforts between local educational institutions and human development agencies serving our students and families, and then engage communities in Charlestown, East Boston, and every neighborhood to find the right partnerships to support learning. With this model, we will also be able to fully equip families in the Districts with the digital hardware, software, and technical assistance needed to bridge the digital divide and enable continuous learning and connections for opportunities.
And finally, on Friday, I will announce a plan to develop a City College system that knits together Boston's designated Minority Serving Institutions (MSIs) to provide open doors to free post-secondary education and industry-informed programming that will help them build the skills they need for jobs of the future. Through investment in this system, I want to create sustaining resources for a set of colleges in the city that have already proven their commitments to Black and Brown youth, and have demonstrated their abilities to connect them to career opportunities and prepare them for civic leadership.
This is an ambitious agenda, but I have a proven record of implementing ambitious agendas. Throughout my career, I've helped design, build, and open new state-of-the-art schools like the Orchard Gardens K-8 Pilot School and the Dearborn STEM Academy. And I believe in the transformative power of public education.
If we want to see dramatic improvements for our students, close the opportunity and achievement gaps, and build a prosperous and just future for Boston, it's not just curriculum, instruction, and student support that needs to change. I have a plan to build world-class schools in every neighborhood, fully fund them, and deliver opportunities for the next generation in every corner of our city. We owe our city's children the very best education we can give. As Mayor, I am committing to seeing that through.