By Katie Trojano, Reporter Staff
January 13, 2021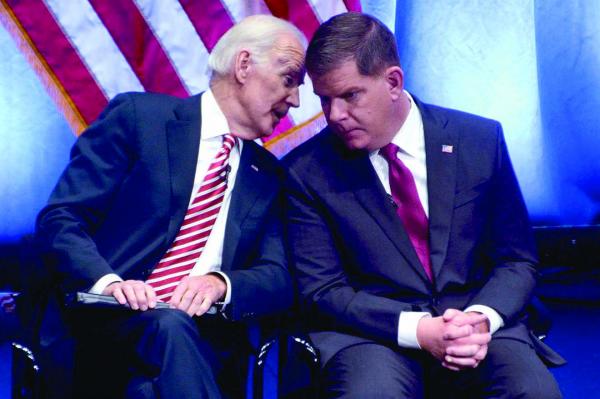 Calling him a "good friend" and "stand-up guy," President-elect Joe Biden last week introduced Mayor Walsh to the nation as his choice to lead the Department of Labor, a position that the 53-year-old Dorchester resident and past union leader enthusiastically accepted during a ceremony in Wilmington, Delaware.
"Marty was born and raised in Dorchester. I know him— tough as nails," Biden said. "He was diagnosed with cancer and beat it at age 11, joined Laborers Union 223 at age 21, worked in the state Legislature, became a union president and graduated from college at age 42."
Biden also noted that Walsh is the son of Irish immigrants. "Only downside, they're not from Mayo, they're from Galway," he said in a nod to their shared Irish roots.
The president-elect praised the mayor for his leadership as Boston's steward during the coronavirus pandemic, for supporting healthcare professionals, public servants, essential workers, and union laborers.
"They are literally what's keeping us going and they deserve a Secretary of Labor who knows how to build their power," Biden said. "A future with historic investments in infrastructure, clean energy, manufacturing and so much more that's going to create millions of good-paying jobs.
"Marty knows worker power means not just protecting the right to unionize, but also encouraging unionization and collective bargaining, Biden added. "This is one of the most important departments to me, I trust Mayor Walsh and I'm honored he accepted."
In his own remarks minutes later, Walsh thanked Biden and Vice-President-elect Kamala Harris for the "opportunity to serve the American people. The word 'labor' means everything to me," he said. "My mother and father came to this country as immigrants and they brought with them their willing hands, honest hearts, and hopes for the American dream. But all they needed, because my father joined the Laborers Union in Boston, was that opportunity. My parents were able to raise us with dignity and security in a multi-ethnic, multi-racial working class neighborhood of Dorchester in the city of Boston." 
Walsh used the occasion to slam the Trump administration for an "erosion" of the American peoples' rights. "This isn't just because of the covid or economic crisis that threatens their well-being," he said. "Working people have been struggling for a long time under the erosion of their rights and the deep inequalities of race, gender and class.
"For the last four years they've been under assault on their rights, their livelihoods. The unions that built the middle class are facing hard times, but nobody is tougher than the American worker. Now we have the opportunity to put the power back in the hand of the working people all across this country.
"Mr. President-elect, said Walsh, "I know that from Dorchester to Scranton to Wilmington to West Virginia and all across this great nation, your home and your heart are with the working people."
Walsh rounds out Biden's economy-based team that includes Janet Yellen, his nominee as secretary of the Treasury, and Rhode Island Gov. Gina Raimondo, who has been tapped to be secretary of Commerce.
"We have finished naming our cabinet, saving the best for last," Biden said. "We have 24 outstanding women and men who will get our country moving and restore trust in our government again, all of whom are ready on Day One to do their jobs.
"This is a cabinet that looks like America— it taps into the full range of talent that we have in our nation. It's a historic cabinet— it will be the first ever that is evenly composed with as many women as men, the first-ever with a majority of people of color. It has more than a dozen historic appointments." 
Biden said he expects the Senate to "move to confirm these nominees promptly and fairly. Given what our country has been through the last few days they should be confirmed as close as to Jan. 20 as possible," he said.  "We will remain in this dark winter of the pandemic with an economic crisis that's deepening and we have no time to lose with regard to the entire team.
"The bottom line is we are in the midst of the most unequal economic jobs crisis in modern history. Congress needs to act as quickly as possible on all of the issues I've laid out," Biden added. "That's how we can contain the pandemic and build back better with an economy that works for all Americans and this is the team that's going to get that done."