By Gintautas Dumcius, Managing Editor
December 1, 2021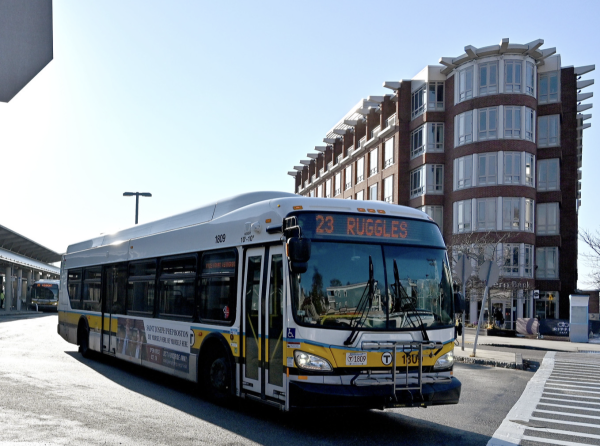 Mayor Michelle Wu's $8 million fare-free bus proposal, which targets three bus lines as part of a two-year pilot, on Wednesday cleared the City Council on a 12-1 vote. Dorchester Councillor Frank Baker was the lone "no" vote.
Dorchester's Erin Murphy, who was sworn in by Wu before the council's vote, was among those voting for the proposal, casting one of her first votes as an at-large councillor. Murphy is filling the seat left vacant by Wu's departure for the mayor's chair. Murphy will be sworn in as an at-large councillor again in January, having won one of the four at-large slots in the November 2021 election.
Wu's public transit proposal expands on the fare-free pilot taking place along the MBTA's Route 28, which runs from Roxbury's Nubian Square down to Mattapan Square. Kim Janey, while acting mayor, launched the pilot over the summer, and it is scheduled to run through the end of this year at a cost of $500,000.
During her first full day as mayor, Wu proposed extending the pilot by two years and adding two additional routes, the 23 and the 29. Route 23 runs from Ruggles Station in Roxbury to Ashmont Station in Dorchester, while the 29 runs from Mattapan Square to Jackson Square in Jamaica Plain. The routes, which run entirely within Boston's borders, serve high numbers of low-income riders and people of color.
The $8 million price tag, paid for through one-time federal money, came about through ridership estimates. City officials say that Route 28 ridership hit 2.9 million in 2019, while Route 29 reported about 500,000 riders and Route 23 had 2.8 million. The $8 million would also fund marketing and translation services to ensure that residents are aware of the pilot. Boston transportation officials say they will work with the Boston Planning and Development Agency (BPDA) to determine the economic impact of freeing up money in riders' wallets.
At an event outside Ashmont Station on Nov. 18, Wu, who campaigned on a fare-free MBTA system, pitched the bus route proposal as a way to "connect our communities and supercharge our recovery." She was joined by Councillors Michael Flaherty, Matt O'Malley, and Andrea Campbell, who voiced support for the proposal but pressed for a hearing.
At the hearing held Monday, Flaherty, the at-large councillor who chairs the Covid relief committee and shepherded the proposal through the council, said that the city of Boston annually contributes about $85 million to the MBTA's budget.
But District 3 Councillor Frank Baker, who represents Dorchester, noted that in two years the federal money behind the pilot will be gone.
"It's not free," he said. "This is a bill that's going to chase us forever." Baker added: "Anybody else other than me have a problem with this?"
Casey Brock-Wilson, the city's director of strategic sponsorships, says they want a sustainable funding source beyond federal money, and partners will be needed in the pilot. A two-year pilot offers an opportunity to have those conversations, she said, and it will take a "team effort to get it done."
Baker wondered if fare-free buses will be paid for through cuts to budget line items for police, parks, and public works. "Where is it going to be cut out of?" he asked. "Because there's only so much pie here." (At Wednesday's meeting, Baker also indicated he may not be around when there is a vote in two years on extending or expanding the pilot program. Baker has been on the council since 2012 and was just reelected.)
Brock-Wilson said there is a public process around any conversation about the city budget, and city officials are also keeping a close eye on federal legislation that could pay for more bus lines down the road.
Campbell, who represents Dorchester and Mattapan, thanked Baker for asking the question about money during the hearing and said she was surprised the council had considered passing the fare-free proposal without a hearing.
"I think everyone should have an opportunity to weigh in...even if we all agree the idea is a good one," she said.