By Gintautas Dumcius, Managing Editor
August 12, 2021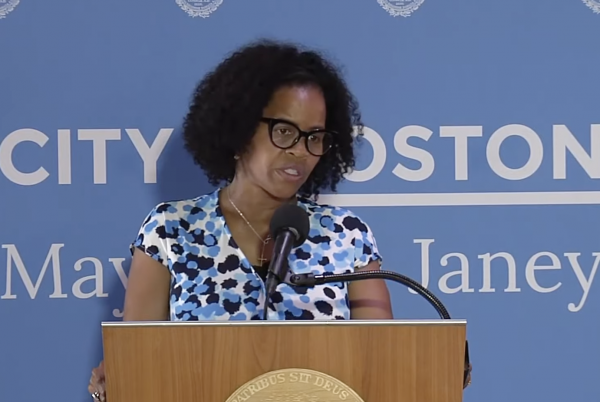 City employees must get vaccinated or submit to weekly coronavirus testing, Acting Mayor Kim Janey said Thursday.
The city, which employs 18,000 people, expects to phase in the mandate over two months. Employees who work in the schools, the centers for youth and families, and the public libraries are required to comply by Sept. 20.
Contractors and volunteers who work with those city agencies and departments, as well as employees who work in public safety, parks, inspectional services, registry and parking departments, must comply by Oct. 4. All other employees, contractors and volunteers must comply by Oct. 18.
The vaccine and testing will be available for free and eligible city workers will have up to one hour of paid leave during a workday to get vaccinated or tested, according to the Janey administration.
"Our purpose is to protect our employees and the public," Janey said during a City Hall press conference, which came days after mayoral rivals pressed her to make the move.
More than 400,000 Boston residents are fully vaccinated, and the city has seen a 17 percent increase in the Black vaccination rate, and a 23 percent increase in Latino vaccination rate, according to Janey. "We are making real progress," she said.
But Janey, busy amidst her campaign for a full term at City Hall, continues to find herself in the middle of policy debates as coronavirus cases rise and vaccination rates lag in some parts of the city.
Last week, the head of the firefighters union hinted at a suit if she instituted a vaccine mandate for BFD members; on Monday, Andrea Campbell, a mayoral candidate and district councillor for Dorchester and Mattapan, said that Janey isn't doing enough to beat back the ongoing pandemic that is being exacerbated by the highly contagious Delta variant.
Outside Mattapan's Morningstar Baptist Church, where she was vaccinated, Campbell called for Janey to implement a requirement for vaccinations or weekly testing employees and complained that the Janey administration is taking "too long" to act.
City data through July 27 show that 41 percent of Mattapan residents are fully vaccinated, while the rates vary in parts of Dorchester, from 44.4 percent to 61 percent.
Campbell also said that proof of vaccination should be required for places like restaurants, gyms, and concert venues. New York announced such a policy last week, and President Biden has voiced support.
"What we're hearing is restaurant owners, employers are sort of fending for themselves because there are no state and local guidelines, which is absolutely unacceptable," she said. "And we can't keep waiting for infection rates to go up, for more cases of Covid-19, especially with this Delta variant, to happen before we get action."
Masks should be again required for indoor dining and large venues, Campbell added. "We know masking up and getting vaccinated works," she said.
Another mayoral candidate, City Councillor At-large Michelle Wu, met with small business and restaurant owners on Wednesday to press for proof of vaccination requirements in theaters and restaurants.
"Instead of putting the burden on small businesses and workers, we need City Hall to step up with decisive leadership now," Wu said outside the Fort Hill Bar & Grill in Roxbury.
Janey has repeatedly declined to support requiring proof of vaccination, such as New York's policy, for private businesses.
Janey has previously said she had been in talks with city labor leaders about a vaccine mandate for city employees. Before Janey's press conference on Thursday, the Boston Teachers Union joined its national affiliate, the American Federation of Teachers, in saying members should be required to get a vaccine or submit to regular testing.
"We applaud Mayor Janey for proactively taking action to ensure the safety of students, the safety of educators and the safety of the public," Jessica Tang, BTU president, said in a statement Thursday. "This policy feels consistent with prior policies around vaccinating against other dangerous viruses and diseases."
But another union has tossed a brushback pitch at Janey. The head of the Dorchester-based firefighters union Local 718, in a message to members last week, raised the prospect of a lawsuit if Janey institutes a vaccine mandate.
"The issue of mandatory vaccination is complex, and it may ultimately need to be resolved in a court of law if it cannot be decided at the bargaining table," the union's leader, John Soares, said in the message, which was obtained by the news site Universal Hub. "Either way, we feel that mandating our members to be vaccinated is a change in working conditions and violates the terms and conditions of our employment."
Soares added that the union backs members' individual decision on whether or not to get vaccinated due to religious beliefs or medical history.
The union, which has endorsed Janey rival Annissa Essaibi George in the mayor's race, could not immediately be reached for comment on Thursday.