By Reporter Staff
January 17, 2021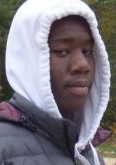 The Boston Police Department reports that Akeem Polimis, 17 and a student at the Codman Academy Charter Public School, was fatally shot at 29 Ferndale St., near Codman Square in Dorchester around 6:45 p.m. on Friday.
However, somebody loaded him in a car, and drove him to Victory Road in Quincy's Squantum neighborhood, where police found him in the car, dead, police say.
Juan Nazario, 18, of Dorchester, was arrested around 11:30 a.m. on Saturday on charges of murder and unlawful possession of a gun and ammunition, police say.
Police did not say if Nazario was the one who drove Polimis to Quincy. Whoever did crashed into a car at Adams and Park streets in Dorchester, which caused the front bumper to fall off further down Park Street as the driver made his way to the Expressway.