By Bill Walczak, Reporter Columnist
December 9, 2021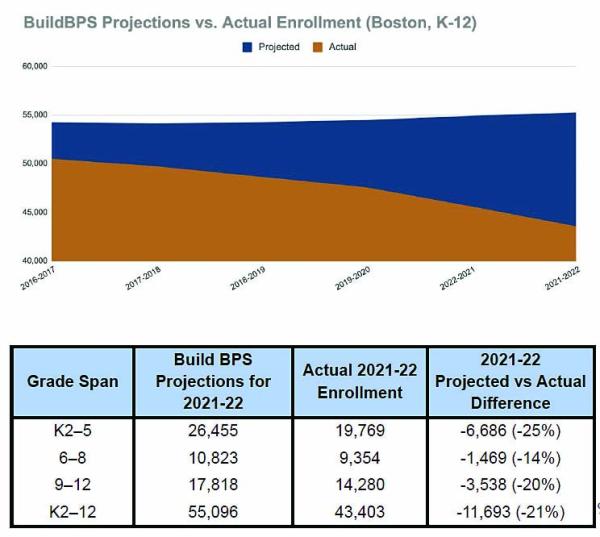 People vote with their feet. This is true with regard to Boston families with school- age children: Roughly half of the city's preschool population leaves the city by the time they reach age four. A new study published by the non-profit advocacy group Boston Schools Fund last week provides the latest evidence of the ongoing decline.
The percentage of Boston's population made up of school-age children has been dropping steadily since 1980, when about 18 percent of the city's residents were of school age. In 2018, that population made up only 10.8 percent of Boston's residents, and despite a 130,000 increase in overall population between 1980 and 2020, the number of school-age children decreased by 25,000, to 75,394.
Consistent with this overall decrease, last week the Boston Schools Fund disclosed that Boston Public Schools (BPS) enrollment for this school year (2021-22) had sunk to 48,654. It was 57,230 in 2014-15. While there were lots of reasons offered, the decrease was not part of a statewide decline, an increase in charter enrollment, METCO, home schooling, or private school enrollment, all of which had stable numbers. It also can't be blamed on the pandemic, as the most recent loss continued drops from previous years.
There are long-term reasons for families not entering the Boston school system. Moderate and high-income families in large numbers have for many years been moving to wealthy suburbs as their children reach school age, often to return to city life when their children graduate from high school. The assignment system in Boston is difficult to navigate, with very little predictability, and school buildings are largely in deplorable shape. In addition, a third of BPS students attend schools ranked in the bottom 10 percent of Massachusetts schools, with BPS threatened with receivership just prior to the pandemic.
But this is different. Boston's school age population continues to decrease while the general population rapidly increases, a development effectuated by the addition of tens of thousands of rental and condo units that are not built to accommodate families. The increasing rents and prices on condos are forcing thousands of low and moderate income families to relocate to lower cost suburbs.
This protracted loss of children in Boston prompts two major questions: 1) What, if anything, should the city do with BPS as a result of the losses of students? and 2) What does it mean for the future of Boston to be a largely childless city?
Boston already pays one of the highest costs per student tabs in Massachusetts. These ongoing student losses will increase that cost. Should the city close down perhaps dozens of schools to make the system more efficient, or maybe lay off teaching and administrative staff?
The BPS could also look to rebuild by fully funding K-1 and K-0 classes as a way to encourage families to stay in the city and also providing financial support to low-and-moderate income families, which could result in more children continuing their education in BPS. It could also add P-Tech (a program to engage high school students in technology careers), early college, and specialized magnet schools to attract families.
To stop Boston from becoming a childless city means looking at children as essential to a healthy city. In my Codman Square Health Center days, we were a site for Schweitzer Fellows, typically physicians who wanted to study health centers and their communities. One year, we had a Danish physician who was pregnant. In Denmark, pregnant women can count on support throughout pregnancy, followed by one year of paid leave that can be split between parents, home visits, and childcare. Upon delivering her baby in America, she realized that here you're on your own! She returned to Denmark.
In addition to wonderful pre-and-post-natal benefits, Denmark has made its public facilities, including transit, libraries, and parks, extraordinarily child friendly. It offers free admission to museums, excellent childcare, and celebratse the birth of children by ringing a bell in the town square when a child is born. We can learn a lot from the Danes.
The Wu administration has called for a children's cabinet and a Family Corps to support children and their families. A transformation in how Boston supports families, including changes to city planning and development, combined with a revitalized BPS and a reimagined parks system, can help make Boston a wonderful city for children to flourish, and convince families that Boston is the right place for them to raise the next generation.
The Boston Foundation's Boston Indicators Project and Boston Schools Fund provided much of the data used in this column. Bill Walczak, a Dorchester resident, is the former president/CEO and co-founder of Codman Square Health Center.