By Kevin Perrington-Turner, Special to the Reporter
October 14, 2021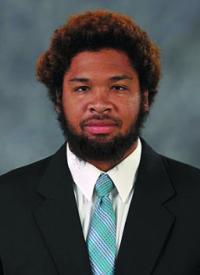 Jerrod Clark is once again putting Dorchester on the national football map. The 19-year-old Brighton High alumnus is a redshirt junior on the defensive line for the Division 1 Coastal Carolina Chanticleers, currently undefeated and ranked No.15 in the nation.
Clark, who plays in the nose tackle position, has been a key part of the 6-0 start for the Coastal Carolina squad in the Sun Belt Conference.
"The ranking isn't the goal," Clark replied when asked about being on one of the top teams in the country. "The goal is to remain undefeated, win the conference championship, and a bowl game. That's the only motivation we need."
Clark, one of four kids, grew up off Talbot Avenue near the Lee School and was a regular at the Boys & Girls Club near Franklin Field. He played Pop Warner football for the Mission Hill Buccaneers program.
His high school career included a Division 2 state championship on the basketball court for the Brighton Bengals during his junior year. But he stood out even more for his gridiron play. He caught 26 touchdowns passes as a tight end and was named to its All Scholastic squad by the Boston Herald.
"Football is my place where I can forget all my problems and just step into a zone where the only thing that matters is what goes on between those side lines," he said.
Clark's collegiate career started slowly. He was redshirted his freshman year in 2018 and missed the 2019 season because of injury. However, last year he played in all 12 games and posted a total of 31 tackles. And he's made it on to the Dean's list for the 2021 spring semester.
Under head coach Jamey Chadwell, the Chanticleers have been blowing out most programs, including UMass, LA-Monroe, and Arkansas State, running the scores up over 50 points. Although the offense is high powered, it has been the defensive line making the big stops, holding opponents to well under 30 points per game.
"There has been a target on our backs," Clark said. "Outsiders don't believe in our success. They believe it is a fluke and that we play a weak schedule, etc. But we don't care about outside talk because we lace up our cleats and play 60 minutes of football just like everyone else in the nation does."
Clark credits Chadwell and teammates for the success to date this season.
"Playing for Coach Chadwell is life changing. His philosophy on family and God is what makes the team come together."
He continued, "We believe that brotherly love is what carries us to our wins, playing the brother beside you instead of for yourself is what makes us play as one unit."
The biggest adjustment for Clark has been the change of scenery.
"Coming from [Dorchester] to the country took some getting used to," he said. "A 5-minute-drive down here is a 45-minute walk. Then there's the student environment. I had never been around this many people on a daily basis until I came to college."
"I've never been naive to my circumstances. What keeps me going on tough days is that I know I'm one of the few who make it to play Division 1 straight from the city. I value and cherish my position in life, because I know a lot of people can't relate. So, I don't leave anything up for chance and never take my life for granted."
•••
The Chanticleers face-off next against conference rivals Appalachian State Mountaineers on Wed., Oct. 20.