By Reporter Staff
September 15, 2021
The city's two incumbent at-large city councillors —Michael Flaherty and Julia Mejia— lead the pack among the 17 candidates seeking a spot on the Nov. 2 ballot. Eight candidates will advance to the general election, but as election night dragged into Wednesday morning without complete results from city election officials, it remained unclear who would round out the slate.
However, two candidates with strong roots in Dorchester and Mattapan appeared poised to crack the top four— a sweet spot for those hoping to win in November.
Ruthzee Louijeune, a Haitian American attorney and first-time candidate who grew up in Mattapan, told supporters at dbar that she will finish "a strong third."
Erin Murphy, a former schoolteacher with deep roots in Dorchester who is on her second attempt to join the council, celebrated what looks like a fourth-place finish with supporters at the Industry restaurant in Adams Village.
Unofficial results — all of the city's 255 precincts accounted for on the city's website, showed the order of finish tracking this way: Flaherty, Mejia, Louijeune, and Murphy, followed by Carla Monteiro, David Halbert, Althea Garrison and Brigid Nee-Walsh.
Nonetheless, campaigns with competent Election Day operations typically keep their own count. That was the case with Louijeune's campaign, which knew by about 10:30 p.m. that her efforts had earned her a coveted third-place finish.
Soon after taking a call of congratulations from her mentor, US Sen. Elizabeth Warren, Louijeune – a resident of Hyde Park who was raised in Mattapan - told her supporters that they had made a splash in Boston politics.
"We placed solidly third," said Louijeune. "There were 17 candidates and we placed third behind two incumbent candidates. I want you to realize how amazing that is...We can do even better. What's our motto? All gas, no brakes. That's right. All gas, no brakes. We will not take our foot off the gas because we have a job to do.
"We deserve to have quality schools for everyone, no matter where they live and a little girl from Mattapan can go to Harvard Law School," she added, referring to her personal story. "My story should not be a unicorn. I should not be a special circumstance or story. My story should be the norm."
The 35-year-old Louijeune is also running with the hopes of being the first Haitian-American resident elected to the City Council in Boston. In her speech on Tuesday, she thanked her Haitian supporters and said it was time for her and them to claim political representation in Boston.
"We have one of the largest Haitian diaspora here in Boston and that has never transferred over to political power," she said. "That stops tonight, and it should have a long time ago. But we need to keep working and keep going in this campaign over the next 49 days."
"I am a first-time candidate and people still can't pronounce my name and we placed third behind two incumbents, one who has served for a very long time," she said. "So, this is a credit to each and every one that has shown up for me in ways that are amazing."
In Adams Corner, Erin Murphy gathered with a smaller group of friends and supporters at Industry Bar & Grill, where the mood was upbeat as campaign volunteers tracked strong showings for the candidate, particularly in her native Dorchester. Murphy, 51, topped the ticket in many polling places in Ward 16, including Florian Hall and the Richard J. Murphy School, which is named for her late grandfather.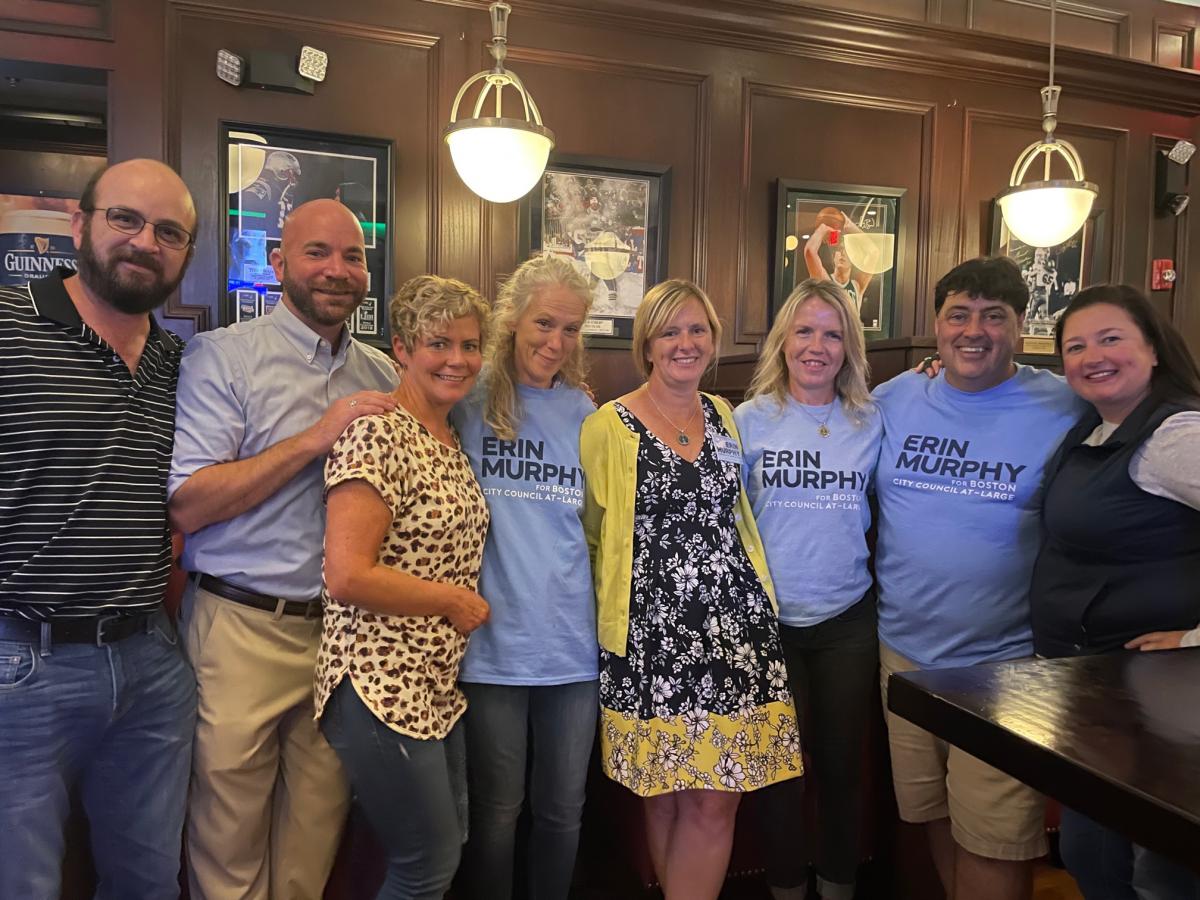 Above, Erin Murphy (center) gathered with family members and campaign supporters— including state Rep. Dan Hunt— at Industry in Adams Village on Election night, Sept. 14, 2021. Photo by Camila Beiner
She has been a schoolteacher for the Boston Public Schools for more than 20 years and has made education a top priority. 
"I do believe that how you work and how you run a campaign and how you show up every day to meet people where they are and listen and learn is a reflection of how you're going to lead," Murphy told the Reporter on Election night. 
"I've been a community advocate giving back, raising my children here in the city and being a teacher who also was an advocate for not just my students, but my family,'' she said. "So, I just wanted to bring that city wide to support all of the families in the city of Boston."
Another top priority issue for Murphy is affordable housing. As a renter, she is personally aware that prices are increasing and wants more programs to assist residents. However, she does not favor rent control, which will likely become a key issue in the mayor's race and for council hopefuls as well.
"I don't think economically that's how we're gonna get ourselves out of affordable housing in the city," Murphy said.
At the Vietnamese American Community Center in Fields Corner, which is home to two precincts in Ward 15, Carla Monteiro and Julia Mejia collected the most votes in precinct 7. In the neighboring precinct 8, incumbents Michael Flaherty and Julia Mejia topped the ticket.
Asher Bruskin, 36, said he voted for Mejia and Ruthzee Louijeune, a first-time candidate. He said their work on housing issues made the difference for him.
James Eddy, who supported Andrea Campbell for mayor, also voted for Flaherty, Mejia, Louijeune and another first-time candidate, Kelly Bates.
Since there were 17 candidates running for seats in the at-large race, Eddy said he determined whom he was voting for based on whose campaign he felt had the most visibility.
"What was big for me was location, and have I seen your face before," Eddy said.
Kristine Acevedo, 50, volunteered with Mejia's campaign when she first ran for the at large seat two years ago. This year, she renewed her volunteer efforts by handing out Mejia's literature to voters outside of the community center on Charles Street.
"She's the first Afro-Latina to get onto the council. She's very supportive of small businesses and people who are basically trying to make a name for themselves," Acevedo said.
At Florian Hall, which delivered big vote totals for city council veteran Michael Flaherty in both precincts, the candidate's brother John was outside at the 7 o'clock hour, asking voters to consider his brother for one of their four votes. Most did.
Flaherty explained: "It's his experience. He's been on the city council, he knows the ways of the city, and he knows how to deliver for every resident of every neighborhood."
Also outside Florian Hall was Randy Greeley, who said he was eager to vote for Brigid Nee-Walsh and Annissa Essaibi George.
"I'm on the Boston Fire Department and [Essaibi George's] always been for there for us and had our back and we voted as a union to support her," he said.. Brigid Nee-Walsh was also endorsed by the union, but Greeley added: "I would have been out here for her anyway. Brigid is a lifelong friend and I know her values and I trust that she'll bring some new blood to the city council."
This story was reported by Seth Daniel, Camila Beiner, Grace Mayer, Katie Pedersen, and Bill Forry. For updates on the city election, please go to DotNews.com and follow the Reporter on Twitter @DotNews.com.