By Daniel Sheehan, Reporter Staff
June 10, 2021
Construction is underway on a high-profile lot in the Bowdoin-Geneva neighborhood primed to become home to Boston's only food co-op, which would occupy the ground floor commercial space of a four-story affordable housing project being built by VietAID.
The Dorchester Food Co-op —a collective of nearly 1,000 residents in Bowdoin-Geneva, Four Corners, Fields Corner, and bordering neighborhoods that has existed since 2012 — will operate a grocery store, cafe, and outdoor market on the 6,000-square-foot ground level and 3,500 square feet of open plaza space at the corner of Bowdoin and Topliff Street.
The complex will also include 41 affordable housing units and 46 off-street parking spaces.
The space, which has been vacant for decades, has seen some activity in recent years, thanks to local non-profit The Guild and the Bowdoin-Geneva Community Hub hosting "Fresh Fridays" and other temporary seasonal events.
The location was targeted by the co-op for its location in the heart of Dorchester, said treasurer Jenny Silverman, who noted demand for a "more year-round, permanent development" on the property.
"We've always had our eye on this spot because it's part of a commercial district...being part of this particular project with affordable housing is a really wonderful mission-aligned match for us, and this location is very central in Dorchester," Silverman said.

Three levels of affordable housing will sit above a grocery store, cafe and outdoor market.

Co-op president Marcos Beleche called the project "an opportunity to educate people about the co-op model and the importance people play in shaping what that looks like." The fact that the surrounding neighborhoods are home to sizable Cape Verdean and Latino populations could make the model a good fit, he added, describing how such a project could "help people connect to what resonates with them, with their culture.
"The outdoor space – a lot of us come from places where we go to outdoor markets – that's where you shop on a daily basis, and I think it's going to feel welcoming and encourage people to approach."
Community ownership and involvement is a key objective at food co-ops, and that has been true so far in the design phase of this project. Co-op leaders have solicited feedback and suggestions from neighbors in a series of web seminars. That focus on community relationships and benefits, explained Silverman, is what sets a food co-op apart from other grocery stores.
"The store is really being developed by the people who live here and who are going to be affected by it," she said. "Co-ops are so embedded in the community. It's not somebody coming in like Stop and Shop, which I think is owned by a European company. The planning of this, and the whole reason for it to exist, is to benefit the community, not to make money."

The construction site at 191-195 Bowdoin Street as it appears now. Completion is estimated for Spring 2022.

One key to the local flavor of the store will be its links to nearby urban farms and vendors, with whom the co-op already has relationships and is working to develop more extensive networks, said Beleche.
"We've been engaging local urban farmers to provide community-shared agriculture for folks in the network. That's been a priority for us, to be part of a broader hub that connects to local producers like farmers but also food entrepreneurs like at Commonwealth Kitchen, which is helping so many entrepreneurs get a foot in the door, and we also want them to have a foot inside our door."
Reflecting on food access issues brought into the spotlight by the pandemic in recent months, Beleche indicated that the grassroots nature of food co-ops could make them part of the solution.
"Early on, when the pandemic struck and supply chains were being disrupted, what we heard from food co-ops was that because they have that relationship with the local farmer, it was much quicker to connect and make sure the supply chain wasn't disrupted as much."
Beleche added: "The Covid pandemic really highlighted the food insecurity that exists within certain parts of the population, so the more people have a say around what foods are available and affordable, I think that's going to be critical going forward."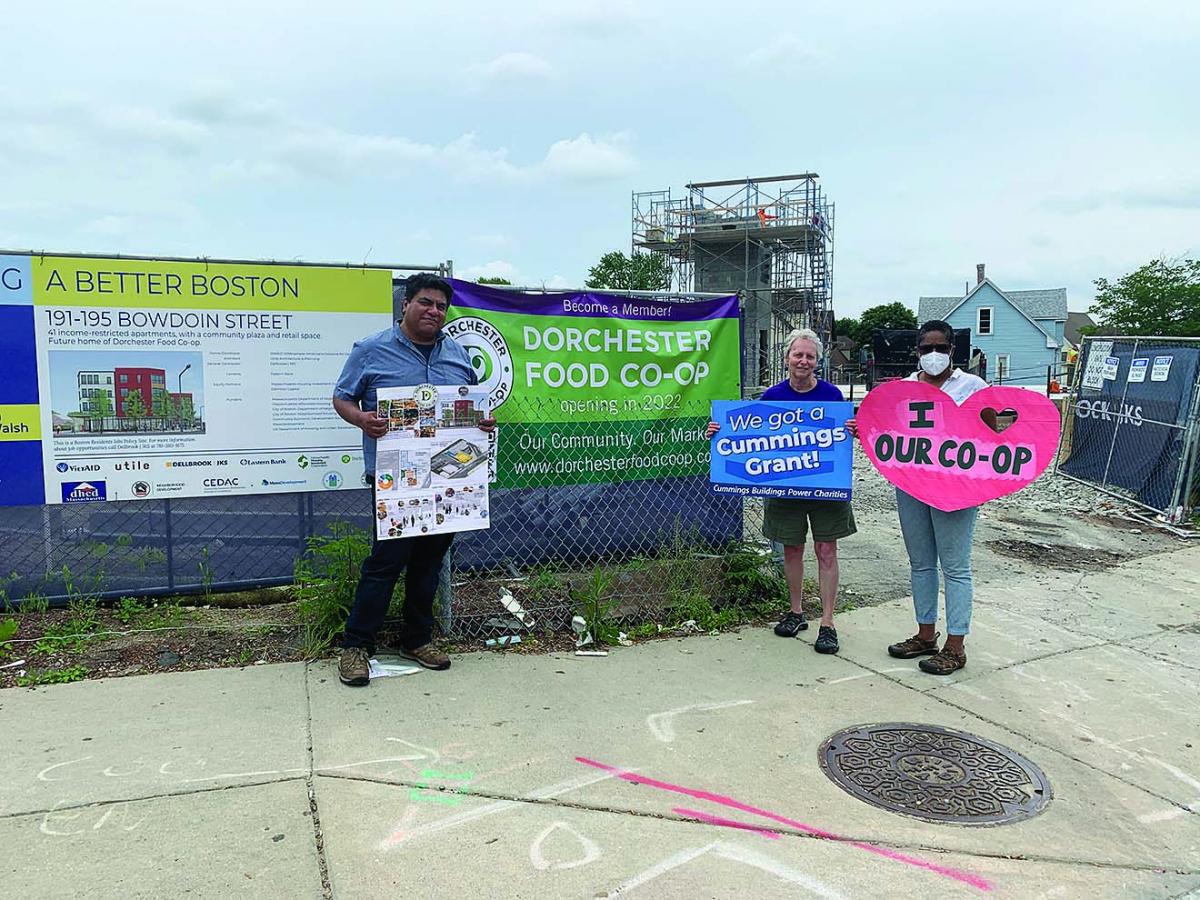 From left: Co-op president Marcos Beleche, treasurer Jenny Silverman, and co-op member Robin Saunders posed in front of the future co-op site. Daniel Sheehan photo

The Dorchester Food Co-op's ongoing capital campaign, which is targeting a $1 million goal, or about one third of the total $2.7 million project budget, recently received a boost from the Cummings Foundation in the form of a $100,000 grant to be dispersed over the next three years.
"This grant is really exciting. It's a grant that kind of validates all the work we've been doing for almost ten years," said Silverman.
In addition to their focus on sustainably sourced fresh foods, co-ops tend to fit into the local economy in a way that allows the community to reap the rewards. From an economic standpoint, Silverman sees the potential for the food co-op to become a key wealth-building cog in the surrounding business district.
"The co-op rests on a number of pillars: Obviously we're focused on healthy food access and improving nutrition and the health of our community, but as a co-op, it's also an economic development project. This is a project that helps build wealth in our community through generating jobs for local residents as well as purchasing from local businesses [like Commonwealth Kitchen and Future Chefs], so we're putting the money back into the community."
To learn more about this project and the mission of the Dorchester Food Co-op, visit dorchesterfoodcoop.com.