By Gintautas Dumcius, Managing Editor
July 2, 2021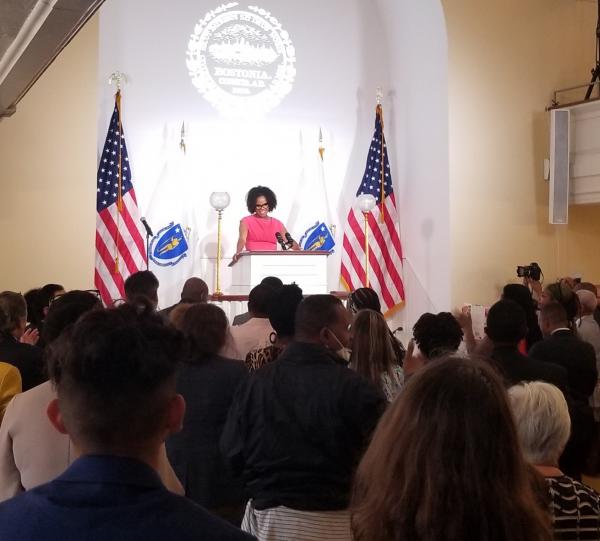 Acting Mayor Kim Janey, who is running for a full four-year term, sought to highlight 100 days in the executive suite. The move drew flack from one of her five rivals, District 4 Councillor Andrea Campbell, who said the effort was aimed at spotlighting Janey's candidacy more than her tenure.
In a speech inside the Museum of African American History on Beacon Hill, Janey touted her administration expanding access to coronavirus vaccines and supporting businesses in the reopening of the economy. She also pointed to the city's neighborhood development department upping how much downpayment assistance they give first-time homebuyers to $40,000 from $10,000.
Janey is the first Black woman and person of color to serve as the city's chief executive. As the City Council's president, she became acting mayor under the city charter when Marty Walsh, who won the seat in the 2013 mayoral election, left for Joe Biden's White House in March.
Her actual hundredth day came earlier this week, during a heatwave, Janey noted. Friday's event, which featured Janey speaking under the city seal, drew a small crowd of several dozen people, including Janey administration officials and local elected leaders such as state Rep. Russell Holmes, Suffolk County Sheriff Steven Tompkins and state Rep. Nika Elugardo.
But Campbell said Janey's celebration was of a "mayoral candidacy and not the work of governing."
"I've made it clear: I along with residents celebrated the historic transition to power and will continue to work in partnership with the acting mayor," she said, referring to Walsh handing the reins to Janey.
But the opioid crisis has "gotten worse" and the police department, weighed down by multiple scandals, remains in "disarray" and in need of major reforms, Campbell added. "The list is long and for me this should be about focusing on doing the work and not a celebration," she said.
Campbell has called for the appointment of a cabinet-level chief to oversee the city response to the drug dealing and homelessness occurring in the area known as "Mass and Cass." On Friday, Campbell pointed to her thirteen various plans for her first 100 days.
Janey, in her speech, said reforms are underway at the police department, with a new Office of Police Accountability and Transparency. She is appointing a new executive director of the Boston Public Health Commission. The new head of the commission, Dr. Bisola Ojikutu, is an infectious disease doctor at Mass General Brigham.
Janey also said she was forming a cabinet focused on reducing disparities among children and youth in Boston.
Michelle Wu, an at-large city councillor and a fellow mayoral candidate, has previously proposed a children's cabinet.
The other major candidates for mayor include City Councillor Annissa Essaibi George, state Rep. Jon Santiago and John Barros, Walsh's former economic development chief.
Polls have shown Wu and Janey leading the field, with a good number of likely voters still undecided. The most recent poll, released this week from the Boston Globe and Suffolk University, had Essaibi George and Campbell behind Wu and Janey, The rest were under 5 percent.
The Sept. 14 preliminary will winnow the field to two people.