By Gintautas Dumcius, Managing Editor
June 25, 2021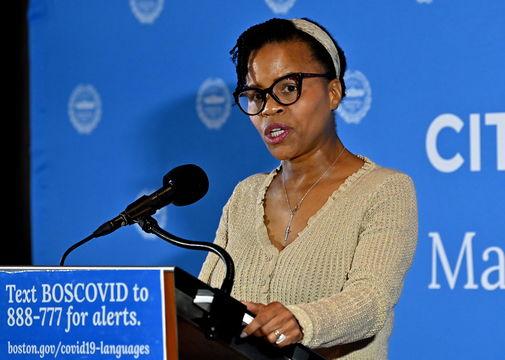 Another super PAC has entered the Boston mayoral race.
Hotel and food workers have formed a super PAC to bolster Acting Mayor Kim Janey, who was endorsed by their union, UNITE HERE Local 26.
The outside group hopes to raise at least $500,000 this year, according to a spokesperson.
The super PAC's chair is Richard "Richie" Aliferes, a doorman at the Omni Parker House hotel in downtown Boston, blocks from City Hall. The super PAC is referring to itself as the "Hospitality Workers Independent Expenditure PAC."
For much more Boston-based political news, see The Lit Drop, powered by DotNews.com and the Dorchester Reporter.
"It's clear to me that people who work in hospitality and service sector jobs need a louder voice in Massachusetts politics, particularly after we saw how we were treated as if we were essential yet still expendable during the pandemic," Aliferes said in a statement.
The super PAC's entry comes days after another super PAC, this one backing mayoral candidate Andrea Campbell, went on the airwaves with a television ad, in an effort to raise Campbell's name recognition. The super PAC is supported by top executives and some charter school advocates, among others. A former deputy general counsel to Gov. Deval Patrick, Campbell is District 4's city councillor, representing Dorchester and Mattapan.
Super PACs, which also played a large role in the 2013 race for mayor, can raise and spend unlimited amounts of money. Restricted from coordinating with the campaigns they support, they are typically backed by wealthy donors or unions.
Tiffany Ten Eyck, a spokesperson for the hotel workers' super PAC, said the group plans to "stay active in many races" at the state and local level, after this year's mayoral race.
"The plans are still in the works for us," Ten Eyck told the Reporter. "These are early days."
In fundraising emails, Janey has decried super PACs and the "dark money" they can funnel into races.
"These virtually untraceable, big-dollar donations from super PACs are pouring into the race to boost my opponents," she wrote in one fundraising email earlier this week. "They're trying to use their unlimited spending power to buy this election. But I'm letting everyone know: Boston is NOT for sale."
Ten Eyck said the super PAC is following all legal rules in its creation. "This is completely above board," Ten Eyck said.
The hotel workers' super PAC said in a release it plans to seek "funding from the workers' union and any other sources committed to supporting candidates who support hotel and food workers' interests in Massachusetts elections."
Aliferes, the chairman, said in his statement that hotel and food workers are "getting priced out" of the city. "Working people are losing their hold on our city and we plan to support candidates who will help us afford to live and work in Boston," he said.
The hotel workers' Friday release also included a comment from Shawn Clarke, a member of UNITE HERE Local 26.
"I am excited that hospitality and service workers will have a voice in the political process, and this PAC will help amplify that voice," he said in his own statement.
The other mayoral candidates include former City Hall economic development chief John Barros, City Councillors Michelle Wu and Annissa Essaibi George, and state Rep. Jon Santiago.
A super PAC run by a former aide to Sen. Elizabeth Warren, who has endorsed Wu, has stayed silent. Called the "Boston Turnout Project" super PAC, the group did not respond to a recent request for comment.