By Gintautas Dumcius, Managing Editor
August 23, 2021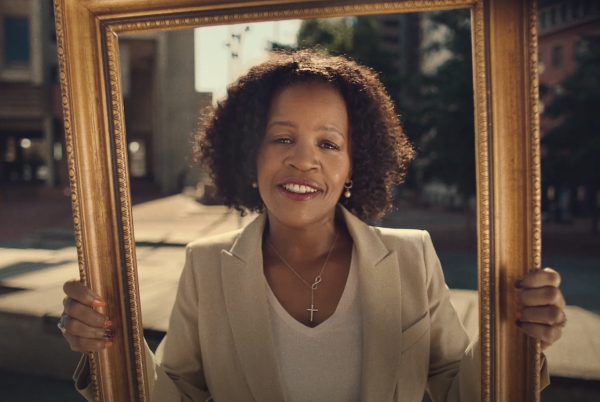 Acting Mayor Kim Janey's first television ad hits the airwaves Tuesday, a 30-second spot that the campaign plans to air through Sept. 14, the day of the preliminary election. The campaign is spending $164,000 on airtime this week.
Her campaign's ad is going up a day after an ad from a pro-Janey super PAC starts airing. The super PAC, tied to the hospitality workers union UNITE HERE Local 26, endorsed Janey in May.
Janey's ad, titled "Experience," opens with the acting mayor outside City Hall, holding a frame that speeds through photos of Boston's former mayors, all white men.
"I'm Kim Janey and I experienced desegregation busing at 11, motherhood at 16, even lived in a shelter," she says. "I know Boston's challenges because I lived them. It's why I'm expanding affordable housing programs, reforming our Police Department and getting vaccines into as many arms as possible."
The ad is available here. The ad will air in English and Spanish on "select cable and broadcast outlets," according to the campaign.
Janey, who became acting mayor in March, is the first woman and person of color to serve as the city's chief executive. She is seeking a full four-year term.
All five major candidates have released ads at this point, including former city economic development official John Barros and City Councillors Andrea Campbell, Annissa Essaibi George, and Michelle Wu.
The pro-Janey super PAC's ad focuses on Richie Aliferis, a member of the union and a doorman at the Omni Parker House Hotel just blocks from City Hall. In the ad, Aliferis says her family was "forced out" of her great-grandmother's house because the neighborhood became expensive. "Kim never forgot," he adds. "She'll protect working families that put down their roots in Boston."
A spokesperson for the super PAC said Friday it is spending $244,500 on its ad, which will air through Sept. 14.