By Katie Trojano, Reporter Staff
June 30, 2021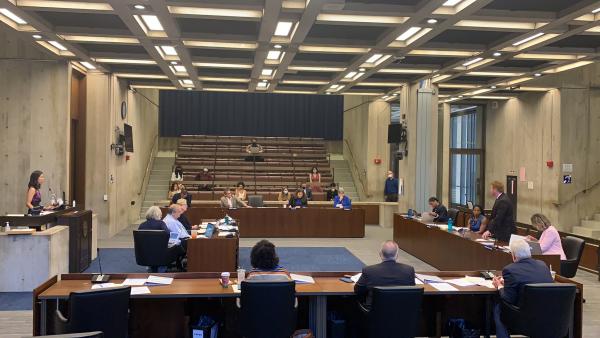 Boston councillors on Wednesday signed off on Acting Mayor Kim Janey's spending plans for fiscal year 2022, which begins on Thursday.
The votes came after two hours of in-person debate inside City Hall and saw councillors raise their concerns about police reform and the 13-member City Council's control over the city budget.
The $3.67 billion operating budget passed in a 10-2 vote, with Councillor At-Large Michelle Wu and District 4 Andrea Campbell casting the "no" votes.
The $1.3 billion school budget also passed by a 10-2 vote, with Councillors Campbell and Frank Baker casting dissenting votes. Councillors also passed a $3.2 billion capital spending plan, according to District 8 Councillor Kenzie Bok, who shepherded the budget through the City Council as the chair of the Ways and Means Committee.
The votes came after a last-minute round of negotiations between councillors and Janey administration officials. The result was a $31.5 million supplemental budget that will send $3 million in federal funding for the area known as "Mass and Cass," which has grappled with rising drug dealing and homelessness. The supplemental budget also includes $2 million for full-time social workers in Boston Public Schools, in addition to money for youth jobs, the new Office of Police Accountability and Transparency, and permanent outdoor dining within the city.
Annissa Essaibi George, one of the four at-large councillors, voted "yes" on the school and operational budgets, but said she was "disappointed to not see us use federal funding for additional substance use disorder and mental health services and supports." She said a major contributing factor to her "yes" votes was the budget allocation for full-time social workers in all Boston public schools.
Essaibi George, Wu and Campbell are running for mayor against Janey, who stepped in as acting mayor when Marty Walsh joined Joe Biden's cabinet as labor secretary. John Barros, Walsh's economic development chief, and South End state Rep. Jon Santiago are also running for mayor.
"This isn't political for me, this is about doing the job and standing up for those who are unseen and unheard," Campbell said during the Council meeting. "I can't wait — thousands of Bostonians can't wait — for the systemic reform they've been waiting for generations."
Campbell said she's voted against the schools budget for the last two years because "it does not go far enough to close the systemic inequities. The budgets this year fall short in providing police accountability, improving BPS infrastructure and creating solutions to the issues at "Mass and Cass," she said.
For her part, Wu said she voted "no" on the operational budget because it does "not meet the moment." "We need to get to a place where we're addressing the underlying set of challenges," she said.
District 3 Councillor Frank Baker, who represents Dorchester, voted "no" on the school budget and "yes" on the operating budget, saying he felt the latter provided "good money for Mass and Cass," among other initiatives.
Explaining his "no" vote on the school budget, Baker said he was concerned about police officers in city schools getting laid off. He said members of the union are unclear on whether they're coming to work on July 1.
District 1 Councillor Lydia Edwards, who represents East Boston and Charlestown, voted in favor of both budgets, but described the budget process as a "little farce that we've done one too many times."
"I think this budget will pass—like a kidney stone—but it will pass," Edwards said before the vote.
Edwards took the opportunity to pitch the proposed ballot question that would hand more power to the City Council in the crafting of the city budget. The ballot question awaits the approval of the state attorney general.
Edwards praised Bok for working with the administration to rewrite parts of the budget in order to get approval from the councillors. "It's because of her we are going to be able to pass this budget," she said.