By Reporter and WBUR Staff
June 9, 2021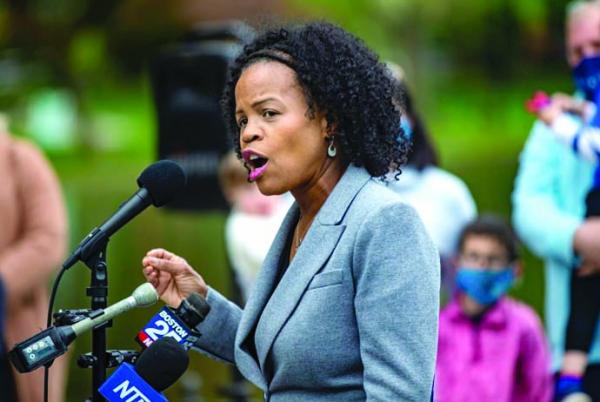 With the month of May's numbers in, the record shows that Kim Janey raised more than all the other candidates in the city's mayoral election for the second month in a row. Janey, who has seen her fundraising increase since becoming acting mayor in late March, brought in nearly $163,000 last month.
The only other candidate who raised close to that total was City Councillor Annissa Essaibi-George, who netted $151,000. Councillor Andrea Campbell was third with $117,000 and Councilor Michelle Wu followed with $107,000. Both Campbell and Wu also have more than $1 million in their campaign bank accounts, more than double the war chests for other candidates.
Meanwhile, John Barros and state Rep. Jon Santiago saw their May receipts drop off precipitously from previous months. Barros, the city's former director of economic development, brought in $79,000 in May, down from nearly $141,000 in April. Santiago raised nearly $78,000, down from over $122,000 in April.
All of the major candidates ended May with more money in their campaign bank accounts, raising more than they spent. Janey and Campbell spent the most last month at around $108,000 each. Barros spent the least at $55,000.
The preliminary Boston mayoral election is scheduled for Sept. 14 to narrow the field to the top two candidates. The general election is slated for Nov. 2.
(Steve Brown, WBUR Reporter)
•••
The Boston Firefighters Union Local 718 last week endorsed Ruthzee Louijeune, a candidate for Boston City Council at-large. The Dorchester-based union had earlier endorsed Erin Murphy, who is also running for a citywide council seat. Louijeune, a Haitian-American attorney who grew up in Mattapan, received the group's unanimous endorsement, according to her campaign.
"I am happy to have Local 718's support in this race and I am grateful for all they do to keep our communities safe," said Louijeune, who has shown strength as a fundraiser as well, raising more than $165,000 since launching her campaign in March. (Bill Forry)
•••
Erin Murphy, who is waging her second bid for at-large council, picked up the endorsement of state Rep. Dan Hunt at a recent event held in Fields Corner. The fundraiser, themed around Murphy's birthday, drew a strong crowd to the Blarney Stone. (Bill Forry)
•••
Essaibi George picked up another building trade union endorsement last week. IBEW Local 2222 backed the at-large councillor for mayor with its business manager, Myles Calvey, calling her "someone who will show up and speak up for workers' rights time and time again— and not just during campaign season." Local 2222— based in Quincy— represents thousands of telecommunications workers in the Greater Boston area. The Freeport Street-based IBEW Local 103 has not yet weighed in on the mayor's race. (Bill Forry)