By Rebeca Pereira, Reporter Correspondent
May 26, 2021
The metallic rush of steel percussion ­– the instrumentation of Hyde Park's Branches Steel Orchestra – swelled as hundreds of people descended on Walker Playground on Tuesday evening for the final leg of the March for George and Justice. The rally at the Norfolk Street Park, one of many held nationally on May 25 to mark the one-year anniversary of the murder of George Floyd by a Minneapolis police officer, followed a mile-long trek from Milton to Mattapan and drew support from advocacy and faith-based organizations in each community.
Marchers spilled along Blue Hill Ave. echoing the shout "we are one, our cause is one, we must help each other if we are to succeed," and called for the passage of the George Floyd Justice in Policing Act, federal legislation that has been approved by the House of Representatives but is awaiting action in the US Senate.
Led by Dunk the Vote's Ron Bell, the event's emcee (shown above kneeling), the cacophony of call-and-response chants gave way to a silent nine minutes and 29 seconds of kneeling – the amount of time Minneapolis police officer Derek Chauvin's knee remained on Floyd's neck, resulting in his death. Chauvin was convicted of the murder last month and will be sentenced in June.
"Go home, soak your feet," said Bell, "because we're going from Mission Hill to Beacon Hill, and we're getting justice."
Performer Paul Smith said Chauvin's guilty verdict turned his "helpless[ness] into joy." Smith founded Branches Steel Orchestra in 1978, and said he remembers where he was when he heard of Floyd's killing– sitting on his living-room couch, flipping through channel-to-channel coverage of roiling protests unlike any he'd ever seen.
"When he died, I was so angry," said Smith. "I thought 'this shouldn't be happening to anyone of any race, it shouldn't be happening period,' but it happens over and over again," said Smith, who is a Trinidadian immigrant and a Black man. "There was nothing I could do then, but today is how I honor [Floyd]," he said.
One year later, Smith said he's found a new way of honoring Floyd's life – in his mentorship of children as young as 10-year-old Kendal Black, who malleated at the marimbas to the tune of ABBA's "Dancing Queen." Smith (shown in photo below) noted that "their success is my reward."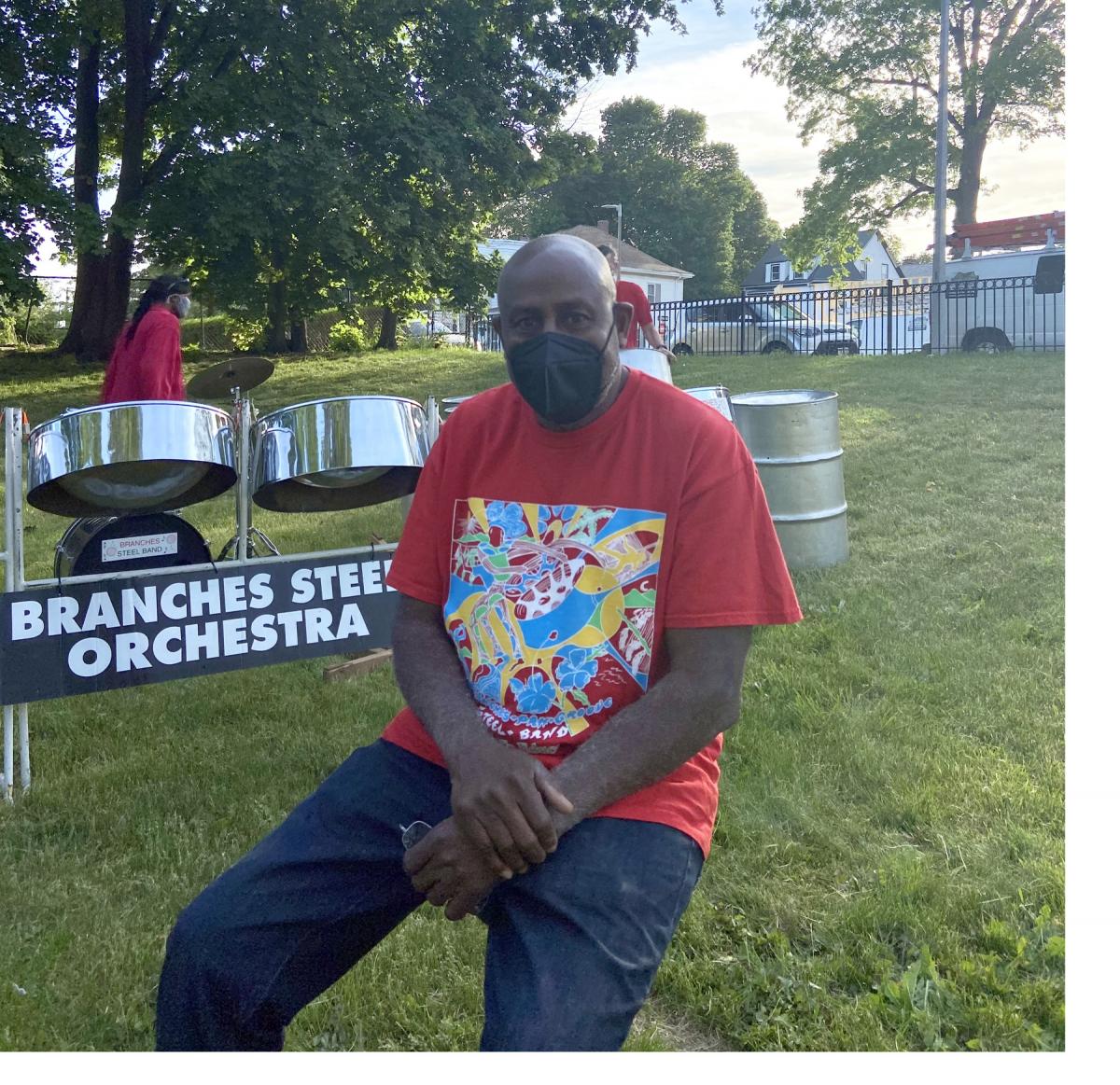 "I have faith that their generation will break the trend," he said.
A plumber by trade, Smith recalled the harassment he personally faced during the 70's and 80's while servicing dank basements in the South End. Now, in his retirement, he conducts the orchestra in gigs across town. He called Tuesday's rally — which he heard about from his pastor Rev. Zenetta Armstrong at Mattapan's Church of the Holy Spirit, a "spiritual convocation."
For many volunteers and protesters, including Leomina Limage, (shown below left) who distributed water to demonstrators, the outcome of the Chauvin trial was a "vindication of faith." Limage, accompanied by her friend Bapsy Jose (below, right), who drove from Maryland to participate in the march, found a spot at the bottom of the park knoll, nearest to the stage, to hear from Bell and other speakers.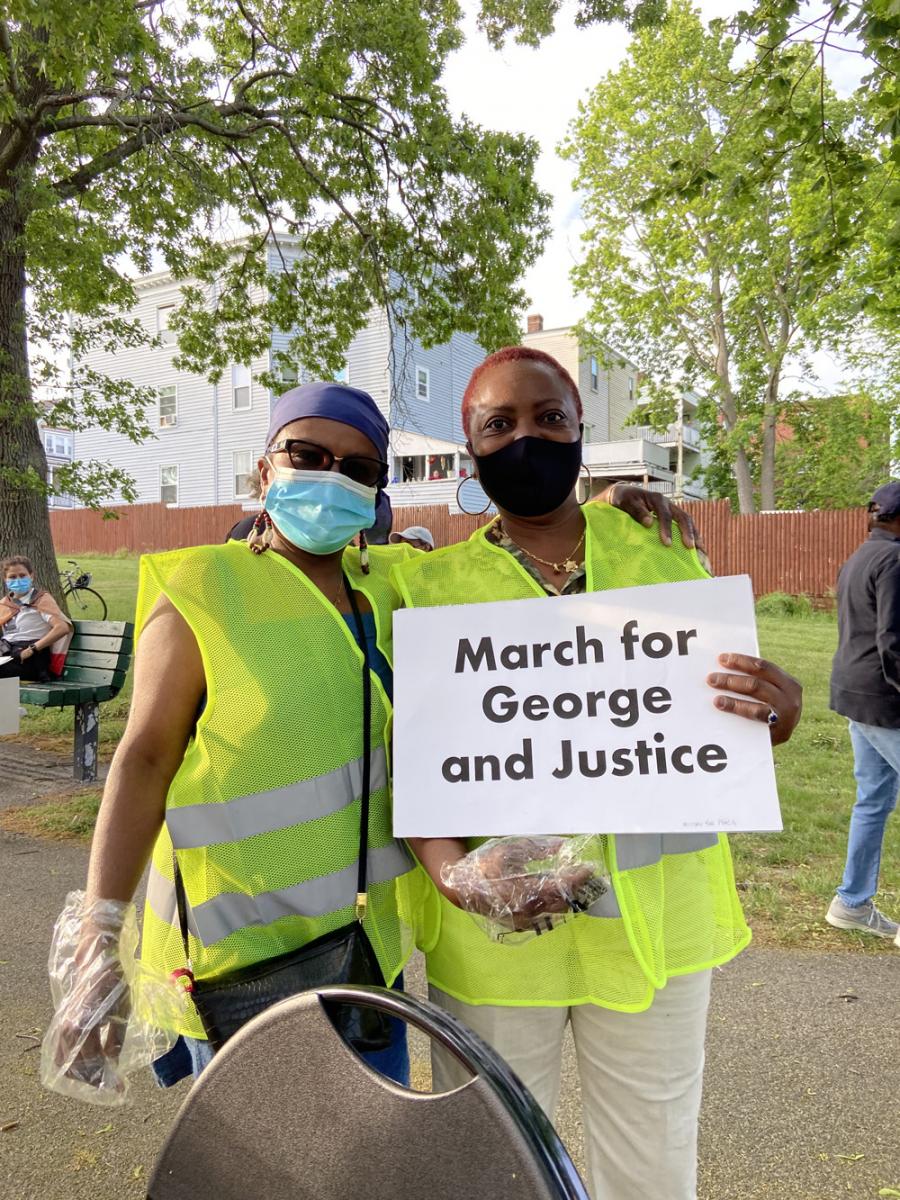 "I'm all for protesting, but it's also time for us to develop policy so we can change the laws that are on the books, and not just change the laws, but execute them," said Bell in an interview to CBS Boston.
Bell encouraged protesters to "take a look around and cut the check" to support political candidates that prioritize police reform, including mayoral candidates Michelle Wu and Andrea Campbell— both current Boston city councillors— and Democrat gubernatorial candidate Ben Downing, who joined alongside protesters in Mattapan.
"There's not much to say today because today is a solemn anniversary," said Wu, in brief remarks. "But this continues to be a call to action– we need to make sure that everyday the memory of every injustice that has happened continues to drive us forward."
Former Boston City Councillor Tito Jackson also lingered at the playground with organizers after crowds dispersed, and said the movement for Black lives looks for "accomplices not allies."
"We need to make sure we're advancing our neighborhoods and our communities towards a place where we can look back and truthfully say 'Black Lives Matter," he said. "The movement has grown but we need to see courageous policy, we need to see elected officials stepping forward and fighting for reform even when police unions come after them."
"Accomplices go to jail with you, they fight the flames with you. That's power, that's empathy, and that's what we're rallying for and what we need moving forward," said Jackson.
All photos by Rebeca Pereira