By Bill Forry, Editor
January 20, 2021
While there are plenty of unanswered questions about what the next 10 months hold for Boston City Hall, there is one certainty: City Council President Kim Janey will be the next mayor of Boston for at least a few months— and possibly longer.
Janey will take control of the Mayor's Office the minute that Mayor Walsh submits his letter of resignation to City Clerk Maureen Feeney, the former city councillor from Dorchester who is next in line of succession. She would be acting mayor in the event that Janey is out of town or indisposed during her time as Walsh's replacement.
This week, Janey— who has represented Roxbury and parts of Dorchester that are included in District 7 since 2018— reiterated that she has not yet made a decision on whether she will seek a four-year term when an election is held this year. She is, instead, squarely focused on preparing for a daunting task that could begin as soon as next week, depending on when Walsh is confirmed by the US Senate.
"My focus right now is on ensuring there is a seamless transition so that we can keep the people of Boston safe during this public health crisis," Janey said in a statement to the Reporter on Monday. "I am confident I will be able to do what's needed to get our residents vaccinated, safely get our children back to school, and help our businesses start to grow so we can achieve an equitable economic recovery for all of Boston."
She added: "I appreciate the efforts that Mayor Walsh and his team have made in working with me to make this transition successful."
Walsh and Janey met last week before his State of the City speech, according to sources who tell the Reporter that planning for the transition is now fully underway. She is getting daily, detailed briefings from department heads, several of whom have pledged to stay on after Walsh's departure to be of service to the acting mayor.
In addition, sources familiar with her own transition plans say, Janey has been busy calling prominent Bostonians to seek their advice and counsel as part of a transition team that is now in assembly mode.
The response to Janey from leaders from a wide array of institutional Boston has been uniformly supportive — to a person, the sources say, the city's leadership is determined to help the new mayor get the job done.
"It will be historic and exciting to see Council President Janey step into that role," Councillor Andrea Campbell, one of two declared candidates for mayor, said i this week. "A transition of leadership during an ongoing public health crisis will not be easy, especially for the thousands of city employees who continue to show up every day to keep our city safe and moving.
"So, it's critical we support Councillor Janey and our city leaders during that transition to ensure that the city's response to Covid-19 is proactive and equitable, that our schools can reopen safely and bring students back for in-person learning as soon as possible, and that every neighborhood is a part of an equitable economic recovery."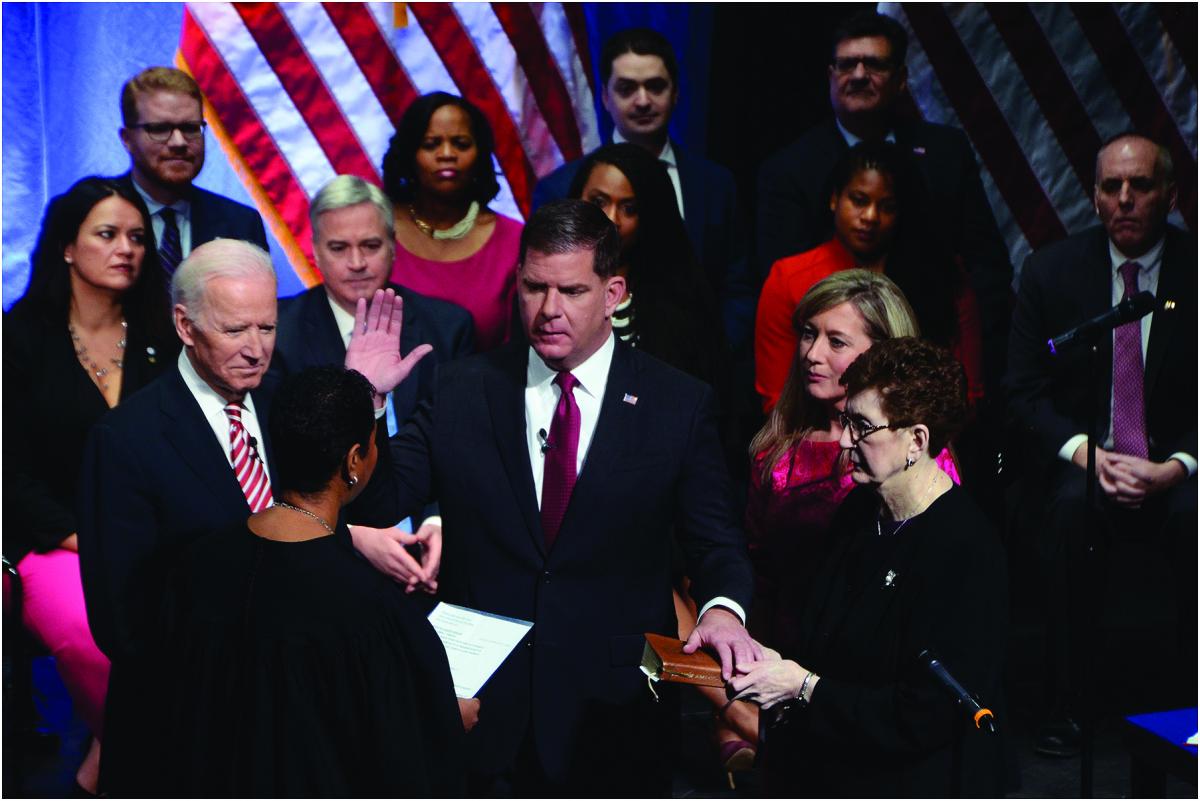 Mayor Walsh, accompanied by now-President Joe Biden, his partner Lorrie Higgins and his mother, Mary Walsh, at his 2018 inauguration. Chris Lovett photo

Michelle Wu, the at-large councillor who is also a contender for the mayor's job, said she is "confident that City Hall is equipped to navigate" the change in leadership.
"This moment will be a turning point in Boston's history," said Wu in a statement to the Reporter on Tuesday. "My first year on the City Council was another moment of transition for Boston, and I saw firsthand how our enormously talented and dedicated city workers and city leadership ensured a seamless transition back in 2014. I am confident that City Hall is equipped to navigate this moment as well. It's the start of a big year, and as we see big changes in City Hall and the White House, I'm excited about what's possible to deliver real change and build a healthier, more equitable, and more connected Boston."
Councillor Annissa Essaibi-George, who is mulling a candidacy of her own, agreed.
"It's a time of change," she said. "It's important for me as someone who represents the entire city to make sure it's as smooth as possible and that we're very much focused on the business of the city and that the city council is playing a partnership role in leading the city."
There is still debate on the full scope of an acting mayor's powers — and when they might take effect. Sources within City Hall say that a close review of the city charter leaves it open to some interpretation. But, if a Home Rule petition to push off a special election this summer is successful, Janey would at miminum be mayor through November. She will undoubtedly have to make new appointments to fill vacancies, develop policies and make decisions on whether to execute existing plans developed under the Walsh era.
Janey will most certainly have the responsibility for organizing, approving, and submitting a budget to her council colleagues for the next fiscal year, which would most likely be approved during her tenure.
One power that Janey will no longer have once she takes the acting mayor role is that of a voting member of the city council. While she will still— technically— be the city councillor from District 7 and the council's president, she will not get to— for example— vote on the city budget that her office submits.
In 1993, when Mayor Raymond L. Flynn resigned after his confirmation as US ambassador to the Vatican, then City Council President Tom Menino became acting mayor.  Though he retained the City Council presidency, Menino did not mix his powers as mayor and councillor, going so far as to refrain from even setting foot in the council chambers.
When Janey becomes acting mayor, her role as presiding officer shifts to Councillor Matt O'Malley, the panel's president pro tempore. O'Malley announced in December that after 10 years, he would not seek reelection and has said he will not be a candidate for mayor.
Whether or not Janey will seek to join a larger group of candidates seeking a full four-year term is— for now at least—on the back-burner. The urgency of preparing for a huge job that could start any day has taken the full attention of Janey, her team and those from the Walsh administration committed to an orderly and successful transition.
Reporter correspondent Maddie Kilgannon contributed to this article.