By Seth Daniel, Reporter Correspondent
September 23, 2021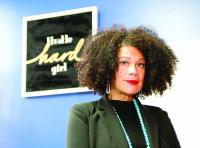 If there's one thing, said Boston City Councillor at-large Julia Mejia, that her strong, second-place finish in last Tuesday's preliminary election should communicate, it's that her style of political leadership is about amplifying other people rather than herself – a leadership model that she sees as more of a circle than a pyramid.
"It's really not about me and people need to know that," she said from her Talbot Avenue headquarters in Codman Square last week. "My team and my community is what made all of this happen. I'm just a convener, but they did it all…I am now part of the system that I fought against my entire life. I know what it's like to be on the outside screaming to be heard and no one paying attention. I tell people I'm not your voice at City Hall. I'm your microphone. I'm not here to speak on behalf of nobody. We are there to provide the space for people to represent themselves."
Mejia, a Dorchester resident, came in second place with 38,765 votes (14 percent) in last Tuesday's citywide contest. In 2019, she finished fourth— and won her at-large position— by one vote following a recount that broke a tie between her and fifth-place finisher Alejandra St. Guillen.
This time around, Mejia — now an incumbent– can point to solid showings across the city.
"I came in fourth in Ward 20, which is West Roxbury, and everyone was surprised by that," she said. "We dominated in the neighborhoods that have the highest percentage of people of color, low-income and immigrants…We did well in all the spaces we worked really hard in because all these spaces have always been neglected.
"… I always tell people you may not agree with me on any policies, but you'll know where I stand. What you see is what you get…Even in some places like East Boston and Charlestown, I even had some more conservative white folks who voted for me. They said they don't like my politics, but like me because I'm so feisty. They like that I'm willing to fight, even if they don't agree with me."
By the numbers, Mejia showed a broad base of support citywide that maybe didn't show up as strongly the first time she ran. She dominated in District 6, which includes Jamaica Plain, and won many of the precincts there with large vote totals. She had a strong showing in South Boston at the Condon School in Ward 6, Precinct 1 with 424 votes. In the South End, she logged 432 votes at the Cathedral High School precinct (3-7), and 473 votes at the Benjamin Franklin Institute precinct (5-1).
In Dorchester, she won 27 of the 32 precincts that make up the District 4 territory, which is where she lives as well. But surprisingly, her largest vote total at any one precinct came in Chinatown, where she got 647 votes at the Wang YMCA (3-8).
She points to the fact that she, like so many, has an authentic story of immigrating to Boston when she was very young then living in Four Corners and walking down Washington Street to school. She said that experience was something she brought to City Hall and was part of the work she did over her first term that was dominated by Covid-19, with shutdowns coming only three months after she took office.
"I'm an immigrant," she said. "I'm not the daughter of an immigrant. I came here at a young age and had to learn English like so many others and that resonates in a lot of places, and in that space, because it's first-hand and authentic...We've done more in one term than some people have done in 10 years to move the needle forward for communities that have been neglected in the short-term and that resonated around the city. We delivered and we have something to show for our time in office."
"We didn't have the capacity to do mailers," she said, saying they would cost about $25,000. "I'm incredibly in awe that we came 2,500 votes off the top of [Michael] Flaherty without that resource. It's incredibly humbling we did what we did with no resources…If there's one strategy moving forward for November's election, it's to raise more money so we can send out one or two mailers because I see what they can do."
While there was support from many corners of the city, including much of Dorchester, Mejia also had some actively working against her, including the Boston Police Patrolman's Union.
Mejia is well aware that some members of the Boston Police don't support her, but she said she knows many Black and brown members of the force who believe her stances on policing are correct. Regardless, she said, she's ready to do battle on the issue if re-elected in November.
"I have family that are in law enforcement," she said. "I am unapologetic about the deep reforms that our policing needs. I'm not afraid to call that out because we expect our police officers to be everything to everyone and to address housing issues, mental health problems, but we need them to do the job and they can't do that if they're being everything to everyone…Some people have a hard time with that because they feel we're taking away.
"The experiences of people I know and the conversations I've had with Black and brown police officers leads me to believe there's a lot of work to do in the BPD if we're serious about righting the wrongs," she added while noting she hears of a lack of promotions of Black and brown officers.
"They can hoot and holler all they want, but I'm not going anywhere…I grew up in Dorchester and I'm ready to fight somebody [on this], so let's go. I'm not here to be safe."
So it is, as she continues her campaign, she also continues to campaign for others who feel the same way and are on the same page with her – including at-large candidates Carla Monteiro and Ruthzee Louijeune. Early in the campaign, in fact, she took the unique position of endorsing Monteiro, her de facto competition for one of the four citywide seats. She has spoken about of electing Louijeune, too.
But the idea, she said, isn't to win and sit on top of a pyramid, but to gather like-minded people – elected and non-elected – in a circle to move forward the top priorities of those in the neighborhood.
"I am working to prove a point and to send a strong message to the establishment we can do this with or without you, so get on board or get left behind," she said. "My goal now is to get councillors in the top four. I should be focusing on my own campaign now, but I want [Monteiro] on the Council. I need someone else like me from the streets. I appreciate the polish and pedigree, but I don't want to be the only one out there that is hood…It's just not about myself here."