By Reporter Staff
March 19, 2021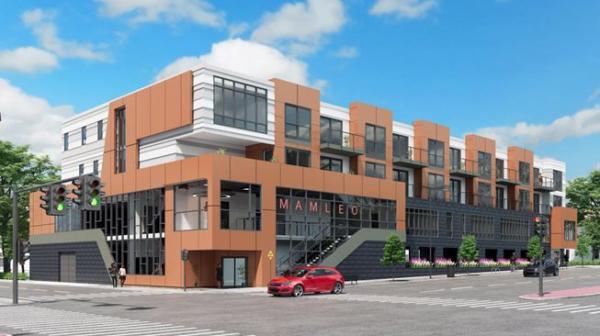 The Massachusetts Association of Minority Law Enforcement Officers wants to replace the old Columbia Road house it has long used as its headquarters with a new $15-million building that would include 45 "compact" studio apartments aimed at people 55 and older.
In a filing with the BPDA on Thursday, the association said the new building at 61 Columbia Rd., at the corner with Seaver Street, would include a 200-seat auditorium, a smaller auditorium and office space.
MAMLEO said the building is designed both to give the group more room and to bolster its income through the rental income:
"The proposed project would solidify MAMLEO's financial future through income-producing features. Firstly, the applicant plans to rent the main auditorium for weddings and corporate events. Secondly, the applicant plans to rent the small conference room for local activities (e.g. karate, dance). Thirdly, several of the offices will be rented, likely, at reduced rates to complimentary organizations. And, lastly, the residences will be 55+, ideally occupied by MAMLEO's own constituents. Through these, MAMLEO will be capable of financing and maintaining a building of this caliber, and further its mission."
Six of the units would be rented as affordable. The studios would be between 400 and 430 square feet under the city's "compact living" pilot. The proposal calls for 4,272 square feet of "amenity" space required for residents under the pilot, but does not specify what it would be used for.
The building would have 32 parking spaces.
The group's filing says the building's color palette was set to match that of a brick apartment building across Columbia Road:
"The architectural massing takes cues from its neighbor across Columbia Road: a 4 story, red/brown masonry structure with inset balconies. The design team believes that by matching the neighboring building's color tone and scale, a gateway will result - positively identifying the intersectional significance. "
MAMLEO estimates construction would take a year and that it hopes to begin the work by mid-2021.