By Katie Trojano, Reporter Staff
February 3, 2021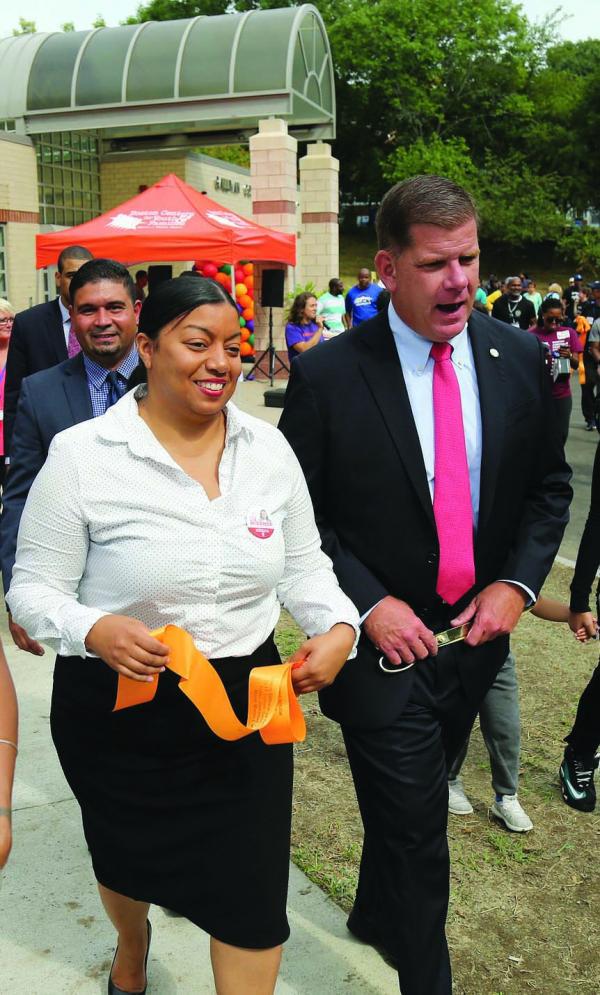 State lawmakers and advocates called for the swift passage of legislation that would limit cooperation between local police and federal immigration officials during a virtual press conference on Tuesday. 
The Safe Communities Act is co-sponsored by Rep. Liz Miranda of the Fifth Suffolk district, which includes parts of Dorchester and Roxbury. She re-filed the bill this week along with Senator Jamie Eldridge (D- Acton) and Rep. Ruth Balser (D-Newton).
The bill has been filed in each of two previous sessions but sputtered without a vote. Sponsors said Tuesday that they believe its support continues to grow amid a changing political climate and with the Biden administration targeting action to reshape the country's immigration system.
Miranda called the bill a public safety and a public health imperative – and critical to the state's covid-19 response. The bill would void so-called 287(g) agreements that ICE reaches with local law enforcement agencies outlining collaboration. Several Massachusetts sheriff departments have used such agreements. Several speakers warned at the bill unveiling that many people in immigrant communities have been hesitant to seek medical care during the pandemic because they are concerned that any interaction with the health care system could expose them to possible enforcement.
"As State Representative of a district with over 50 percent of residents being foreign born, it's clear this pandemic continues to have a devastating impact on immigrants and communities of color, further compounded with the perception that engaging with local government, police, courts, and hospitals risks family separation," Rep. Miranda said in a statement. 
The legislation would prohibit police and court officers from asking residents about their immigration status or notifying federal Immigration and Customs Enforcement (ICE) when a person is released from custody, unless he or she were finishing a criminal sentence. 
"It's time to act and send a message to all immigrants in the Commonwealth, rebuilding and restoring trust across institutions," Miranda told the Reporter. "As a first-generation Cabo Verdean-American legislator, as someone from a mixed status family, and as someone who represents a district that is over 50 percent foreign born, it's abundantly clear that the last four years, and this past year, has been devastating for immigrant communities -- we have been living through a pandemic within a pandemic within a pandemic." 
"I am not shielded as a legislator or as a community leader, -- my brother and father were both deported in 1998 as I walked on the campus of Wellesley College," Miranda said.
Michael Curry, President and CEO of the Massachusetts League of Community Health Centers, spoke in support of the legislation.
"For years, our community health centers have seen immigrant patients disenrolling from MassHealth and delaying or avoiding treatment out of fear that their information will be shared with ICE," said Curry.
"During COVID-19, these fears have undermined testing, treatment and contact tracing efforts in immigrant communities, and could also impact vaccine administration. The Safe Communities Act will restore trust in our public institutions and more urgently, as we rollout the COVID-19 vaccine, ensure that our immigrant communities have access to this life-saving measure."
The bill, formally known "An Act to Protect the Civil Rights and Safety of all Massachusetts Residents," if passed, calls for implementation and in-service training for all law enforcement agencies in the Commonwealth within 12 months. 
Miranda called on her colleagues to support the bill, which did not receive a vote in either the House or the Senate last session. 
"Today, we are calling on the moral conscience of the Commonwealth, on all of my colleagues, community, and residents, to ensure and uphold the dignity, health and safety of all Massachusetts residents. It's time to end our involvement in deportations once and for all, I ask all of my colleagues to co-sponsor this critical legislation," she said. 
Opponents, which include the Massachusetts Republican Party have argued that creating barriers between local, state and federal agencies could imperil public safety. So far, they have been successful in keeping the bills bottled up in Beacon Hill committees.
The latest push will play out under a new speaker, former DeLeo top deputy Ronald Mariano. Rep. Balser said Mariano "has talked about putting more votes out on the floor," which could improve the outlook if sponsors secure enough support.
A Mariano spokesperson told the News Service "it's premature to comment on the prospects of any one particular bill," saying the speaker is focused on finishing bill filings and starting the committee process.
Gov. Charlie Baker has for several years opposed the immigration enforcement reforms. He said in May 2018 that he would veto he similar Senate budget language, arguing that "decisions like this belong with local law enforcement."
Asked in July 2020 if his views on the bill had changed, Baker simply replied, "No."
State House News Service reports contributed to this article.