By Reporter Staff
September 29, 2021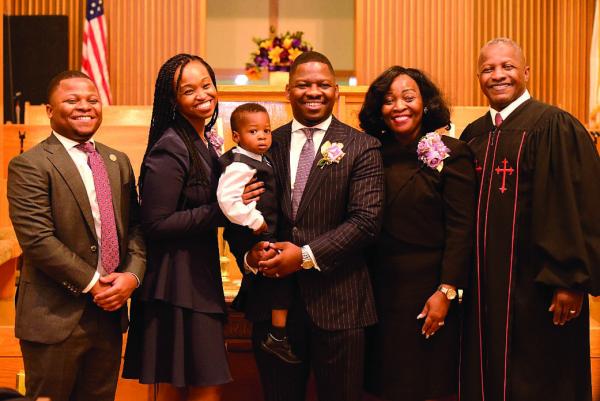 Reverend Willie Bodrick II was installed as Senior Pastor at Roxbury's Twelfth Baptist Church last Sunday, making him the second-youngest pastor in the church's 181-year history, and its youngest in the last 145 years. He has served in this role since last January, but the formal ceremony was postponed due to Covid-19 concerns.  
In addition to his ministerial duties, Rev. Bodrick works as a law clerk at Brown Rudnick, LLP. He received his bachelor's degree from Georgetown University, a Master of Divinity from Harvard Divinity School, and a Juris Doctor from Northeastern University School of Law.
He currently resides in Roxbury with his wife, Dr. Devin Cromartie-Bodrick, and their son. 
"I've spent my entire ministry career at Twelfth Baptist Church, first as an intern in 2012 during my studies at Harvard Divinity School and in nearly every role leading up to Senior Pastor," Rev. Bodrick said, adding:
"TBC has a rich history that dates back to 1805, and I'm dedicated to ensuring long-term sustainability to keep its mission alive. My passion for service is exemplified through the work of the church and I look forward to expanding our footprint across the community."
Among those on hand for Sunday's service were state Rep. Russell Holmes, Acting Mayor Kim Janey, Suffolk County District Attorney Rachael Rollins, and Boston City Councilor At-Large Michelle Wu.