By Reporter Staff
November 12, 2021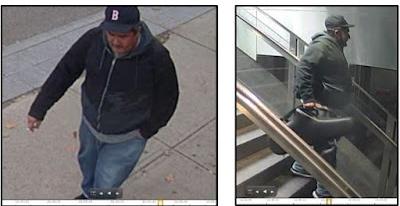 The Transit Police Department is seeking the public's help to find a guy who stole a high-school student's $3,000 saxophone as she waited for an outbound Red Line train at Fields Corner last month.
Police say the 16-year-old BPS student was at the Fields Corner Red Line station with her BPS-issued saxophone around 12:45 p.m on Oct. 29, when she turned away briefly: "At that time an unknown adult male absconded with the saxophone exiting the station."
If you recognize the guy, or if anybody's offered to sell you a saxophone of unknown provenance, contact detectives at 617-222-1050 or send an anonymous tip to 873873.