By Bill Forry, Editor
April 14, 2021
A poll of Boston voters conducted by The MassInc Polling Group last week shows that the race for mayor of Boston remains wide open as six candidates— including four women who now serve as city councillors— seek a four-year term as the city's top political leader.
The poll of 552 registered voters who live in the city was co-sponsored by the Dorchester Reporter, WBUR and The Boston Foundation and conducted between April 7-11. It was conducted in two languages: English and Spanish.
Dot voters polled discuss their mayoral preferences
The findings suggest that nearly half of the city's electorate— 46 percent— are undecided about whom they are likely to support. However, two candidates— Michelle Wu and Acting Mayor of Boston Kim Janey—lead the pack in the early stages. Wu, a citywide councillor now in her fourth term and the best-known candidate at this juncture, garnered 19 percent of voter support in the poll. Janey, who has served as mayor since March 22, is already benefitting from the high-profile role: She placed just behind Wu with 18 percent.
The rest of the field was in single-digit territory with Annissa Essaibi George at 6 percent, Andrea Campbell at 4 percent, and Jon Santiago and John Barros both at 3 percent. One percent of those surveyed declined to pick a favorite.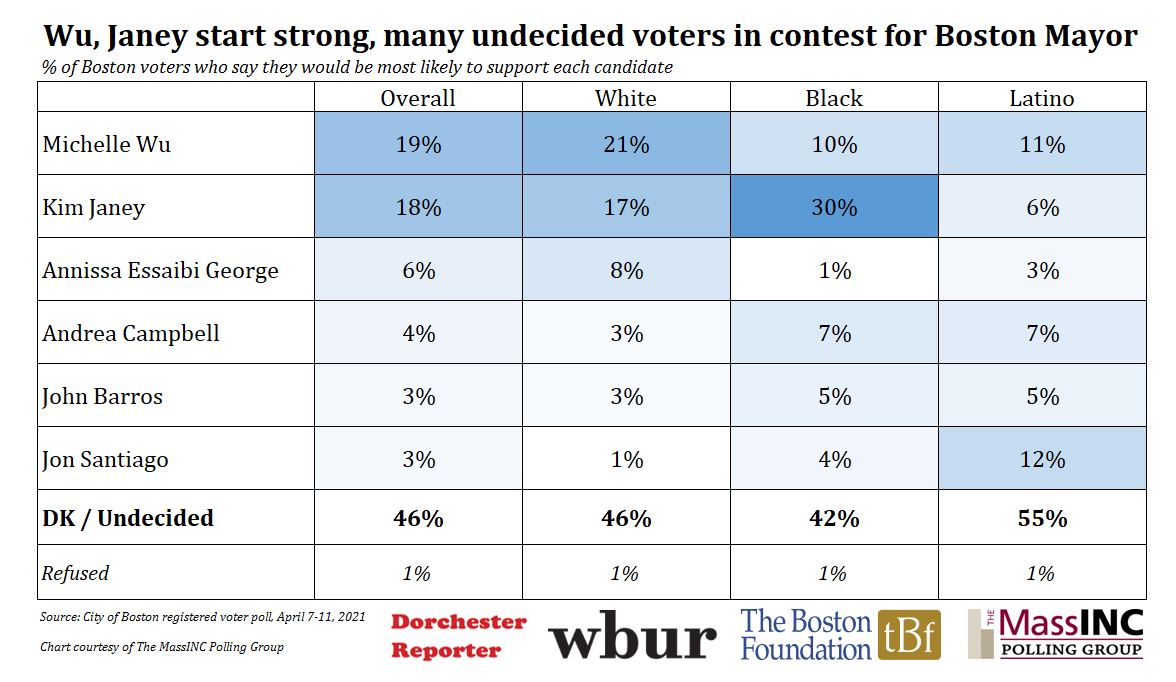 More: View the crosstabs from The Mass Inc Polling Group poll.
Wu and Campbell have both been running for the seat since last fall when now-US Secretary of Labor Marty Walsh was still seen as a likely candidate to run for re-election. Essaibi George, a Dorchester woman who is an at-large councillor, joined the contest right after Walsh was nominated for the Biden cabinet post in January. Jon Santiago, a state representative from the Back Bay, was next in, followed by John Barros, who served as Boston's economic development chief until recently.
LISTEN: WBUR's Tiziana Dearing and the Reporter's Bill Forry discuss the poll of Boston voters
Finally, last week, Janey— who was thrust into the mayor's job upon Walsh's confirmation last month, dived into the race last week.
"It's still really early," explained Steve Koczela, the president of The MassINC Polling Group. "Large swaths of voters have no particular view of the candidates and will be forming their views in the coming weeks and months."
He added: "Being mayor is certainly a boost to Janey. More voters will get to know her as mayor, while other candidates will need to find other ways to draw attention and support."
The poll also took a measure of "favorability" and found that Walsh ended his tenure with a strong majority— 59 percent— saying that they have a "favorable" view of him and the job he did. Twenty percent viewed him as "unfavorable." Michelle Wu was next highest in the ranking at 47 percent favorable, with 11 percent registering an "unfavorable" opinion of her.
"Boston loves our leaders and this year is no exception," said Koczela. "Among those who have heard of the candidates, they are viewed positively pretty much across demographic groups. In an era of toxic politics nationally, that's something to be proud of."
With 46 percent of voters saying they are still undecided, a lot could change before Sept. 21, when the top two finishers in the preliminary contest advance to November's general election.
The survey also provides some insight about what voters are thinking about as this election cycle begins in earnest. The pollsters asked respondents "what is the single biggest issue facing the city of Boston right now?" Covid-19 registered at the top at 27 percent, followed by housing costs at 18 percent.
The poll included more specific questions about voter opinions on returning to in-person learning, housing affordability and development, and race and discrimination.
The Reporter will have more coverage of those findings online at DotNews.com and in next week's edition.
Read more about the poll from our media partner, WBUR 90.9FM.