By Daniel Sheehan, Arts and Features Editor
June 2, 2021
Before Covid shut down most of Boston's music and entertainment economy, local artists already faced challenges in the form of limited accessible rehearsal, recording, and performance space in the city, despite it being home to a thriving music scene and an abundance of talent. Now, as the Boston scene prepares to reopen and regain lost ground, a Dorchester non-profit organization is looking to address those chronic shortages.
The Record Co., a state-of-the-art co-op music space, has its newly renovated headquarters on Mass Ave. poised to become a community hub for musicians and producers in the neighborhood and across Greater Boston.
The Newmarket Square building that since 2011 had housed a couple of studios and a small but diverse network of music makers underwent an extensive rehab over the last two years after the property was purchased by a developer who made an agreement with the non-profit to let them stay and expand its footprint.
Now, The Record Co. (TRC) boasts a 12,500-square-foot facility with 4 recording studios and 15 rehearsal rooms featuring commercial grade sound isolation and music and audio equipment. And the kicker: These spaces, designed to be shared, are available to rent for between $10 and $32 per hour.
"The comparison isn't perfect, but sometimes we get compared to co-working spaces — Fairmount Innovation Lab, Artisan's Asylum. This is the music equivalent of that," said TRC founder and executive director Matt McArthur. 
Shared music spaces aren't a new concept; typically in Boston they have taken the form of dank (and sometimes unsafe) warehouses where a handful of artists or bands pool money to rent rooms by the month. But many of these options, which could cost hundreds of dollars, have shuttered or been demolished in recent years. TRC is looking to fill that void, and to do so in a way that hasn't been done before nearly anywhere.
"It might be a reflection of the sad state of affairs that is music space, but we're having a hard time finding anything comparable in the country," said McArthur. 
At TRC, artists or groups can book a recording or rehearsal room at an affordable rate and tailor it to their individual needs. "When you book one," explained McArthur, "you say, for example, 'I need a drum set and two guitar amps,' and when you show up, your room is set up for you the way you need it."
Musicians can choose from small rehearsal rooms, which are ideal for solo practice or one-on-one lessons; medium-sized rehearsal studios for a three- or four-piece band; and large studios for full-band jam sessions. Not only does the $6 million plus reworking of TRC provide much needed space, but it also provides rooms that are high quality and that meet industry safety and technical standards.
"I cannot overstate how much of the investment of the project is in the bones. You'll never see it," explained McArthur. "It's the air conditioning, it's the 25 individual floating concrete slabs that were poured so that no one room is connected to another, it's being able to come in for a rehearsal session for ten bucks an hour, it's having all the equipment you need. Having a reasonably quiet space to work in is just bananas. It's not a thing that exists."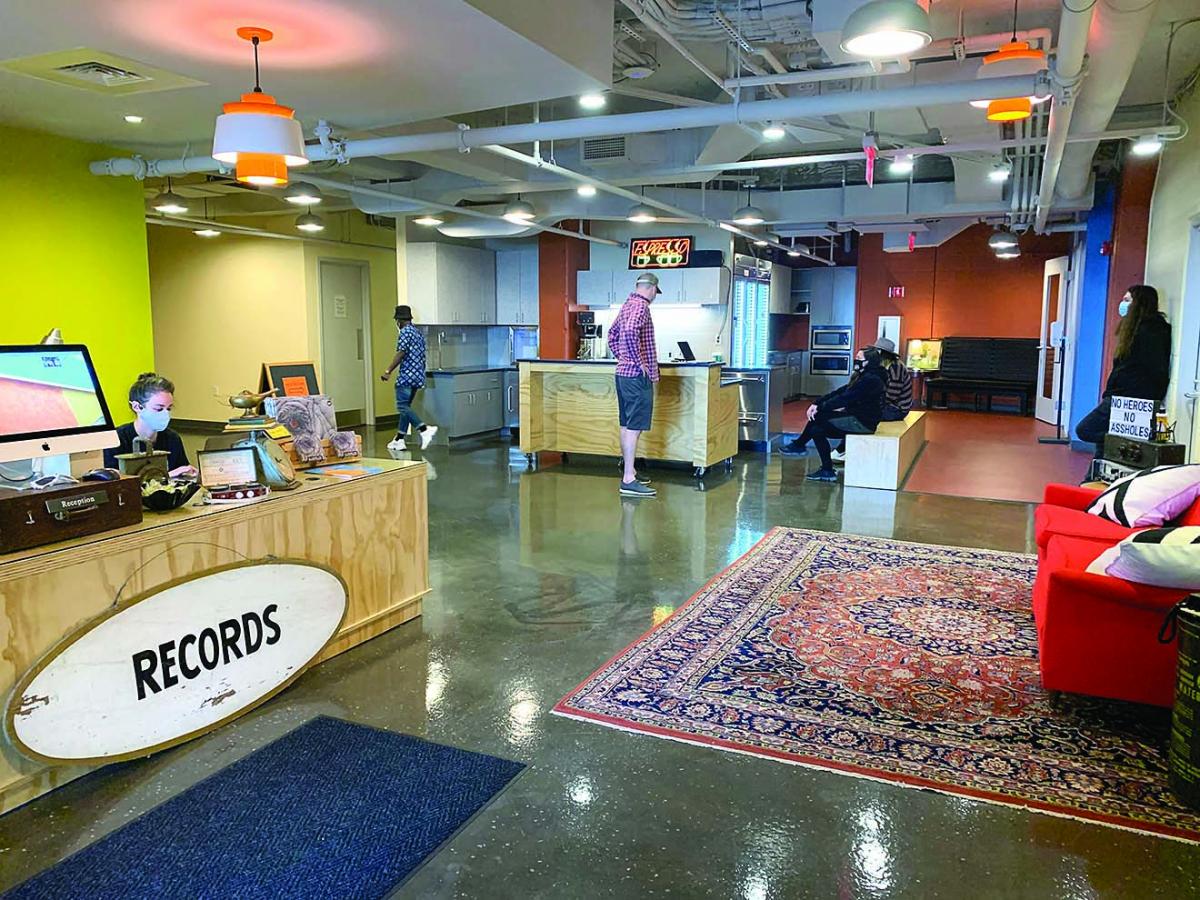 The lobby of The Record Company in Newmarket Square. Daniel Sheehan photo

When TRC put out a survey to Boston's music community during the planning process, the responses played an important role in shaping what the space looks like now. Some of the input from the 600 artists surveyed was expected: 71 percent of respondents rated Boston's affordability as poor or very poor, while 81 percent of artists of color rated the Boston music community as fair to very poor. But other feedback was contrary to what McArthur anticipated. 
"We went into those conversations assuming that performance space was going to be the highest priority, and it wasn't...a lot of folks were saying, 'Why would I need performance space when I can't even find somewhere to write or practice?' So we doubled down on rehearsal space."
At The Record Co. last Friday, several groups were on site practicing and laying down recording takes, including Groovin' You, a local wedding band made up of Berklee students, and 48 Degrees North, an alt-pop band based in Tacoma, Washington. The band had previously planned to record with Mike Davidson, a Waltham-based engineer, but when those plans fell through, TRC's BYOE (Bring Your Own Engineer) policy provided a solution.
"We were originally supposed to record at my studio, but we're in the process of moving, so we're not ready to do that," explained Davidson. "But this place is great. For a maker space, for a co-op space, it's super high end. A lot of times co-op spaces can be kind of run down, but you can tell a lot of thought was put into the design; every room is world class."

Waltham-based engineeer Mike Davidson, left, worked with Tacoma, WA based band 48 Degrees North on their latest project in TRC's Studio A. Daniel Sheehan photo

Davidson added that the facility is unique in that it allows audio engineers a chance to hone their skills and make it a temporary home base for their business. "For up-and-coming engineers who want to get their feet wet in a professional environment, but also in a low-key setting where they're not paying out the nose for studio time, I think it's a great resource to gain that experience," he said.
Also at the facility on Friday were Benjamin Adeniyi of Lynn and Femi Akindele of Roslindale, a vocalist/producer duo working in one of the studios on a forthcoming project. The two met in college at UMass Dartmouth and had been making music in their dorm room before discovering The Record Co. Adeniyi, who goes by the stage name "Gingaman," said he was impressed with the new digs.
"I love this place, man, this place is dope. I've never actually been to a recording studio before...the setup is really nice."
For Adeniyi and for Akindele, who was gradually adjusting to the wide range of technology available in the studio, The Record Co.'s mantra of welcoming beginners and experts alike and treating them with respect made their first studio visit a bit less intimidating.
"This is my first time using a lot of this equipment," said Akindele. "A lot of these things I use for mixing, but I've never actually seen it in person. I just use the software plugins...it's crazy coming from a bedroom setup to here."
In addition to being a proving ground for up-and-comers, TRC is also proving to be a useful resource for producers and engineers with years of expertise under their belt, like Marquis Neal, a born and bred Dorchester resident who has worked as an audio engineer, music entrepreneur, record label president, and now serves on TRC's Leadership Council.
Neal's knowledge of the local geography was useful in confirming to McArthur and his team that the location at 960 Mass Ave. is indeed in Dorchester; his experience in the local music scene means he knows enough to know the new space at The Record Co. is something special.
"As an engineer, being able to have a studio I have access to for low cost, and still can charge an hourly cost, that's dope. As an artist, it's also dope that you can go in and bring your own engineer," said Neal.
The Record Co.'s location is also one of its strengths, according to Neal, who said having a multi-purpose space in Dorchester means artists won't have to hoof it to Allston or Cambridge or outside of the city to rehearse or record.
"Having the facility is one thing, but it's in a place where it's a predominantly Black neighborhood, and where people are already fighting for resources," said Neal. "Shoutouts to the founders for picking that place. It's where it's at, and people have a better chance to take advantage of it. For young kids growing up around here, now you're in a situation where this is where you're playing, this is where you're spending your time after school...the trajectory of the scene is on its way, hopefully with this, it can expand even more." 
TRC staff are waiting with bated breath for the official end of the pandemic when the new facility can be used to its full potential, including Studio A's performance space, which can accommodate up to 90 people for intimate live shows. In the meantime, McArthur is inviting anyone interested in music to check the place out, regardless of experience or ability.
"We're agnostic about quality or career orientation here," he explained. "At the root of it, what everyone in this space has in common is they enjoy making music. We're not here to judge or tell you what to do; we're creating space for you to pursue that yourself."
For more information about The Record Co. or to book a session, visit therecordco.org.