By Daniel Sheehan, Arts and Features Editor
February 4, 2021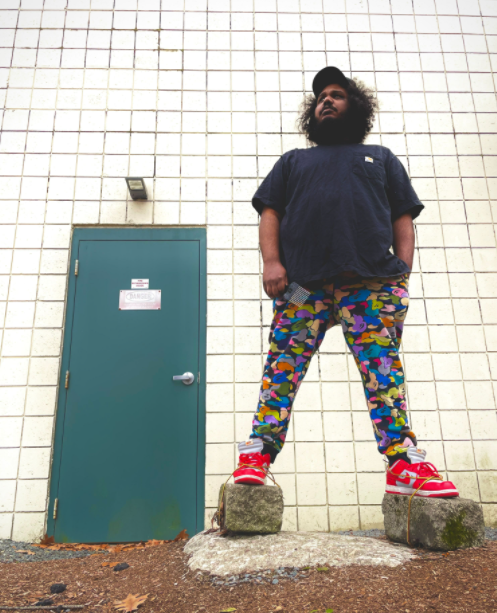 On the cover of "Hiding," an album released by Michael Christmas at the tail end of 2020, the Boston rapper beams giddily from a glowing laptop screen in a shadowy room. The image paints a portrait of a quarantining Christmas isolated in his bedroom, his smile the only thing illuminating the darkness.
That dynamic is reflected in the music itself: Christmas takes time for quiet introspection and bluntly considers the hurt and injustice he sees around him, but nevertheless gives listeners moments of hope and humor that shine through the gloom.
Having grown up in Roxbury, the 26-year-old has connections to Dorchester by way of proximity. His expertise in local eats means doling out culinary recommendations when artist or producer friends come to town, as in: Dorchester and Mattapan have the best Caribbean food; everything at Simco's is good except the pizza.
Christmas has performed in the neighborhood and regularly collaborates with Dot MCs like Cousin Stizz and Latrell James. And as an adolescent, he spent a lot of time hanging with friends in Fields Corner.
After being holed up for much of the past year as a way to stay safe, Christmas talked with the Reporter early in the new year about how he misses being on stage, connecting with his fans, and experiencing the exhilaration of performing new songs.
"When you make new music, you think about performing it," he said. "Even when I'm writing it, I think about performing the music - you do like the little whispering yell voice that you would do on stage. I do that all the time with "Hiding" –in the mirror, in the living room, wherever.
"Not getting to perform "Hiding" right now is trash. You want a big crowd, you want the crowd from the crib and a stage full of your homies and everybody knows the words and shit. But it's okay that we can't do that. I think it lets the music serve as its own thing, which I don't think it always gets the chance to."
The strength of Christmas's pen shines through on the album, which features clever wordplay, vivid storytelling, and several moments of self-awareness. On "Cinderblocks," he addresses police brutality and other forms of oppression using a metaphor of people being held down by invisible weights. While many fans have come to expect humor and feel-good hooks from his songs, Christmas has never shied away from illuminating social ills, he said. 
"I just assume people don't listen listen when they listen to my music, but if they do they'll catch that I'm generally always talking about this... I get upset being here and knowing we really are not supposed to be here like that. So I try not to delve too deep into it and make people uncomfortable, but that's why I do it in metaphorical ways on my album so that people understand like, this […] is all built to hold us back...injustice is everywhere you look, it's ingrained in the place we live. That's when you get stressed every day, like, [….], I live in America."
In a promo video released in the weeks leading up to the album, Christmas can be seen working his way through a faux "training" montage as a voicemail from comedian The Kid Mero plays in the background, playfully extolling the rapper's work ethic and dedication. The clip was hyperbole – "I never just run uphill like that" – but Christmas's hard work and practice to push himself and improve his writing skills are no joke. He explained how the recent death of MF Doom, one of his favorite rappers, has compelled him to up his game and leave his weaker bars on the cutting room floor. 
"Some of my first recorded raps were on Doom beats," he said. "It's like one of those things. I've been watching the Cobra Kai show and as Daniel LoRusso gets older and Mr. Miagi's not there, all of that stuff is still sitting in his head but he's not practicing every day. Then he gets inspired again and starts practicing again, and that's kind of how I felt with Doom's passing. It made me go back down that rabbit hole. It felt like I was going up into the attic to dust off boxes and look at my childhood...Technically, he really broke all the rules; the beats he made were like the weirdest beats with the weirdest tuneage and drums and it all worked to perfection.
"When you have a legend like that, I assume it's the same way hoopers felt when Kobe passed away; every time they stepped on the court after that it was for him. I kind of feel that same feeling now with writing, like, if Doom wouldn't bob his head to this, I'm not even gonna say it."
After reflecting on the loss of one of his heroes, Christmas offered thoughts on his own trajectory. The penultimate track on the album, "When I'm Gone," shows Christmas at his most introspective, imagining the life he'll have years down the line, and the life he'll leave behind. In the song, he comes to a simple conclusion in terms of what he wants from life: making a deep, personal impact on listeners, as other artists have done for him. 
"As far as my own personal goals in life, that's what I want: to be able to continue to do the things I love to do at a high level and do more of them. I want to do movies, I'm going to continue to do standup when it's safe to do standup, I want to keep directing, I want to write for other people...The legacy goal is just to leave behind a ton of content, but what I want to do is actually change people's lives in the way my favorite content has always been able to change mine. The inspiration I draw from standup comedians and movies is just as important as the inspiration I draw from music."
In conversation, Christmas doesn't exactly paint a picture of hopefulness. "Why do keep thinking […]'s gonna be okay?" he asked with a wry laugh. But having been through a lot ("I know what homeless is like and I ain't going back"), he has built up an uncanny sense of resilience to battle his more realist tendencies.
On the album's closer, "Don't I Know It," he alternates between despair and optimism, lamenting that "Life too crazy now to notice I'm spiraling out of control" before reasoning, "Life gets better, like wait for the weather." He knows that making it through tough times— like biding time for the snow to melt and the ground thaw at the end of a long New England winter—is tough and requires patience. 
"If you're poor right now, but you know you're getting paid next week, or even if the weather itself is terrible, you're just waiting for it. It's like winter, sitting and waiting for the next time you can step outside comfortably. You know there's gonna be that day, it's just not tomorrow. It's January, man, we're right there in the middle of the song 'Don't I Know It' right now."