By Bill Forry, Editor
January 7, 2021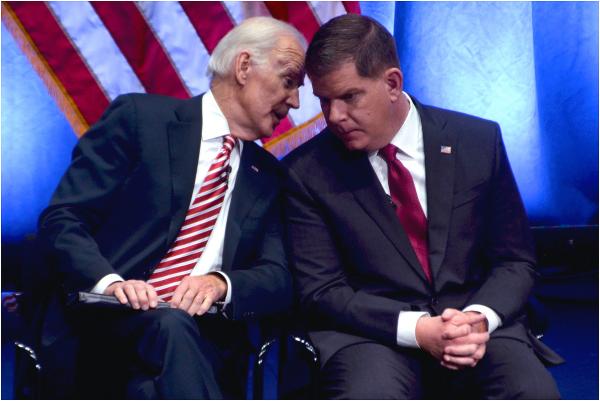 (Updated— Jan. 7, 9:14 p.m.)— Mayor Martin Walsh has been nominated to serve as the Secretary of Labor for the Biden-Harris administration and on Thursday night the second-term Boston mayor said he plans to accept the job.
"Working people, labor unions, and those fighting every day for their shot at the middle class are the backbone of our economy and of this country," Walsh said in a Twitter post at 9p.m. "As Secretary of Labor, I'll work just as hard for you do for your families and livelihoods. You have my word."
Watch live: President-Elect Biden introduces cabinet nominees, including Mayor Walsh
The news of the nomination—announced by the President-elect— was first reported by Politico.
The Biden-Harris transition team made the choice public on its website tonight, noting: "If confirmed, Mayor Walsh would be the first union member to serve in this role in nearly half a century."
The pick follows months of speculation that the 53-year-old Boston mayor was a leading candidate for the president-elect's cabinet.
Biden and Walsh have been close allies in recent years. The president-elect presided at Walsh's most recent inauguration.
If confirmed, Walsh would leave a vacancy in the Mayor's office that would, by statute, be filled by City Council President Kim Janey of Roxbury on an interim basis. She would be the first Black person to serve as the city's chief executive.
According to City Clerk Maureen Feeney, if Walsh was to leave his City Hall post before March 2021, a special election would be scheduled. If he leaves after March, the September primary election would be the next window to begin picking a new mayor.
There are already two candidates seeking election to the mayor's job in 2021. City Councillor-at-Large Michelle Wu and District 4 Councillor Andrea Campbell of Mattapan. Dorchester resident Annissa Essaibi-George, also a citywide councillor, is considering a run herself if Walsh is not in the race.
Councillor Wu offered a swift response congratulating Walsh— who has not yet commented on the report.
"Congratulations to Mayor Marty Walsh on his nomination as Labor Secretary for the Biden Administration," said Wu. "He will be the first union member to serve in this role in nearly 50 years, and his leadership will come at a critical time for the labor movement. There is much work to do to clean up the backwards, anti-worker policies of the Trump administration that have hurt so many here in our city, and Boston needs a partner to fight for working families at the federal level."
Councillor Campbell later tweeted: "Congratulations to Mayor Walsh on his nomination as Secretary of Labor - a fitting role for someone who has spent his entire career fighting for working people in and out of public service.... For Boston, there's so much at stake in 2021 as we look to recover from this pandemic and reimagine what our city can be without persistent inequities. I know Mayor Walsh will be a partner in that work in this new role."
Rep. Russell Holmes, a Mattapan Democrat, told the Reporter that he's "not thinking of running for Mayor" if Walsh leaves for the Labor post.
"Congratulations to him, it's good news," said Holmes. "And I think its time for us to shuffle the deck and see who has the best ideas around running the city, all of them are very good friends of mine [Janey] [Wu] [Campbell] and I'm sure more people will throw names in the hat."
House Ways and Means Chairman Aaron Michlewitz, who lives in the North End, is considering running for mayor, according to State House News Service.
Walsh is scheduled to deliver his State of the City address on Tuesday night.
Sen. Ed Markey tweeted: "Fantastic news. As a union leader, [Walsh] will bring the commitment to workers and working families that is desperately needed right now. His tremendous leadership in Boston on climate action, health care, and social action make him ready on day 1."

Sen. Elizabeth Warren later tweeted: "My friend Mayor @Marty_Walsh is a champion for America's labor unions and a fierce fighter for working families. I am delighted that President-elect Biden has chosen Marty as our next @USDOL Secretary to make our government work for working people."
Gov. Charlie Baker said Thursday afternoon that he talks with Walsh almost daily but had not spoken to him about becoming labor secretary.
"We obviously have had, for the past six years now, a really positive collaborative working relationship with Mayor Walsh and his team on many, many issues," Baker said. "Our ability to work together has made a big difference for the city and the surrounding environs. And I consider him somebody who I can be very straight with on pretty much anything we talk about."
U.S. Rep. Richard Neal of Springfield, who chairs the House Ways and Means Committee, seemed to confirm Biden's selection in a statement Thursday afternoon.
"I am thrilled to hear that Mayor Marty Walsh has been chosen for our new Labor Secretary. Throughout his career he has been a champion for worker's rights and I am confident that he will succeed in this new position in the Biden Administration," Neal said.
When President Bill Clinton reached into Boston City Hall to appoint Mayor Ray Flynn ambassador to the Vatican in 1993, City Council President Thomas Menino became acting mayor, a post he would use as a springboard to the next two decades that would make him the city's longest-serving mayor.
State House News Service reports contributed to this article.
-Developing-
Related: Marty Walsh heading for Washington D.C.? It's a real possibility