By Taylor Driscoll, Reporter Correspondent
June 2, 2021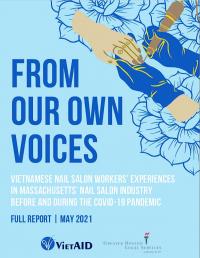 A newly published report based on interviews with nail salon workers — many of them employed in or living in Dorchester— details the challenges facing the industry and its largely immigrant workforce that was particularly hard hit by the pandemic.
The Vietnamese American Initiative for Development, Inc. (VietAID) in Fields Corner and Greater Boston Legal Services (GBLS) published the "From Our Own Voices" report last week. Based on 52 interviews with nail salon workers between 2016 and 2020 and survey responses from both worker and salon owners during the pandemic, the survey shines a spotlight on flaws within the industry that were already present before Covid-19, but that have intensified since.
"The United States nail salon industry overwhelmingly consists of low-wage Asian, immigrant women, and Vietnamese Americans who make up half of the national workforce predominate in this industry," said Thao Ho, a joint fellow for VietAID and GBLS. "Massachusetts has a significant nail salon industry, with over 1,500 nail salons."
Many workers are paid by commission and not fixed salary, a circumstance that left many struggling during the lockdown. The intimate nature of the work made it impossible for nail technicians to work remotely.
One worker featured in the report, who spoke to the Reporter but asked that her name be withheld, said she struggled throughout the lockdown, even though she did receive unemployment benefits. She found that she needed to go back to work during her pregnancy when the stay-at-home mandate was lifted in June 2020.
"I picked myself up and forced myself to go back to work even though I was pregnant and my belly was so big while I was working," she said. "I knew that I had to return to work because I really did not have enough income coming from the benefits I was getting to pay for things like rent, food, and other things for my household. I returned to work and did my best to survive during the pandemic."
Business owners — hit with declines in revenue as high as 35 percent last year— are in a tough spot, too. Projected growth within the nail industry was expected to go up 13 percent over the decade pre-pandemic, according to the study. Instead, hit with an average 35 percent decline in revenue, many owners laid off employees.
The report estimates that it will take the industry five years to fully recover.
"When small business owners are heavily impacted, it trickles down to the worker force and directly impacts the workers on the ground," said Ho. "Even though owners tried to respond to the slowdown by raising the cost of service, we saw that this was simply not enough to accommodate for drastic loss in customer volume."
As nail salons began to reopen last June, many workers had to choose between health concerns and stable income to provide for their families. The study found that workers' main concern about coming back to work was health safety, but with limited work options, going back to salons seemed like the only viable option they had to support themselves and loved ones.
"I was worried because I have another eight-year-old at home and so I did whatever I could to protect myself and those around me," said the worker. "That included eating and drinking by myself and not with the other coworkers. I know that when people gather, it's much easier to get Covid."
The report also touched on the rise of anti-Asian racism within the country and how it has affected the nail salon industry this year. Since the industry consists mainly of immigrant Asian woman, the report points to a "surge" of xenophobic rhetoric and anti-Asian panic by the public.
"In this time of increased violence against Asians, we also hope to continue providing resources to workers who have felt the brunt of structural violence and face fears for workplace safety," said Janet Vo, a staff attorney at GBLS. "We strive for a shift built upon principles of sustainability to help both immigrant workers and small businesses succeed, and based on our findings, it's clear that the nail industry is seeking resources and solutions that will benefit both workers and owners in the long term."
Both Ho and Vo say that government and community leaders need to step up to ensure that these workers should not only be protected within their own communities but also given adequate funding to ensure their salons are supported as well. It's up to the public, too, in places like Dorchester to support local salons with their consumer dollars.
"In supporting nail salon workers and small businesses, our communities and economies also benefit as a whole," said Vo. "This industry is predominantly made up of immigrants, limited English-proficient speakers, Asian women and low-wage workers and they need immense support as the state reopens and restrictions are lifted."