By Katie Pedersen, Reporter Correspondent
March 25, 2021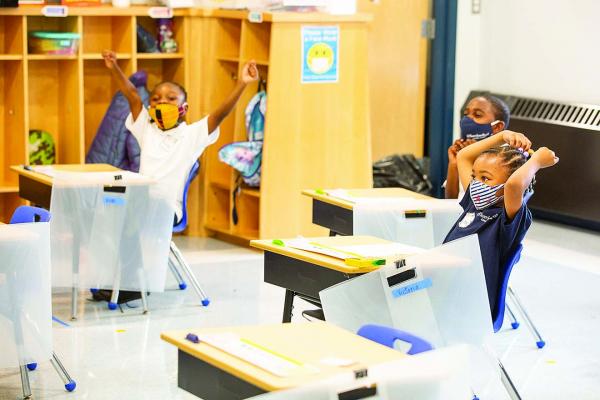 Said the teachers: 'We wanted to open … be safe … and to have the kids back'
During a year in which the majority of Dorchester's children have attended school through a computer screen, Saint John Paul II Catholic Academy has offered in-person learning since September. Seven months after opening, the program appears to have avoided community transmission of Covid-19 on its three campuses with close to 1,000 students in all.
Students in the classrooms on Columbia Road in Savin Hill, on Neponset Avenue, and in Lower Mills on Dorchester Avenue range in age from pre-Kindergarten to eighth grade. With such a large spread of ages and locations, opening safely last fall took months of planning.
"In the month of June last year, we surveyed our families and asked them what they needed for this coming school year and what their concerns were," Catherine Bradley, the academy's regional director, told the Reporter. "It came down to 50 percent who wanted to be in-person and 50 percent who wanted to be remote. Then we went through the Massachusetts Department of Education documents, and the CDC [Centers for Disease Control] stuff." After taking everything in, the administrators opted to proceed with in-school learning.
Paula Gaudet, the academy's head nurse, stepped up to help with the planning. In addition to joining a series of prep meetings throughout the summer, she used her professional experience to order the necessary PPE [personal protective equipment] before the rush in the fall.
"Everyone was on the same page," she said. "We wanted to open, we wanted to be safe, and we wanted the kids back."
At the Neponset and Lower Mills campuses, the cafeterias were turned into classrooms. On all three campuses, classes were grouped into self-contained cohorts and spacing stickers were placed on all the floors and walls. Extra custodial staff was hired. By September, Saint John Paul II was ready to welcome its students back.
"I have to be honest," Brandley said, "We were terrified. But we thought: 'We've done everything they asked of us.'"
For all that, Brandley's worst fears have largely failed to materialize. Although the campuses did go remote for a few weeks in the fall due to rising Covid-19 rates in Boston, they have remained open otherwise. And as of this week, there has been no evidence of community transmission.
"Honest to goodness, I was waiting for the other shoe to drop," Brandley said. "And it didn't. We got through Christmas and those horrible high weeks. We've had cases, but we've had no spread in the buildings."
She made a point of thanking the families of Saint John Paul II students. "The parents have been fabulous. We could never have done it without the patience and support of families – because they get it. They would let us know when their child was sick."
Brandley estimated that by the end of last week, 65 percent of the academy staff had been fully or partly vaccinated. "Right now, it's getting easier," she said. "In about a week, everyone will have an appointment if they haven't gotten one already. The teachers have been great about this."
Although adjusting to the pandemic posed daily challenges, Paula Callahan and Beth Sheehan, longtime St. John Paul II teachers, are pleased with how their school has handled the crisis.
Bill McGoldrick, middle school music teacher for St. John Paul II Catholic Academy, with a student at Columbia Campus. Courtesy SJPIICA
Said Callahan, an early childhood teacher at the Columbia campus: "I never questioned whether or not to go back. Instead, it was, 'How can I go back and keep my family safe and myself safe?' A lot of it came down from having a very supportive administration. They understood what we were doing every day, and they still do." She cited Friday shout-outs and Teacher Appreciation Week as morale boosters.
She, too, thanked her students' families. "The biggest thing I was amazed at was how well [three- and four-year-old kids] keep their masks on," she said. "I think a lot of that comes from home. We're blessed in that we have great families that understand that if they send their kids back, there's a certain amount of responsibility that comes with that decision."
For her part, Sheehan, a second-grade teacher at the Lower Mills campus, said, "I think that at the beginning we had a lot of nervousness and hesitation. My father was still alive at the time, and I was worried about bringing stuff back to him. But as a Catholic teacher, I have great faith, and I knew that God would take care of me." She added: "I love seeing my children every day."
Still, both teachers had to adapt longtime classroom strategies to the constraints of hybrid learning.
"How do I teach differently than I have I have for the last 27 years, given that the little ones can't really be socially interacting?" Callahan said she wondered. "A big part of early childhood education is getting kids to be a good friend, getting them to share, and now [they're left to think], 'We really can't share and we can't play with our friends.'" She described her current challenge as "trying to find a way to adapt the curriculum so we can still have them meet their developmental milestones while at the same time keeping them, their families, and ourselves safe."
With nine students in-person and nine students online, Sheehan initially found the hybrid model difficult. "It was a challenge, because I wanted to make sure I was giving my everything to both groups of students," she said. "It was almost like having two classrooms."
The hard work of Saint John Paul II's teachers has not gone unnoticed.
Said Claire Sheridan, principal of the Columbia campus, "The teachers have been non-stop since March 13, 2020, till today. They have worked overtime. They had to make sure all of their lessons were uploaded, that everything was ready to go. They worked all summer long setting it up. Right now, we're trying to make sure that the teachers get what they need so they can keep up that momentum."
She added that the pandemic "has made us as leaders stop and realize what is truly important."
Despite all the stress and anxiety of the last seven months, Brandley is grateful for how the school year has gone so far.
"I never thought we'd get here," she said. "I never thought we would've made it five days a week all year. I'm incredibly proud of my staff – my leaders have killed themselves. All my vendors, my custodial staff. Our lunch company has worked around our crazy schedules and protocols. Everybody has jumped right in to be successful because our kids needed to be in school."
As more Boston schools reopen in the coming weeks, Nurse Gaudet offers this simple advice about students learning in school: "They should do what they're supposed to do. It's very important to keep the masks on, to keep your hands washed, to keep your distance. Kids are kids, so you just have to do the best you can."
Grade 1 teacher Laura Fitzpatrick and student at the Neponset campus. Photos courtesy SJPIICA