By Daniel Sheehan, Reporter Staff
June 17, 2021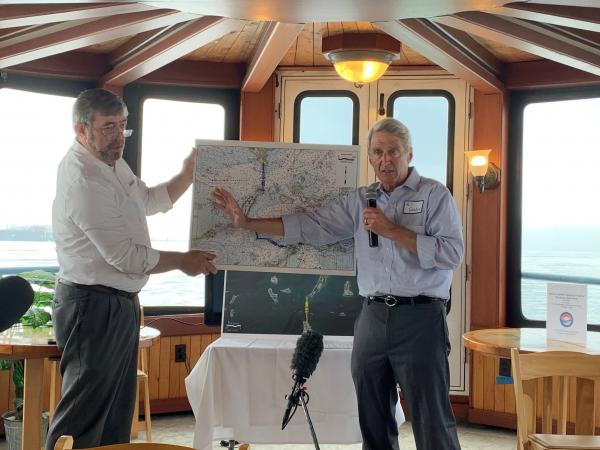 The looming existential climate threat to Greater Boston was the main topic of discussion Tuesday morning on a boat tour organized by a coalition that is calling on state and local leaders to take urgent action in creating a regional "layered defense" coastal resiliency system that would protect Boston and 14 surrounding municipalities from flooding for decades to come.
Bill Golden, the project manager for the Boston Harbor Regional Storm Surge Working Group, didn't mince words when talking about the growing threat of storm surge flooding and the devastation it could wreak on lives and businesses in the coming years.
"We're playing Russian Roulette with nature," said Golden. "Coastal flooding is no joke. We need money, we need federal funding, and we need a plan."
The mitigation system proposed by the working group includes a series of sea gates in the harbor between Hull and Winthrop that would prevent tidal and storm surges from reaching the coast. They would cost billions of dollars, said Golden, but they would also preemptively eliminate further billions in damages from major flood events that are growing more frequent by the year and are all but guaranteed to occur regularly in the coming decades.
Alternative tools, like land-based sea walls, would be insufficient, argued Golden, who supports the "layered" approach with the sea-gate system would protect coastal communities in an equitable way and limit damage to property and infrastructure remaining outside the sea wall barrier.
Similar gate systems have already successfully been implemented elsewhere in New England, including in New Bedford, which has been protected from storm surge devastation for the last 50 years and could serve as a model for a new Boston Harbor-based system. 

A proposed series of sea gates between Hull and Winthrop would protect Boston Harbor communities from storm surge flooding. Tighe & Bond image

In Dorchester, high tides and storm surges regularly inundate coastal infrastructure like Morrissey Boulevard and Moakley Park, as well as other areas between Columbia Point and the Neponset River watershed.
Heather O'Brien, an activist with the working group whose grandparents emigrated to Savin Hill from maritime European communities, recalled being trapped at UMass Boston by a flooded Morrissey when she took classes there years ago.
"Storm surge wasn't considered; it wasn't a factor when Morrissey was built," she said. "Now, when Dorchester floods, people don't have access to evacuation routes, basements get flooded, and people lose everything...Some folks see their rent increase every year because of flood insurance."
The city's Climate Ready Dorchester plan, released in the fall of 2020, calls for berms, road raising, and other interventions at targeted points where flooding most frequently occurs. But, as the report indicates, most of the Dorchester coastline is not city-owned and is managed instead by state agencies like the Department of Conservation and Recreation (DCR). 
Golden, a former Massachusetts state senator who helped to shape the Environmental Protection Agency and whose 1986 lawsuit compelled the state to clean up Boston Harbor, said the responsibility falls again on the state to safeguard the harbor region.
"We need the state to see this as a regional issue that only the state can address," he said. "City government is limited to city property, so it's going to take a strong advocacy community and strong leadership at the Commonwealth level to get it done."
The first step in implementing a Regional Layered Defense Plan would be an in-depth feasibility and cost-benefit analysis study to be carried out by the Commonwealth, followed by an expanded study by the US Army Corps of Engineers that could unlock federal funding.
According to Golden, to date no one from the state has contacted the Corps of Engineers about conducting such a study. "There is a huge cost to doing nothing," he said. "We have to act now."
For more information on the Boston Harbor Regional Storm Surge Working Group and the proposed seagate layered defense system, visit bostonharborfloodprevention.com.