By Bill Forry, Editor
January 26, 2021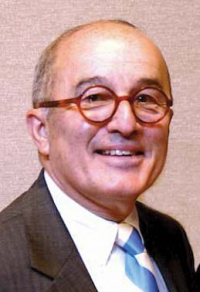 Dorchester native Larry DiCara, a former Boston City Councillor and one of the city's most sought-after attorneys on municipal matters, is recovering from serious injuries after he was struck by a vehicle in a tragic accident earlier this month in Marion, Mass., where he has a home.
DiCara, 72, was injured on the afternoon of Thurs., Jan. 7, as he walked on a sidewalk near his part-time home. The motorist— later named as Scott Erdman, 74— appeared to have suffered a medical emergency behind the wheel, according to an account of the incident from Beth Stone, a spokesperson for the Plymouth County District Attorney's office.
Erdman's gray Honda Accord was seen swerving and driving erratically before it jumped the curb and struck DiCara.
The operator was trapped in the vehicle and was unresponsive and not breathing," Stone said in a statement. "Marion emergency medical personnel removed the driver, who was transported to Tobey Hospital, where he was pronounced dead at 2:55 p.m." His cause of death is under investigation by the Medical Examiner.
DiCara was rushed to a hospital in the region suffering from broken bones and other injuries that required surgeries. In an email to friends and family on Jan. 12, his daughters said they "are happy to report that he is recovering and his medical team is satisfied with his progress."
DiCara has been a constant of Boston's political and civic landscape since the 1970s. A graduate of Boston Latin School and Harvard, DiCara, at 22, was the youngest person ever elected to the Boston City Council when he won a seat in 1972. He served as the council's president in 1978 and was a candidate for state Treasurer in 1978.
A first-generation Italian-American from Dorchester's then-Irish-heavy Ward 17, DiCara chalked up a record of fairly progressive votes at a time when it Boston was hardly a hotbed of progressivism. DiCara came up short as a candidate for mayor of Boston in 1983 in an election that was ultimately won by Ray Flynn.
While his career in elected office ended in the 1980s, DiCara is considered an expert in municipal matters and his law practice has made him a fixture at City Hall. His is a sought-after voice and opinion on city politics and his essays — typically musings on Boston's future growth or its not-so-distant past— have been published frequently in the Reporter.
In 2013, DiCara wrote a riveting political memoir — "Turmoil and Transition in Boston"— that chronicles his experience as a young politician during the city's desegregation era.