By Gintautas Dumcius, Managing Editor
September 22, 2021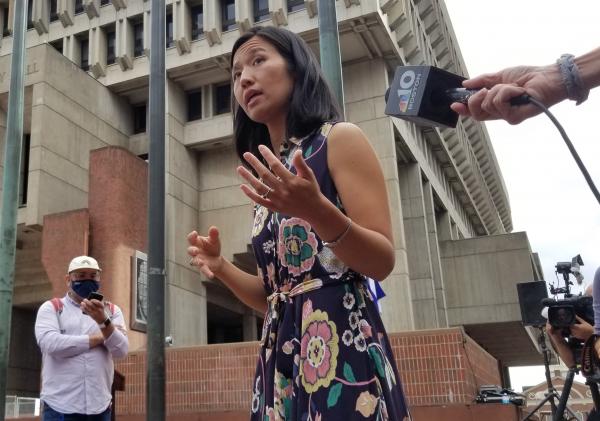 City Councillor At-Large Michelle Wu on Wednesday said outside groups, which have poured millions into the Boston mayor's race, should stay positive but she stopped short of asking them to steer clear of the battle between her and City Councillor At-Large Annissa Essaibi George.
Her comments came a day after Essaibi George told the Reporter the groups, known as super PAC, shouldn't be involved in the contest. An angry Essaibi George said, "I want them out of my race."
Essaibi George singled out one super PAC in particular that is using a Beverly company, which worked for Donald Trump's 2016 presidential campaign as a treasurer. The super PAC, known as "Real Progress Boston," has accepted donations from Jim Davis, the chairman of athleticwear company New Balance, as well as general contractors and police unions.
Chaired by former police commissioner William Gross, the super PAC has spent $551,530 on the race so far, mostly on TV, radio and print newspaper ads, according to public campaign finance filings.
A second super PAC, called "Bostonians for Real Progress" and apparently unaffiliated with the other super PAC, is funded by a Hyde Park businessman and others. It has plans to raise $1 million and expand beyond digital advertising. A source on Wednesday afternoon told the Reporter that the super PAC was continuing to ramp up its efforts despite Essaibi George's remarks.
Asked about Essaibi George's comments to the Reporter, Wu said, "I share her concern that Trump-affiliated groups are looking to weigh in on the Boston mayor's race."
But Wu, who has two super PACs supporting her candidacy, did not echo Essaibi George's call for them to stay out.
"I urge any outside groups to refrain from negative attacks," Wu said. "We've seen in this country over the last four years what happens when those kinds of attacks are normalized in politics and Boston's better than that. I look forward to a robust, direct conversation about the future of this city directly with the residents."
Wu voiced support for campaign finance reform, but added, "Our campaign is going to continue to focus on what is within our control, which is continuing to build the momentum, going door to door, and speaking directly with voters in every neighborhood."
Super PACs operate independently of campaigns, and it's up to them on whether they want to pull back on any spending and whether they air positive or negative ad campaigns.
Wu's two super PACs are funded by environmental advocates. Wu has backed a "Green New Deal" for Boston in an effort to stem the effects of climate change on the coastal city.
The "Boston Turnout Project" super PAC, helmed by a former aide to US Sen. Elizabeth Warren, launched its second ad this week which features the Cambridge Democrat, who endorsed Wu. The group, which has pulled in donations from the owner of Jay Cashman Inc. and venture capitalists, has spent $334,000 on the race.
The other pro-Wu group, tied to the Environmental League of Massachusetts, has spent a smaller amount ($83,760) and earlier this month drew a $50,000 donation from the Washington, D.C.-based League of Conservation Voters.
This post was updated at 4:54 p.m. with additional reporting.