By Ed Forry, Reporter Co-Founder
February 11, 2021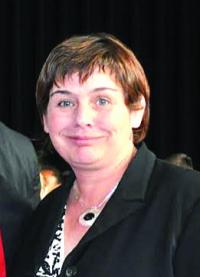 The Dorchester-based Irish Pastoral Centre, a non-profit that helps immigrants from Ireland get settled in Boston, has a new leader, Mary Swanton, a native of Ireland's Co. Limerick.
Active for years in Adams Village, where the organization is headquartered, Swanton started as executive director on Jan. 25.
"She brings with her a wealth of relevant experience that she has accumulated from many years of working in fine arts, programming, and community development," read a statement from the agency's board of directors. 
"Well-known in the Boston Irish community, Mary has liaised with all Boston area organizations through work at the Irish Emigrant newspaper, and she created many programs and performances for Boston Irish events." 
Said Swanton: "Boston has been my home for 34 years and it means a lot to me to be Irish in Boston. We are part of a great multi-generational story that's rooted in our shared heritage where the Irish Pastoral Centre serves us so well.
"This is truly a unique 'heart and soul' organization that quietly supports all of us in joy and sorrow, in the past and present. I am honored to share and continue their great work and legacy."
The Irish Pastoral Center was founded in 1987 at St. Mark parish. The agency's offices, now located in a professional building at 512 Gallivan Blvd. are closed due to the pandemic. Swanton and her staff can be contacted by telephone at 617-265 5300.