By Ed Forry, Associate Publisher
April 7, 2021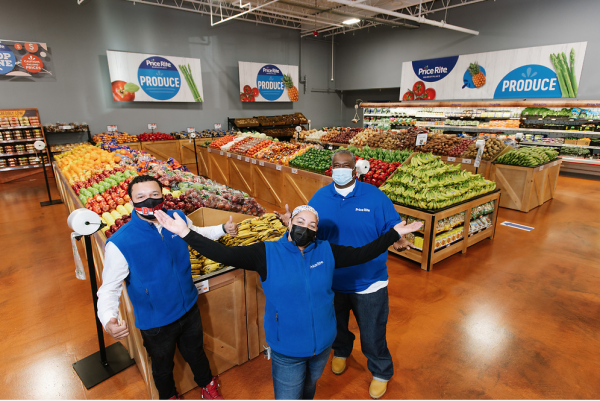 The new Price Rite supermarket — which opens today in Fields Corner— signals the return of a grocery market operated by a family with roots in the neighborhood that go back to the 1940s.
The Slawsby family, which operates grocery stores in Roxbury, Roslindale, and Brockton, has been working since early 2020 to renovate and re-open a supermarket in the 20,000-square-foot space closest to the Geneva Avenue side of the nearly 250,000- square-foot mall. It fills a huge grocery void in the neighborhood left when America's Food Basket closed in January 2019.
The supermarket was supposed to open last May, but when Covid settled into the region, the renovations were paused, too. But, the work and the subsequent inspections are now complete. Along with a completely refurbished store, the market brings 40 jobs— many of them for neighbors who can walk there from the dense residential side streets around Fields Corner and Bowdoin-Geneva.
The opening reunites two legendary Dorchester families active in the food market business in the neighborhood for almost a full century.
The Cifrino family history in food retail began in Boston just before the First World War, said Tom Cifrino, who manages the Fields Station LLC, which owns the Geneva Avenue property.
"My grandfather started as a butcher on Salem Street in the North End," he told the Reporter in a recent interview. "He ended up with about 10 to 12 butcher shops around the city. And then in the 1920s he started the Uphams Corner Market. There was a book, 'Once Upon a Store,' that claimed it was the first supermarket in the country. Whether it's true or not, I don't know."
The Cifrinos opened two more stores in Quincy and in Cambridge and shortly before the Great Depression, sold all of them to the parent company of First National Stores.
In 1934, the Cifrinos got back into the supermarket business, building a new structure to house a market along Gallivan Boulevard — which was then a newly created roadway on a developing marshland leading to Neponset Circle. The Supreme Market opened in 1935 and soon stores of the same brand name multiplied across the greater Boston area, including a store at the Geneva Avenue site, on land which had been used to house street cars.
"The property adjacent to Fields Corner station was a trolley car barn," Tom Cifrino said. "Ten or 12 years ago, when we did a major refurbishment, we redid the parking lot. At the time we had to dig it up and we found underneath the asphalt all cobblestones and railroad ties. They were still there from when it was a trolley car barn. The trolley cars went out of the barn and went up and down Dorchester Ave."
Harold Slawsby's father ran a meat market at 1498 Dorchester Ave., a precursor to the Capitol chain that his family later opened. In addition to the Fields Corner location, the family operated stores on Morrissey Blvd.— a building that now houses a liquor store and a CVS— and at Morton Street and Gallivan Boulevard, a site now occupied by Norfolk Hardware.
"We've always wanted a store in Dorchester and we've looked high and low," Harold Slawsby told the Reporter in a 2015 interview.
This week, Harold's son Jonathan — who will operate the Dorchester store with his brother, Todd, said that they regard this as a "homecoming."
His mother grew up in St. Ann parish, he said. And he and Todd cut their teeth in the business working at the former Capitol Market on Morrissey Boulevard— which is now a CVS.
"We're getting even more excited as we see people trying to come in," said Slawsby on Tuesday. "It does feel like a homecomingand for my brother and I, it feels like the right place to build the company that we want to have using this store as the cornerstone."
He is most proud of how the renovations have "opened up" the front of the store.
"It makes a huge difference in the feel," said Slawsby. "It's much less claustrophobic. It feels a lot more of a unified space with a center aisle that breaks it up and highlights items."
Tom Cifrino says he has known Harold Slawsby since the 1970s, when "his father and my father were both in the supermarket business in the 50's and 60's together, as friendly competitors."
"The Slawsbys are Dorchester people," says Cifrino, who himself has fond memories of working in his own family's markets when he was as young as 15.
"It was fabulous. I can remember going up on Thanksgiving, I used to sell Turkey dinners for Thanksgiving. There was a whole crew in there on Thanksgiving morning, they would start at five o'clock in the morning cooking turkeys and stuffing and mashed potatoes and gravy. And they'd cook and sell them to people until about one o'clock when everybody took their own turkey, went home, and had their Turkey dinner."
The new Price Rite Market fills the last vacant space in the Fields Corner mall.
"We have 11 stores and they're all occupied again," Cifrino told the Reporter. "As a matter of fact, we even filled in the Payless Shoes- which went bankrupt two years ago- with a local beauty supply company, Mattapan Beauty Supply. He has six or seven other retail stores, but he is local, he's not a national tenant.
"And from what I understand, it's fabulous. I mean, I've gone through his store or three or four times, and if you want to buy a wig, that's the place to go."
Jonathan Slawsby says that he and his team are "extremely excited" to be partnering with Tom Cifrino and his family once again.
"He's been an amazing partner through this last year, very understanding as far as our timeline and proactive with our vision for updating the space," said Slawsby. "We have a very long term lease- 30 years if we exercise the options. Both sides are aware of that and happy about it. It's an investment from both of us to continue that family relationship far into the future."