By Gintautas Dumcius and Bill Forry, Reporter Staff
September 14, 2021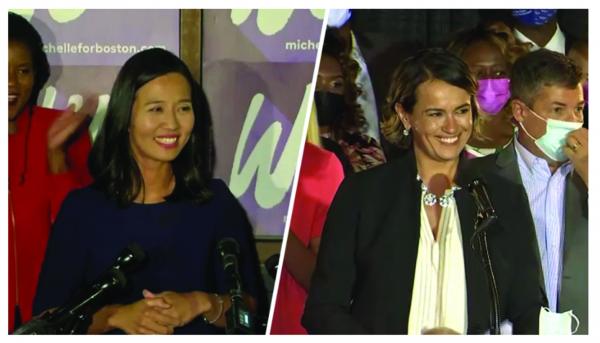 Michelle Wu and Annissa Essaibi George, two city councillors at-large and the daughters of immigrants, will face off in November, with the winner becoming the next mayor of Boston.
While votes were still being counted late Wednesday morning, their two camps declared victory in the preliminary balloting Tuesday night and immediately pivoted to a six-week sprint toward the Nov. 2 election.
The preliminary's outcome guarantees that a woman and A person of color will be elected to the mayor's chair for the first time in the city's history.
Essaibi George, 47, and Wu, 36, advanced in a preliminary election that was fraught with delays in a vote count that confounded the campaigns and the electorate for much of the night and into Wednesday morning.
Hours after the polls had closed, city elections officials said they had received 7,000 ballots by mail or through drop boxes that still needed to be processed. On Wednesday morning, Secretary of State William Galvin was suggesting that the turnout number would end up between 100,000 and 110,000 votes cast.
But for the five major candidates, the results were apparent as declarations of victory and concessions came in: It would be Wu and Essaibi George, who highlighted their wins against the backdrop of the struggles of their parents. In Wu's case, they were Taiwanese immigrants who arrived in America with little money, while for Essaibi George, it was a Tunisian father and a Polish mother who was born in a displaced persons' camp in Germany.
At around 10 p.m. at a brewery in Roslindale, Wu said she had cleared the preliminary and made it to the mayoral ballot. In Dorchester, Essaibi George, the city's skyline behind her, delivered a triumphant speech just before midnight to a raucous crowd at the Venezia restaurant.
Wu, who has campaigned on making housing and public transit more affordable, noted that votes were still being counted and said, "We already know what the choice is. The city of Boston is about a choice for our future."
She added: "Together, we have and will continue to take on the big challenges we were told would be impossible—from passing paid parental leave to standing up to big corporations to protect rental housing. But we have always believed that more is possible. And now is the time for all of us to lead." 
Essaibi George, a Dorchester native and small business owner who worked as a teacher in East Boston before serving on the City Council, took aim at Wu's push to eliminate MBTA fares and reinstitute rent control. Those are issues to be tackled at the state level, Essaibi George said. 
"The mayor can deliver better parks, more small business help, and keep our neighborhoods safe," Essaibi George added. "I will be that mayor."
Whoever wins the top job in November is expected to take over as mayor just weeks after the election, rather than a traditional January swearing-in. Kim Janey, the City Council president who took over as acting mayor in March after Marty Walsh left to serve as President Biden's labor secretary, fell short in her effort to secure a full four-year term.
Janey was one of three Black candidates, the others being City Councillor Andrea Campbell, who represents Dorchester and Mattapan, and John Barros, who was Walsh's economic development chief, a situation that had raised hopes in some corners of the city that Boston would see its first-ever Black mayor elected to office. Those hopes dimmed as Tuesday night wore on. 
At the Janey party, an outdoor affair in a South End parking lot, the atmosphere was subdued, with a few dozen people, some wearing shirts indicating they were members of the unions 32BJ SEIU and UNITE HERE Local 26. At 10:30 p.m., a large screen in front of the small crowd showed a web page with election results — 0.39% precincts reporting — that hadn't been refreshed since 8:27 p.m.
Janey never made an appearance, instead sending out a statement conceding the race to Wu and Essaibi George. "This was a spirited and historic race, and I wish them both luck in the final election," the statement said.
In a speech to supporters in Dorchester's Prince Hall, Campbell conceded that she had lost her quest for the mayor's job. "We kept this campaign about the issues that matter most to Bostonians," Campbell said. "Providing action and solutions that will make our city more affordable, safer, more equitable and just and where opportunity exists for every single resident of the city of Boston."
Campbell, who served as Gov. Deval Patrick's deputy legal counsel and burst onto the political scene by toppling District 4's Charles Yancey, a 32-year incumbent in 2015, added: "Thank you for your faith in me. Thank you for your faith in my candidacy. Something will come next."
Earlier in the evening, results from Dorchester's Savin Hill bellwether Ward 13, Precinct 10 showed Essaibi George topping that ticket with 312 votes to Wu's 165. Campbell had 150, while Janey had 36 and Barros, the former city economic development official, had 26.
Essaibi George ran up big margins in Florian Hall's Ward 16, Precinct 12, picking up 593 votes to Wu's 47, Campbell's 36, Janey's 35 and Barros's 13.
Janey fared better in Dorchester's Ward 17, Precinct 3, at the Codman Tech Center, coming in at 179 to Campbell's 159. Wu had 77, Essaibi George had 34 and Barros had 21.
Campbell had a strong showing at the Codman Square Apartments, which includes the Ashmont Hill area. She beat Janey 197 to 74 there. Wu picked up 66 votes, Essaibi George 23 and Barros 9.
In Ward 15, Precinct 7, Janey and Wu drew the most votes, while Janey and Andrea Campbell finished in the top two spots in neighboring Precinct 8. Both precincts are at the Vietnamese American Community Center on Charles Street in Fields Corner.
Asher Bruskin, 36, said he voted for Wu for the mayoral preliminary spot. He said he was split between voting for Wu and Janey. As a social worker, he said, he was looking for a candidate who would support and reallocate police funding toward other services, like mental health resources. 
Voter James Eddy went for Campbell. After watching her speak at the mayoral debates, Eddy said she won his vote. "I feel like I trusted Andrea a little bit more, especially for seeing the improvements that have happened in Mattapan. It just feels like there are a lot of plans and the plans are concrete," he said.  
Another voter, Allison Kronstadt, said she was split between supporting Janey or Wu. She settled on Janey after Right to the City Vote, a coalition of liberal groups that Kronstadt supports, endorsed the candidate.
"A lot of the narrative around Michelle Wu was that she was the only candidate that supported rent control," Kronstadt said. "Learning that an organization that I really trust that's doing work on anti-displacement here in Boston had endorsed Kim Janey and not [Michelle Wu] was pretty striking."


Katie Pedersen, Colbi Edmonds, and Grace Mayer contributed to this report. Material from WBUR, a media partner of the Reporter, was also used in this article.