By Reporter Staff
December 22, 2021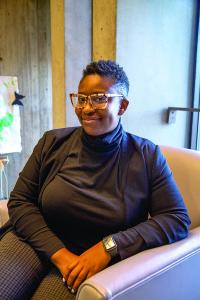 Dorchester native Brianna Millor will join Mayor Wu's team next month as the city's chief of Community Engagement. Millor, the daughter of a Haitian immigrant, starts in the role on Jan. 3.
The Civic Engagement cabinet role also includes oversight of the Mayor's Office of Neighborhood Services.
"I'm inspired by Brianna's love for community and for Boston," Wu said in a statement announcing her appointment. She has been a trusted advisor and passionate community advocate, and I am so excited for her leadership in this role."
Millor started in community work as a member of Bold Teens, a Codman Square-based organization that focuses on environmental and social justice issues. She worked on Hillary Clinton's presidential campaign in 2016, where she worked on voter engagement strategies ahead of the New Hampshire primary.
She later worked in a variety of roles in City Hall and represented Wu's Council office on the board of ABCD.
She is a graduate of Quinnipiac University with a bachelors in Political Science and a masters degree in Public Relations.
"I am honored and excited to lead the Office of Community Engagement, and to continue serving our city's residents under Mayor Wu," said Millor. "My experiences at City Hall have affirmed my love and commitment to my community and the city that raised me, and I am eager to facilitate in connecting residents to city government in new and creative ways."

Millor lives in Dorchester and enjoys spending time with her family.