By Jennifer Smith, Reporter Correspondent
February 9, 2022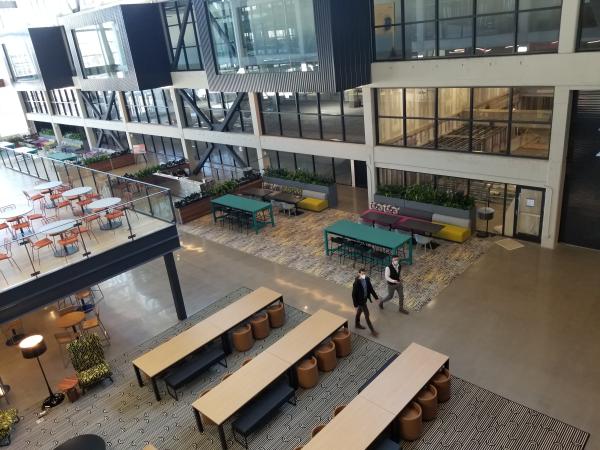 Developers and financiers of the BEAT on Morrissey Boulevard sought approval from civic group members to add small animal testing use to their site. The team behind the BEAT characterized the effort as an attempt to rectify a missing permitted use for the laboratory and commercial building at the former Boston Globe HQ.
Officials from Beacon Capital Partners and Nordblom Company on Tuesday briefed the Columbia-Savin Hill Planning Committee on their application for this life science use and offered an update on the project timeline for 135 Morrissey Boulevard.
In its initial permitting phase years ago, the developers of the Boston Exchange for Accelerated Technology (BEAT) building did not seek approval for the accessory use needed for a vivarium at the site. Alan Koder said it is standard practice in drug development to test the efficacy of pharmaceuticals across various genetically identical mice or fish. The inadvertent omission was something of a sticking point for future life science tenants, said real estate attorney Jennifer Schultz, which "came to a head by [them] saying 'can you ensure we can have an animal care facility in our space?"
Members at the Planning Committee meeting voted to recommend approving accessory keeping of animals – small rodents and fish only – for laboratory use at the site. About 75 percent voted in support, according to the civic group. It will be voted on by the full membership at a future monthly meeting.
The BEAT team is hoping to soon file its appeal for zoning relief with the Zoning Board of Appeal.
Construction on the BEAT – the name is a reference to the Globe "beat" reporters who used to work at the site – progresses toward an expected spring opening. Steve Purpura, president of Beacon Capital Partners' life science platform, said they are still working closely with the site's initial developers Nordblom, which manages the property.
The BEAT's "great hall" extending through the building "is some of the most interesting real estate in the City of Boston," Purpura said. They still plan to include many community amenities on site as envisioned in Nordblom's initial pitch, though the building overall has pivoted to a more lab-heavy use rather than a mix of creative office space and labs.
Purpura said the team still plans to host community events in the hall. Nordblom Senior Vice President of Development and Director of Mixed-Use Projects Todd Fremont-Smith assured civic members that "nothing's really changed from my vantage point – the recycling of this huge concrete building, bringing it back to life. We still intend to have a brewery in the building."
The project will run Beacon Capital close to $1 billion, Purpura said, focused mostly on readying the space for tenants. Boston sportswear company NOBULL has signed a lease for studio and marketing space within the building, and the team remains in talks with biotech venture capital firm Flagship Pioneering to house tenants in the building. With the pivot toward the in-demand lab space market, "frankly we can't build it quick enough to get them in," Purpura said. "Everything set to be completed in 2022 is already committed."
Beacon Capital also updated civic members on their plans for a hands-on job training facility at the site, spanning at least 5,000 square feet. The facility would connect high schoolers and local residents to a booming pipeline of biotech and laboratory jobs. Many lab tech positions require certification rather than a bachelor's or master's degree. "It would be a great thing for the City of Boston, not just the neighborhood, if we could get folks who may not have a path toward college into a career like this," Purpura said.
Civic group members also asked if Beacon Capital would be open to putting funds toward broader planning and mitigation efforts for the surrounding area, which includes the proposed Dorchester Bay City development on Columbia Point, as well as a long-awaited Morrissey Boulevard redesign.
Toward the end of their presentation, the Beacon Capital team addressed a proposed six-story biotech building pitched for the site behind the main BEAT structure. Abutters and District 3 City Councillor Frank Baker received an earlier presentation on the potential build.
Tuesday's meeting was not a formal proposal before the Planning Committee on the six-story building, Purpura told attendees, which still has plenty of public process ahead and is at a "very preliminary" stage. He assured them that "we are not looking to max out this site, but we are looking to explore a way to creatively add some space in the parking lot."
The building's initial design places it as close as possible to the BEAT property, with its location and height aimed at avoiding a solar glare on neighbors, according to the BEAT team.
Civic members brought up prior planning efforts – namely the Menino-era Columbia Point Master Plan completed in 2011 – that envisioned construction at the site no higher than four stories. They expressed a preference for a project that adhered to those plans, which the Beacon Capital team said they would consider.
"We want to work with the neighborhood," Purpura said after the meeting. A shorter building with a larger overall footprint to keep the same square footage "would be closer to the neighborhood, but if that's more important we are open to it."