By Jennifer Smith, Reporter Correspondent
April 14, 2022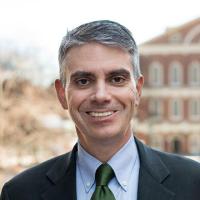 Brian Golden, who has led the city's planning and development arm for the past eight years, will step down at the end of this month. Golden told the Boston Planning and Development Agency (BPDA) Board of Directors at its monthly meeting that he was honored to hold the post, that "the work is almost never easy but it is always consequential and important."
"I have loved my job and I have loved working here at the BPDA. Even when circumstances have been challenging, I have always been grateful for the opportunity to join all of you," he said of the board and the staff, "in serving the people of Boston."
Golden was appointed director of the BPDA, formerly known as the Boston Redevelopment Authority, in 2014, early in then-Mayor Martin Walsh's tenure. The former state representative took the helm at a fraught time for the agency, which in the past infamously oversaw the razing of Boston's West End and garnered a reputation as mismanaged, opaque in its decision making, and unaccountable to residents. He leaves as the agency's longest-serving director, after overseeing extensive efforts to modernize and reorganize the BPDA.
The changes included "meaningful operational reforms," contributing to a "more transparent and accountable BPDA," said BPDA Board chair Priscilla Rojas. She and other board members pointed to thousands of community meetings and an emphasis on planning over the agency's past eight years.
BPDA board member Carol Downs said, "in a broad stroke this agency went from being a 20th century organization to being a 21st century organization, and that took a tremendous amount effort and leadership from everybody at the agency." Golden's legacy will be "looked at as a very, very successful time for the BPDA," Downs said.
Golden thanked Walsh, now U.S. Secretary of Labor, for "entrusting me with the director's role" and said he "created an environment that allowed us to do big important things that address the needs of the city today and far into the future." The BPDA under the Walsh administration conducted the city's first general planning process since the 1960s – Imagine Boston 2030, along with targeted neighborhood plans and transit-and climate-focused reports.
Despite the changes, the sense that the BPDA is prioritizing development and disregarding resident input is still often expressed at public planning meetings. Mayor Michelle Wu ran for office pledging to "Abolish the BPDA." In a report her office issued prior to her mayoral run, and cited on the campaign trail, Wu criticized the agency's transparency and inclusivity and called for a citywide planning effort.
Golden's departure, first reported by the Boston Globe, comes at the city awaits the appointment of a new cabinet-level Chief of Planning. The mayor has been deferring comment on many major development projects until the position is filled, a search that is expected to resolve this spring. The city is also assessing its land holdings and current demographics before modifying future housing goals.
Golden wished Wu and her team "great success in their stewardship of Boston."
In an interview with the Reporter last month, Golden and other top BPDA officials made the case for the agency's continued relevance amidst an ongoing building boom. The BPDA board and Golden echoed those sentiments at the Thursday afternoon meeting, highlighting Boston's strong property tax base, emphasis on fair housing, and status as the American city with the most income restricted housing.
During Golden's eight years at the helm, the BPDA approved about 90 million square feet of new development, constituting $43 billion of investment, according to the agency.
"I'm proud of our work," Golden said. "I hope that everyone who has been part of this is proud too. Wherever I go I will always be rooting for the work that this agency and its professionals do for the City of Boston."
Present and former BPDA officers and planners applauded Golden's tenure online and throughout the board meeting.
Tim Czerwienski, a former project manager at the BPDA and now Milton's director of planning and community development, said on Twitter that Golden's departure was "not unexpected but still sad news."
"Golden inherited a dysfunctional sclerotic agency and righted the ship. He left it a better place than when he found it," Czerwienski wrote. The agency now, he said, is "light years" away from where it was at the start of Golden's appointment.
Golden ended his remarks to the board with a heartfelt thanks to his wife and five children. "This is a great job," Golden said, "but it certainly has grief and stress and even a bit of pain associated with it, and sometimes my family, I'm sure, has experienced the impacts from that. Directly or indirectly, they've had to have felt some of that." At the least, he said, they must have felt his "distraction at times."
"I thank them for tolerating it all," Golden said. "I thank them for their love and support during my time at this agency."