By Bill Forry, Executive Editor
November 16, 2022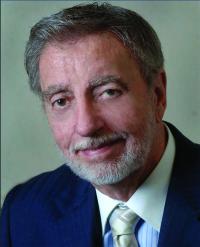 One of the city's finest leaders of the last half-century will be feted on Friday at a gala dinner that benefits the organization he served with distinction starting in 1971. John Drew, 85, retired from his top role at Action for Boston Community Development (ABCD) in June, but Friday's Community Heroes Celebration will serve as John's big send-off in front of a large audience at the Omni Boston Hotel.
Ed Forry, the co-founder of the Dorchester Reporter and the news magazine Boston Irish, worked alongside John at ABCD in the 1970s, when— as Ed puts it— "both were young men" and "anti- poverty programs were not all that fashionable."
Drew, an Irish American from Charlestown, got his start as a milk man, delivering dairy products door-to-door in his old neighborhood. He worked his way through school to become a certified public accountant, and his skills ensured that ABCD would stay solvent through lean years when Republicans in the White House and Congress gleefully tried to drive anti-poverty agencies out of business.
Drew stayed in the trenches at the agency and was the "right-hand-man" to its legendary founding leader, Robert Coard, who had roots in the Caribbean island of Grenada. Drew succeeded Coard as CEO in 2009.
Ed Forry recalls: "I worked with Mr. Coard and John to write press statements and arrange news conferences for them in this war on poverty. Bob Coard used to say it was 'a pop gun war, with very little ammunition.'"
Together with another Boston legend – Roxbury's Melnea Cass – Coard and Drew built ABCD into a powerhouse of hope and empowerment that survived the killing off of model cities agencies by Richard Nixon's administration largely because John Drew helped Coard figure out a way to pay the bills and prevent any scandals.
"ABCD was a leader in a revolution for poor people," Drew said recently in announcing his successor, Sharon Scott-Chandler, who was previously ABCD's executive vice-president and COO. "And we never stopped growing."
As he has for his whole career, John is modest about his remarkable success in keeping ABCD a robust force for change, education, and equity. But he richly deserves the public recognition that he will receive at Friday's event. For more information on the celebration, see bostonabcd.org.

A holiday treat at Martin's Park
It's not happening in Dot, but it's close enough, given the neighborhood connection: The second annual holiday lighting at Martin's Park— the spectacular public space in the Fort Point neighborhood— is set for Sat., Nov. 26. The event is geared toward kids and will include a visit from Santa, who will leave his sleigh up north and instead arrive by boat with an assist from the Boston Police Harbor Unit. If you haven't been yet, Martin's Park is a wonderful amenity for the whole city, but it has special resonance here in Dorchester, since it is named for our own Martin W. Richard, the youngest victim of the 2013 Boston Marathon bombing. The event begins at 4 p.m.