By Gintautas Dumcius, Managing Editor
January 20, 2022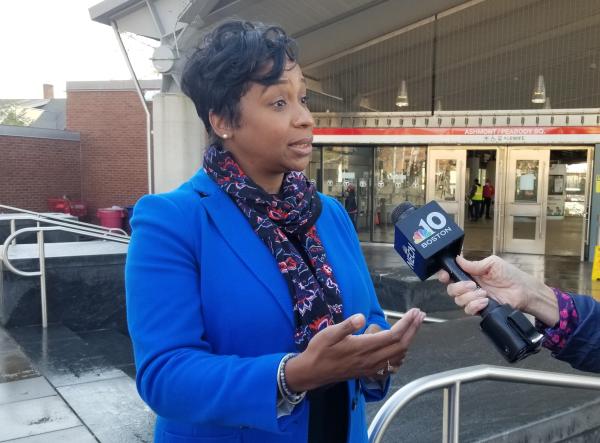 Andrea Campbell, who ran for mayor in 2021 and represented Dorchester and Mattapan on the City Council for six years, is considering a run for attorney general, according to sources close to the former councillor.
The statewide job is open now that Maura Healey, who has held the elected position since 2015, has officially joined the race for governor. Healey, a Boston Democrat, launched her campaign in East Boston's Maverick Square on Thursday morning.
Campbell, a former deputy legal counsel to Gov. Deval Patrick, won the City Council seat in 2015, beating Charles Yancey, who was first elected to represent District 4 in 1983. Campbell was reelected in 2017 and in her second term served as City Council president, the first African-American woman to hold the job.
A Mattapan resident, she lives with her husband Matthew and their two sons. In her mayoral campaign, she highlighted her personal story as a Boston Public Schools graduate who lost both her parents when she was young, and her twin brother when they were in their twenties. She graduated from Princeton University and UCLA School of Law, and as a young lawyer focused on helping families in her district.
She came in third place in the 2021 mayoral race's preliminary, behind finalists Michelle Wu and Annissa Essaibi George. Campbell, who was endorsed by the Boston Globe in the preliminary, opted against endorsing a candidate in the November election.
If Campbell runs for attorney general, she would enter a Democratic primary that is likely to see other candidates. Shannon Liss-Riordan, a labor attorney who worked on a class action suit against Uber and has previously run for U.S. Senate, is expected to jump in, as is Quentin Palfrey, who ran for lieutenant governor in 2018.
In December, when asked about her next steps, Campbell told the Reporter, "I don't want to make a decision right away. I can be thoughtful and considerate about it…Anything I do I want to align with my values… that's about serving others, and that won't change in whatever I do next."
Campbell raised $1.6 million for her mayoral run. Like the other mayoral candidates, she drew support and opposition from outside groups known as super PACs. Super PAC spending on her behalf came to $3.2 million, according to a tally of campaign finance filings.
As of Dec. 31, Campbell had $35,120 in campaign cash on hand.
In a Twitter post after Healey's announcement, Campbell called her a "champion for the people of our Commonwealth on climate change, student debt, immigration, and the opioid crisis." Campbell added: "I'm grateful for her leadership and friendship and excited to see her launch her campaign today."
This article was updated with a quote from Campbell's Twitter post.