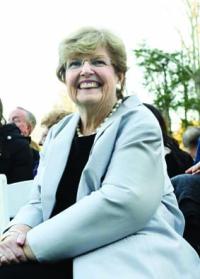 A sunset ceremony and celebration will be held in Lower Mills on Friday, June 10 as a landmark sign atop the former Walter Baker Chocolate Factory Administration building — which has been recently refurbished and re-wired— is re-lit for the first time in decades.
The program will include a tribute to the late Terry Dolan, a civic leader and Lower Mills resident who led the restoration project. She died unexpectedly in April.
The sign was dismantled and lowered from its longtime perch last year. The original letters which spelled out the name "Walter Baker"were traced and "new ones created with baked enameled aluminum letters with LED bulbs, sockets, and upgraded wiring to match the original look," according to a statement from Lower Mills Civic Association, which is hosting next week's celebration.
Image courtesy David Stokle
Dolan, who served as secretary of the Lower Mills Civic Association, "galvanized a wonderful partnership with New Atlantic Development, DotArt, WBL video production and the Lower Mills Civic Association"— and successfully sought funding through the Community Preservation Act through the City of Boston. Donations from local businesses and neighbors helped round out the funds needed to made it possible to refabricate and install the lights.
"It will be celebration of the vitality of the Lower Mills community, with food from local restaurants, locally made crafts and Baker chocolate factory memorabilia," said the statement.
The program will include a tour of the Artist Loft building starting at 7 p.m. and a speaking program will begin at 8p.m. The lights will be turned on sunset at 8:21p.m.
The Walter Baker Chocolate Factory operated in Lower Mills from 1765 until 1966.