By Reporter Staff
August 17, 2022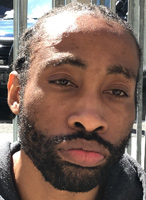 A Suffolk Superior Court jury on Wednesday convicted Shawn McClinton for raping and beating a woman in the men's room of the Codman Square McDonald's in 2018, the Suffolk County District Attorney's office reports.
McClinton, who faces a possible life sentence at his Aug. 31 sentence, is still awaiting trial for another rape he allegedly committed after the Massachusetts Bail Fund paid his $15,000 bail while he was awaiting trial for the Codman Square attack. A trial for that case has not yet been set.
McClinton, 42, was convicted on a charge of rape in Bristol County in 2007 and rape and abuse of a child in 1994, according to state records.
The jury today convicted McClinton, who lists the Pine Street Inn as his address, and who made his own case in court, of kidnapping, aggravated rape, strangulation and three counts of assault and battery, but acquitted him on charges of witness intimidation, threats and a second count of aggravated rape, the DA's office reports.
The DA's office provided this account:
"During five days of testimony, Assistant District Attorney Michael V. Glennon presented evidence and testimony to prove that the survivor met McClinton in the area of Massachusetts Avenue and Topeka Street on February 19, 2018. The survivor, McClinton and two other men traveled to a series of locations around Boston throughout the day. After the two men split from the group, McClinton and the survivor went to McDonald's on Washington Street in Dorchester. While using the women's restroom at the restaurant, the victim heard a knock on the bathroom door and opened it to find McClinton. He assaulted her and dragged her into the men's restroom. He raped her, hit her repeatedly, strangled her and threatened to kill her. "
"The survivor was able to flee from the restroom, wearing only a ripped bra. McClinton ran after her, yelling. She was able to run back to the men's restroom and locked the door behind her until Boston Police arrived."